Threads vs X, formerly known as Twitter: Your best route out of Musk-land?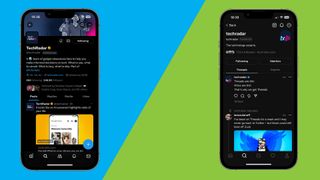 (Image credit: Future)
It's safe to assume that 2023 has become awash with a bunch of new social platforms to replace X, formerly known as Twitter.
Since Elon Musk bought it in 2022, it's been a slow-motion car crash, followed by another, and another. Mishaps such as making its subscription service, Twitter Blue, now known as X Premium, an attractive buy to an unappealing stench in a few months. Alongside deciding to fire almost 80% of the workforce, it's not the future that many employees and users had hoped for.
This is why others have come to the fore to take its place - from Bluesky to Mastodon. But there's been a slow take-up from the general public with these.
Meta also launched its own take, called Threads, back in July 2023. And features such as a 'Following' feed and audio posts are already making it a tempting replacement for many.
So with this in mind, we've pitted both against each other to see what wins out in four different departments, and whether it's worth moving on from X over to Threads.
Threads vs X: Design
X, formerly known as Twitter, has a look that reflects across its website and app. You can scroll through your feed and 'post' as you always have. However, since Musk's purchase in 2022, the design has been chopped and changed - with tweets renamed to 'posts', alongside parts of the site and its app still showing 'Twitter' and 'tweets' in a bunch of places.
And while you can schedule posts and share others to certain followers by making a 'Circle' (although Elon Musk has slated this feature for deletion), bugs have been creeping through where these aren't working as they should.
When it comes to Threads, you can access it through the web, or through an app on iOS and Android, and its design will be familiar to many who have moved on from X. You can scroll as normal, and by pressing the Threads logo, can switch between an algorithmic feed, or another of just those who you follow. It's to the point and easy to navigate.
And yes, there is a dark mode on both platforms that you can toggle.
Threads vs X: Features
Twitter has had a head start on Threads since its debut in 2006. But as it stands in 2023, there have been a bunch of features taken away due to the new management that Musk has put in.
Currently, you can Repost, create polls, and create 'Circles' where you can post to certain followers (although the latter of these will reportedly be dead within a month). You can create 'Spaces', which is X's way of an audio livestream that you can save as an audio file to use as a podcast if you wish.
You can upload up to four photos and videos, and one separate GIF if you think a Simpsons meme will put your point across better. There are lists you can create that can be named to whatever you want - if you want to create one that revolves around iPhone 15 for example, you can, and you can select that as a feed.
Communities is a recent feature that launched before Musk's takeover. Think of it like the forums of yesteryear, but you post within these communities for other members to see.
There's even a Media Studio, where you can go back to previously posted media from your account, and you can share it again if you wish. It also randomly has an 'Analytics' tab, so you can see if your recent posts have had much engagement with your followers and users.
X also has its 'Premium' subscription service. For $9.99/£9.99 a month or $110/£115 a year, you can have your own blue tick to make your account 'verified', have fewer ads in your feed, formatting options for your text, post longer videos and in a higher resolution, and more.
It's not the most alluring set of features for the price, and as X goes, you may see features taken away or changed without much notice.
When it comes to comparing this with Threads, its features are small but promising. Since launching in July 2023, it's gained a bunch of features, and it's not stopping. A following feed has been made available, alongside the ability to add alternative text to images for accessibility needs, and lots more.
Meta made a good first impression by focusing on stability rather than features in its early days. There hasn't been one moment of downtime, which is impressive for a new social platform and its fast uptake of users. While the signups have since cooled off, the features are slowly coming.
With the following feed available to all, the web version was brought out in August, alongside the ability to post a 'Voice Thread'. Pressing the microphone when creating a new post in the Threads app will allow you to record your voice. Since then, rumors are abound that messaging other users is in the works, and could arrive by the time the year wraps up.
Threads vs X: Apps
Not many are aware that the iOS app that X runs on, was originally a third-party app called Tweetie before the company acquired it in 2010. Since then, it has become the main go-to for many users, and third-party developers have been able to develop their own Twitter apps, such as Tweetbot and Twitterific.
But soon after Musk's takeover, third-party app access was revoked, meaning that all of these apps were unusable. It left a bad taste in many developers' and users' mouths, and now the only way to access X is through its own first-party app. You can use most of the features you can on the web, and there's also an iPadOS version too.
With Threads, accessing it on the web, and its app is how you can access the social platform. It has a similar look to Instagram with its black-and-white color scheme and icons. And it's no surprise, as you need an Instagram account to sign up for Threads anyway.
It works as expected, and features are currently being rolled out fortnightly. With Meta having always had the stance of accessing its platforms through its own first-party apps, don't expect a third-party app that can access Threads.
However, with Mosseri confirming that Threads will have ActivityPub support soon, this means that you could use your account with other networks.
Threads vs X: Accessibility
When it comes to X, accessibility was clearly important at the company, but its own account, @TwitterA11y was shut down in November 2022, with a big part of the team let go. Since then, there has been next to no comment about what's happening with upcoming features to help those out recently.
Liam O'Dell, an accessibility journalist, had written in the same month about how Twitter was steering off-course in its accessibility aims, and was at risk of leaving a big part of its user base in the dust.
While you can still use the features that the team worked hard to implement, we can't say for sure if these will either last or work as well as they have in previous years.
Its accessibility page lists everything that it supports for those who are visually and audibly impaired, such as dark mode, auto-caption support for videos, Spaces, and voice tweets, alongside cognitive features. There's still a lot to use on X's site and app, but with no word from Musk and others about where accessibility stands, we'd be hesitant to say that these features are here to stay.
In the meantime, Android and iOS both have a bunch of accessibility features that you can use that help you, such as voice control and contrast settings in case some from X disappear without notice.
For Threads, accessibility is minimal, with just a handful of features ready to use. Alt text finally arrived in early August, so you can describe what the photos you're uploading look like.
But in recent months, features such as audio posting allow you to have these transcribed, which is great for someone who is visually impaired.
You can use the features that iOS and Android provide once again, but with Meta touting accessibility as a big priority, it's simply baffling that its new social platform has launched with next-to-no features that help the audio and visually impaired.
Threads vs X: Verdict
Threads has a unique opportunity on its hands. It's owned by a company that runs Facebook, Instagram, and WhatsApp, alongside owning the Meta Quest VR headsets.
It has the potential to be the replacement for X. Musk's platform is clearly lagging behind a series of management blunders, a reduced workforce, and features that don't work well. Or some get scrapped before they're brought out, or simply get taken away without much notice for users and developers to prepare for.
But it clearly launched before it was meant to in order to take advantage of Musk's latest blunder at the time, where there was a set limit on how many 'tweets' you could view in one day.
And while it may have worked out for Threads in how many users it gained, the drop-off since has been stark. Many have since been quick to assume that it's already over for Threads because of this, we'd be hesitant to call the end of this battle.
We live in an age where many users want everything yesterday - and that applies to the outcome of certain things. It's still early days for Threads, and the fact that it didn't buckle in its early launch is something to applaud.
But because it launched so soon, it's time to see the bigger features appear to keep the users it currently has. A web version will be a big pull to many, as well as more accessibility features, such as dark mode, captions for videos once they arrive, and the ability to make text and captions bigger for those who are visually impaired.
When it comes to other platforms that were also quickly judged to be 'Twitter killers', the jury is still out. Mastodon is doing well still, and it's turning out to be a community for developers more than others, while Bluesky still seems to have a communication problem with what features are coming up and where it stands.
This is where Threads has the real chance of winning out here to be the true Twitter killer. It has Meta backing it, a strong infrastructure to keep it from being inaccessible, and clear faith in its leadership to where it can go.
But if it keeps updating the platform with features to zoom in on profile pictures, rather than looking at accessibility improvements and a web version, it may just go the way of Hive and Substack Reads.
For now though, almost two months into its launch - Threads is promising, but it's time to bring in the important features to truly be the replacement that many are waiting for it to be.
Sign up for Black Friday email alerts!
Get the hottest deals available in your inbox plus news, reviews, opinion, analysis and more from the TechRadar team.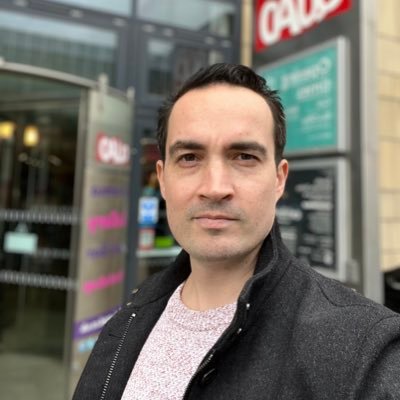 Software & Downloads Writer
Daryl had been freelancing for 3 years before joining TechRadar, now reporting on everything software-related. In his spare time he's written a book, 'The Making of Tomb Raider', alongside podcasting and usually found playing games old and new on his PC and MacBook Pro. If you have a story about an updated app, one that's about to launch, or just anything Software-related, drop him a line.