Google Photos update could make it a powerful new reminders app
Google Photos keeps getting smarter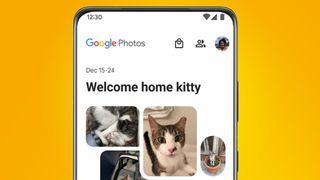 (Image credit: Google)
Google Photos continues to get smarter and it could soon gain the ability to let you set reminders for certain tasks and events, all from within the photo management app.
There's already a myriad of smart AI-powered options within Google Photos, from being able to extract text from an image, translate languages, and use the Google Lens feature to pick out even more information in photos and search Google for highlighted items. But this forthcoming reminder function, spotted by The SpAndroid, continues to build out the Photos app into more than just a place to store, edit and peruse shots.
Much like the "Copy text", "Search" and "Listen" 'chips' (aka prompts) that pop up to offer you various options, an incoming Google Photos update could soon serve up the option to "Set reminder".
Tapping this effectively lets you create a calendar entry for a corresponding Google Calendar app. So let's say you snapped a photo of a restaurant board offering specials on certain days, you could use the new feature to then set a calendar reminder to check out the restaurant on a particular day.
As someone who snaps photos on his phone to serve as reminders and reference points, this new feature seems particularly handy. Sure, it's not hard to bounce into a calendar app and set your own reminder, but being able to do things with fewer taps or swipes through app menus is certainly appealing to me. And it also means the information you're after is right in front of you, rather than forcing you to bounce between apps.
Unfortunately, this reminder feature doesn't appear to have rolled out widely yet, with it not popping up in Google Photos on my iPhone 13 Pro or Google Pixel 7 Pro. However such updates can take time to roll out worldwide. I'm running Google Photos version 6.60, so I may need to wait until version 6.61 as that was used by The SpAndroid to test the reminder feature.
Ever smarter software
Given Google is pushing AI-powered tools into its software, as well as Pixel phones with the Pixel 8 Pro at the top of the pile, it's no surprise to see it bolster Photos with AI-centric features.
It might seem creepy that Google could extract all manner of information from your smartphone snaps, but these tools can be very handy at times, letting you do more with less back and forth between apps.
I'm actually keen to see Google do more in embracing interoperability between its app ecosystem. I'd like Google Maps to pull Google Photos into my timeline so I can better retrace my steps when trying to remember where I went and when; you can manually add photos to Maps and map locations can be automatically added to photos, but it doesn't quite feel like there's perfect harmony between the apps.
Nevertheless, it's neat to see how Google Photos continues to evolve. I only hope it sticks to the side of being handy and not fall into the realms of creepiness.
You might also like
Sign up for Black Friday email alerts!
Get the hottest deals available in your inbox plus news, reviews, opinion, analysis and more from the TechRadar team.
Managing Editor, Mobile Computing
Roland Moore-Colyer a Managing Editor at TechRadar with a focus on phones and tablets, but a general interest in all things tech, especially things with a good story behind them. He can also be found writing about games, computers, and cars when the occasion arrives. And he also supports with the day-to-day running of TechRadar. When not at his desk Roland can be found wandering around London, often with a look of curiosity on his face and a nose for food markets.