One of the main issues with 2016's Sony Xperia X Compact was that it had forgotten its legacy. While maintaining its iconic, pocket-sized demeanor, it lacked the brawn and playful quality seen in the Xperia Z5 Compact. Thankfully, Sony appears to have come to its senses with the Sony Xperia XZ1 Compact.
This new 4.6-inch smartphone is capable of just about everything its larger sibling, the flagship Sony Xperia XZ1 is, but in a smaller, more battery-efficient form factor which can be easily operated with one hand.
The Sony Xperia XZ1 Compact release date is pegged for September, with pre-orders opening in the UK from August 31.
Meanwhile there's currently no word on the XZ1 Compact price, which will ultimately determine whether this phone will be great value for money or an overpriced iPhone SE rival – we'll update this hands-on as soon as we know.
Below are our first impressions of Sony's new palm-friendly smartphone, but stay tuned for our expanded thoughts from the floor at IFA 2017.
Design and display
Like the new Sony Xperia XZ1, the XZ1 Compact has received a bit of a shake-up in terms of design over its predecessor. While it's still boxier than the larger flagship, its edges have been slightly rounded off for a more ergonomic feel in the hand.
Compared with the full-size XZ1 you might be expecting some compromises in the process of squeezing this phone into its compact form factor. But other than its dimensions (which Sony hasn't officially confirmed), there's honestly not much that's different here – and that's a good thing.
While the chunky design may initially make people steer clear, there's something rather endearing about the XZ1 Compact. Its almost cutesy look is appealing, and for the the selfie-obsessed market that Sony's aiming for the Compact will be an attractive proposition.
Despite being much smaller, the XZ1 Compact retains the XZ1's button and port layout, dual S-Force front surround speakers for 50% more sound pressure that its predecessor, and most importantly, power.
Sony Xperia XZ1 Compact hands-on gallery
Image 1 of 9
Image 2 of 9
Image 3 of 9
Image 4 of 9
Image 5 of 9
Image 6 of 9
Image 7 of 9
Image 8 of 9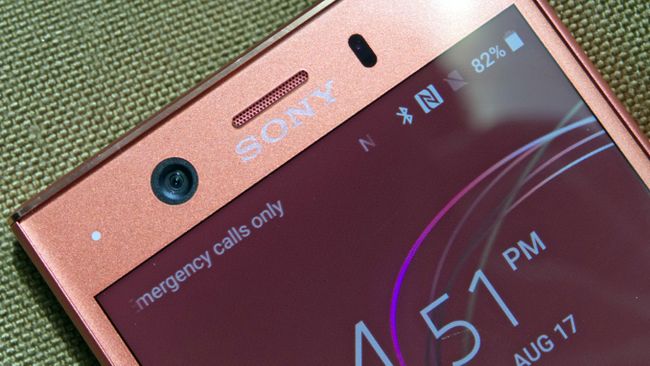 Image 9 of 9
Essentially the body of the phone is plastic, but it's not as straightforward as that – and it certainly doesn't feel like a low-end handset in the hand.
The unibody is constructed from a glass fiber woven plastic, which is both strong and lightweight and also gives the phone a pleasing feel and finish. The top and bottom of the device are capped with metal, while the front is protected by Gorilla Glass.
Sony's habit of making its smartphones dust- and water-resistant continues here, with the XZ1 Compact having an IP65/68 rating, which means it'll even survive a dunk underwater.
However, it's not all positive. The volume rocker is about the same size as the power button, and so the margin of error for making the wrong volume adjustment is thinner.
Also, Sony has once again inexplicably omitted the fingerprint sensor in the power key for the US market, limiting security options to a PIN, pattern or just no lock at all. Come on, Sony – get with it.
The XZ1 Compact will be available in four colors: Black, Snow Silver, Horizon Blue and Twilight Pink.
The display rocks a 4.6-inch, 720p HD resolution, which is standard for Sony's Compact line and comfortably positions it against its main competitor, the iPhone SE.
That said, it will still sound like a disappointing choice for some, but we didn't notice any quality issues – and frankly, if it equates to super-long battery life, we'll take the hit in resolution.
The screen is bright and colorful, and we had no trouble zipping around Android, snapping pics and reading text.
Battery
The 2,700mAh battery in the Sony Xperia XZ1 Compact may not sound great on paper, but with its smaller 4.6-inch display coupled with the improved power efficiency of the Snapdragon 835 chipset and Android O software it has the potential to offer some very impressive battery life.
TechRadar spoke to a Sony representative during our hands-on time, who told us the XZ1 Compact has "excellent" battery life – something we fear won't be the same on the larger Xperia XZ1, which has the same size power pack.
We'll be putting the battery to the test during our full, in-depth review, so for now we'll cross our fingers and hope the XZ1 Compact can live up to Sony's claims.
Camera
Did we mention that the Xperia XZ1 Compact shares a lot in common with the XZ1 flagship?
As well as sporting the same chipset, button layout, front-facing speakers and battery, the XZ1 Compact also boasts the same 19MP rear-facing camera.
That means it has a sensor that's capable of super slo-mo video recording at 960 frames per second, burst shooting while keeping moving subjects in focus, and snapping images before you've even pressed the shutter.
To learn more about the new features of the rear-facing camera, and how it performs, check out our hands-on: Sony Xperia XZ1 review.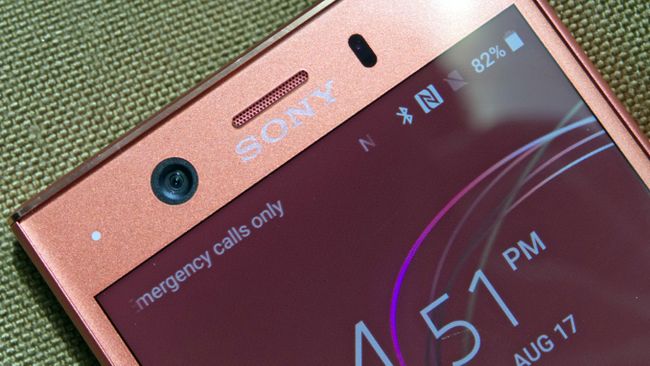 If you're still with us, we're going to talk about the 8MP front-facing snapper on the XZ1 Compact, as this differs to the offering on its bigger brother.
As we've already mentioned, Sony is aiming this phone at the social media/selfie generation, and the front-facing camera is a key component of its appeal.
It offers a super-wide mode that gives you a 120-degree field of view, which is similar to that of our eyes and allows you to cram more of your buddies, or the beautiful vista behind you, into the shot.
You can switch between this wide-angle view and a more typical 80-degree option that's perfect for those close-up Instagram pouts and Snapchat Stories.
The front camera also offers video recording, and if you find yourself in a dim club you can employ the help of the display flash. This turns the screen bright white when you hit the shutter key to ensure that your selfies aren't a blurry, dark mess.
Anything else I should know?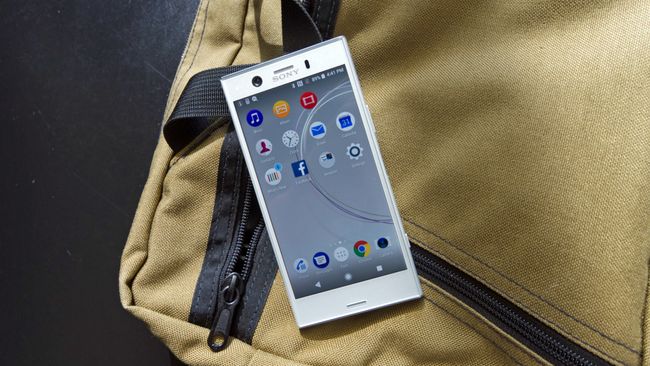 In another nod to the XZ1 Compact's flagship roots, it packs in a Snapdragon 835 processor and 4GB of RAM, which earns this phone some immediate future-proof cred.
It also puts the Compact right up there with the Samsung Galaxy S8, LG G6, HTC U11 and Huawei P10 in terms of power output, which is certainly impressive.
Inside you'll also find 32GB of storage, and there's a microSD slot on the side of the handset allowing you build on this further with a memory card.
We won't know until our full review if Sony has found the perfect balance between power and efficiency, but in our short time with the device we certainly didn't encounter any issues while switching between apps and moving around the Android interface.
Like its larger sibling, the XZ1 Compact also comes with Sony's new 3D Creator application, which enables you to quickly and easily take 3D scans of faces, heads, food and random objects on your phone, and then save, share on social media and even 3D-print your creations.
We go into more detail about 3D Creator in our Sony Xperia XZ1 hands-on review.
Like the XZ Premium, the Xperia XZ1 brings support for Hi-Res audio, and is even capable of upscaling MP3 tracks to sound better through a decent set of headphones.
Early verdict
The Sony Xperia XZ1 Compact is a promising step forward for the popular one-handed-use series. If Sony can keep the price down, deciding on a capable and pocketable smartphone in the tail end of 2017 is going to get much more difficult.
We'll have our full review up ahead of the device's September release, but stay tuned to our IFA 2017 coverage for more details.
IFA 2017 is Europe's biggest tech show. The TechRadar team is in Berlin to bring you all the breaking news and hands-on first impressions of new phones, watches and other tech as they're announced.