Weight: 206g
Dimensions: 147.5 x 71.5 x 7.9mm
Screen size: 6.1-inch
Resolution: 1179 x 2556
CPU: A16 Bionic
RAM: 6GB
Storage: 128GB/256GB/512GB/1TB
Battery: 3,200mAh
Rear camera: 48MP+12MP+12MP
Front camera: 12MP
The iPhone 14 Pro is one of the very best phones you can buy, with a great design, excellent cameras and unparalleled performance.
But it's more expensive than the Pixel 7 Pro, and likely won't convert Android fans. It's also smaller than Google's handset, which is either good or bad depending on what you want from a phone.
For
Exquisite design
High-quality cameras
Clever Dynamic Island
Against
Still just 3x optical zoom
No USB-C
Premium price
Weight: 212g
Dimensions: 162.9 x 76.6 x 8.9mm
Screen size: 6.7-inch
Resolution: 1440 x 3120
CPU: Tensor G2
RAM: 12GB
Storage: 128GB/256GB/512GB
Battery: 5,000mAh
Rear camera: 50MP+48MP+12MP
Front camera: 10.8MP
The Google Pixel 7 Pro is the best phone Google has ever made and is a great all-rounder, just like the iPhone 14 Pro. It arguably even has the edge for photography, and it packs a bigger screen, all at a lower price.
Of course, if you want iOS then this won't change your mind, and it's nowhere near as powerful as Apple's phone.
For
Intuitive and easy to use
Great cameras
Snappy interface
Against
Less powerful than the iPhone
Won't be supported for as long
Bulkier
If you were to pick a champion to represent Apple's iOS and one to represent Android, you'd probably end up with an iPhone 14 Pro vs Google Pixel 7 Pro face-off.
The iPhone 14 Pro is the most capable phone Apple has ever made, and you could say the same about the Pixel 7 Pro for Google. So which of these two impressive phones is the better buy?
We've spent a lot of time with both handsets, so here are our thoughts.
iPhone 14 Pro vs Pixel 7 Pro: price and availability
The iPhone 14 Pro landed on September 16, 2022. It's priced from $999 / £1,099 / AU$1,749 for the base 128GB model, while $1099 / £1,209 / AU$1,899 will bump that storage up to 256GB. The 512GB model costs $1,299 / £1,429 / AU$2,249, while the range-topping 1TB unit costs $1,499 / £1,649 / AU$2,599.
The Pixel 7 Pro arrived a month later on October 13, 2022. Prices start from $899 / £849 / AU$1,299 for the 128GB model, while you can also double your storage to 256GB for $999 / £949 / AU$1,449, or get 512GB for $1,099 / AU$1,599 - with this model not being available in the UK.
Google's flagship is considerably cheaper than Apple's, then, giving it an early win.
iPhone 14 Pro vs Pixel 7 Pro: design
Neither of these phones offers anything particularly new on the design front, but the Pixel 7 Pro is undoubtedly fresher. While the iPhone 14 Pro's design is much like the iPhone 13 Pro and the iPhone 12 Pro before that, the Pixel 7 Pro's design only dates back to the preceding Pixel 6 Pro.
They're both handsome devices, but in very different ways. Apple's phone is all sharp edges and flat surfaces, while Google's is quite curvaceous.
The iPhone 14 Pro's stainless steel rim is more premium than the Pixel 7 Pro's aluminum, but that also levels the playing field in terms of weight. While the Pixel 7 Pro is quite a bit bigger in every way (162.9 x 76.55 x 8.9mm for the Pixel vs 147.5 x 71.5 x 7.9mm for the iPhone) there's only a 6g difference in weight (212g for the Pixel and 206g for the iPhone).
Apple's bespoke Ceramic Shield and flat display makes the iPhone 14 Pro a little tougher than the Pixel 7 Pro, which applies weaker Corning Gorilla Glass Victus to a more exposed curved display.
Google's phone seems a little more scratch prone with its shiny metal camera section, too. Still, both phones have IP68 certification, so they're similarly water and dust resistant.
Undoubtedly the iPhone 14 Pro's boldest design feature is its Dynamic Island, which contains Apple's Face ID authentication system, as well as a bold new widget system. The Pixel 7 Pro has a standard hole-punch cut-out, which is altogether lower tech than Apple's.
Google's phone relies on a classic in-display fingerprint sensor for its own biometric authentication. Whether that's a pro or a con comes down to your own personal preference.
iPhone 14 Pro vs Pixel 7 Pro: display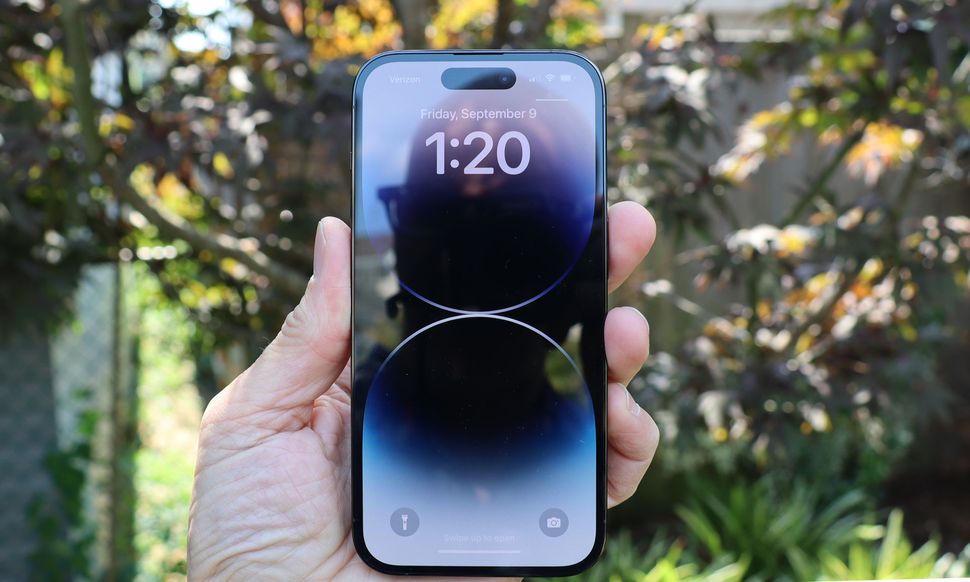 The iPhone 14 Pro supplies a 6.1-inch OLED display with an 1179 x 2556 resolution. It's both smaller and less sharp than the Pixel 7 Pro's 6.7-inch 1440 x 3120 OLED.
Both screens give you a 120Hz refresh rate, so they both feel nice and fluid in the hand.
Apple wins out on brightness, however. The iPhone 14 Pro tops out at 2,000 nits in High Brightness mode, while the Pixel 7 Pro hits a peak brightness of 1,500 nits.
Not that our review found this disparity to be an issue: "even though the iPhone 14 Pro can technically reach a higher brightness, we always find the Pixel 7 Pro exceedingly bright and colorful," we said.
As we've just discussed, the major innovation with the iPhone 14 Pro's screen is its Dynamic Island, which offers an exciting new heads-up notification and widget system. "Watching it transform when, for instance, a call comes in might make you look twice and wonder 'How'd Apple do that?'", we said in our review.
Apple has finally caught up with Google (and every other Android manufacturer) in offering an always-on display, thus capitalizing on AMOLED and LTPO display technology. It works really well. Better late than never, we guess.
iPhone 14 Pro vs Pixel 7 Pro: cameras
The iPhone 14 Pro sees Apple finally straying away from a pure 12MP camera setup, thanks to a brand new 48MP main sensor. In this regard it's actually gotten closer to the Pixel 7 Pro and its own 50MP wide sensor.
Both phones have 12MP ultra-wides, but while the iPhone 14 Pro also has a 12MP 3x telephoto, the Pixel 7 Pro goes sharper and further with a 48MP 5x equivalent.
The Pixel 7 Pro gets a clear win on the zooming front, then. It's a much harder one to call in general shooting, however.
Apple's main sensor hardware is arguably more advanced, with a sensor-shift optical image stabilization (OIS) system proving better at keeping your shot physically steady than Google's regular OIS.
Combined with Apple's new Photonic Engine, the iPhone 14 Pro is an absolute low light demon. Of course, Google is pretty phenomenal at this stuff too, largely through its image processing wizardry.
Indeed, Google's AI smarts enable advanced features like Photo Unblur, which magically sharpens up blurry shots, and Magic Eraser, which lets you remove unwanted background elements from view.
Both phones take reliably sharp, impeccably exposed shots in all conditions. The main difference relates to color science, with the Pixel 7 Pro giving a consistently cooler, contrastier look, and the iPhone 14 Pro looking a little more natural and 'as seen'.
While both phones take sharp 4K footage, meanwhile, Apple still rules the video roost. Nobody does it better.
Both selfie cameras come with autofocus, which leads to sharper, more locked-on subjects all round.
All in all, these are two of the very best camera phones on the market. We might give the Pixel 7 Pro the edge for its greater flexibility, courtesy of that more impressive telephoto camera. But really, you can't go wrong with either.
iPhone 14 Pro vs Pixel 7 Pro: specs and performance
Apple's A16 Bionic chipset demolishes every other chip on the market for pure CPU performance, so it's no surprise to see it winning here. That's especially so against Google's custom Tensor G2 chip, which doesn't impress all that much in pure processing power.
Our benchmark tests reveal a chunky gap between these two chips, both in CPU and GPU terms. Not that you'll notice this performance shortfall in practical use, with both phones performing admirably day to day.
The iPhone 14 Pro will churn out more consistent frame rates in high-end games with the settings maxed out, but that's about it in practical terms.
Where the Tensor G2 chip really impresses – and where Google has concentrated most of its efforts – is in the AI stakes. Its chip enables those camera tricks we mentioned in the previous section, as well as real time transcription.
Apple gets another small win with its storage provision, offering four options: 128GB, 256GB, 512GB, and 1TB. Google misses out on a 1TB model.
We should probably mention for the sake of being comprehensive that the Pixel 7 Pro has double the RAM of the iPhone 14 Pro – 12GB vs 6GB. We should also mention again that iOS and Android handle their hardware resources very differently, making that difference meaningless.
Which brings us to the one truly important difference between the way these two phones function: their software. The iPhone 14 Pro uses iOS 16, while the Pixel 7 Pro uses Android 13.
Comparing the two is kind of meaningless at this point. They're both extremely crisp, fluid, and mature platforms.
The pros and cons haven't changed all that much over the years. Android still gives you more customization potential and better notification management, while iOS still offers the more complete App Store and a slightly more cohesive and intuitive UI.
Really, it's nip and tuck, and the main deciding point relates to which ecosystem you're more heavily invested in. If you've got loads of paid apps on Android, why would you go with iOS? If all of your friends and family use iMessage, why would you go with Android?
One other potentially significant win here relates to ongoing software support. Google promises three years of Android upgrades, while Apple typically supports its phones with fresh iOS versions for at least five years.
iPhone 14 Pro vs Pixel 7 Pro: battery
The iPhone 14 Pro has a 3,200mAh battery, which is significantly smaller than the Pixel 7 Pro's 5,000mAh cell. Not that this is meaningful in any way – remember what we said about iOS and Android and how they handle their resources differently.
In practical use, both of these phones will get you through a full day of normal usage without issue. Neither has the best stamina on the market, but both are perfectly acceptable.
Neither impresses on the charging front either. The iPhone supports 20W wired charging, while the Pixel 7 Pro supports 30W. Rival manufacturers are offering 120W and even 150W charging, so we're not bowled over in either case.
In wireless terms, the Pixel 7 Pro supports 15W Qi charging to the iPhone 14 Pro's 7.5W, though you can match the Google phone if you buy a MagSafe charger.
Takeaway
We awarded both of these phones 4.5 out of 5 reviews within a couple of weeks of one another, so this is a close-run thing.
If you go by our best phone guide then the iPhone 14 Pro takes the win, but only by a tiny margin.
Both phones are beautifully built, with gorgeous displays, strong performance, and clean software. They both take impeccable photos too.
The Pixel 7 Pro is arguably better value, as well as sporting a bigger display and a better telephoto camera. The iPhone 14 Pro, on the other hand, packs superior performance, a more robust design, and a more pocket-friendly form factor.
The real deciding factor will likely come down to your own personal preference, which will probably incorporate which ecosystem you're invested in: iOS or Android. With that decided, you really can't go wrong.