The Nokia 9 PureView has a radically different photography system that sets it apart from other top-tier phones: it has five cameras on back – a first for any smartphone.
All five of its cameras have the same aperture and field-of-view, and when users take a photo, the entire array snaps a shot at the same time and composites them into one image. Think of the Nokia 9 PureView camera as HDR on steroids.
Update: We been testing out the Nokia 9 camera since MWC 2019 and have included new images and samples to show how photos compare to other flagship cameras. We also tested out the fingerprint sensor. We'll finish up reviewing it after more testing this week.
It's very different from today's phone camera doctrine that uses multiple cameras – typically ultra-wide, main and telephoto lenses – giving users the ability to seamlessly zoom, from way out to way in. Nokia doesn't do this. Instead, it offers something new with its five cameras.
It's a unique philosophy that compromises on less than you'd expect. Sure, the Nokia 9 lacks an optical zoom, but the massive (by resolution and file size) photos should let you just digitally zoom with better clarity than most other phones.
Unfortunately, the Nokia 9 PureView doesn't quite have the best internal specs on the market, so the phone is a bit of a gamble. Will phone shutterbugs come flocking? Will the unique camera array prove groundbreaking enough to inspire imitation? Or will the design be a curiosity that the market doesn't embrace?
However it shakes out, HMD Global (the Finnish firm now behind Nokia handsets) is hedging its bets: the Nokia 9 PureView will only be a limited run, so it may not be as easy to find as other flagship phones.
Nokia 9 PureView release date and price
$699 / £549 / AED 2,299 (around AU$980)
You can currently pre-order in some regions
The Nokia 9 PureView price is $699 / £549 / AED 2,299 (around AU$980), making it comfortably cheaper than other camera phone powerhouses such as the Samsung Galaxy S10 Plus, Google Pixel 3 XL, Huawei Mate 20 Pro and iPhone XS Max.
It's already out in the US, but retailers like Amazon, Best Buy and B&H Photo are sold out – for now. B&H Photo says it'll be back in stock in late March, while Best Buy is counting on an April 5 re-supply.
In the UK you can currently pre-order the phone from HMD Global with an estimated delivery date of April 1. It's not clear whether the Nokia 9 will come to Australia though, as it's not currently listed on the company's Australian site.
Design and display
The Nokia 9 PureView is distinguishable from other flagships on both sides. Its front display lacks a notch, instead maintaining conservative bezels above and below.
The back, of course, has the five cameras, plus a flash and ToF (time of flight) sensor, for a wildly distinctive seven-hole radial pattern that looks a bit like the Blackberry logo – or something very close to an Arachnid spider.
If the hubbub generated by leaked photos of the camera array is anything to go by, the phone's lens spread will turn heads. Whether it's attractive or not is largely to taste, although we found it looked better in the flesh versus in early photos.
You can usually tell if someone points their phone at you to take a photo, but the Nokia 9 PureView's plethora of lenses makes it much more conspicuous. And it's honestly a bit unsettling to get photographed by a gadget sporting nearly a spider's worth of 'eyes'.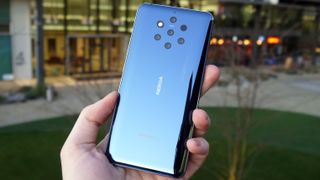 It's a relief, then, that the rest of the phone looks typical. You'll find the power/lock key and volume rocker easily accessible on the right of the phone, while on the base a USB-C port resides alongside a microphone and speaker.
There is, however, no headphone jack, as HMD Global follows the flagship trend of ditching the aging port.
With Gorilla Glass 5 on the front and back sandwiching a metal frame (milled from a single block of 6000 series aluminum), the Nokia 9 PureView looks like a premium phone, but the back glass does feel a bit cheaper when you tap on it.
Good news, it is IP67 rated, providing water and dust resistance which should help it survive being briefly submerged up to 1 meter.
The Nokia 9 PureView measures 155 x 75 x 8mm and tips the scales at 172g, ensuring you feel its presence in your hand. The curved rear glass does help it nestle in the palm, but this is a large phone and will need two hands for many tasks as it offers up little in the way of grip.
Camera bump-haters, take note: the Nokia 9's lenses sits flush with the back of the phone for a seamless rear edge.
While this is likely easier to do without any telephoto lenses, it's a better look for the phone than a seven-hole cluster raised above the rear surface.
The Nokia 9 PureView's display is a 5.99-inch 1440 x 2880 pOLED screen, which is as high-resolution as almost every other flagship on the market.
It looked bright, clear and colorful during our hands on time with the phone, and it should be great for viewing the high-resolution photos taken by the multi-camera system.
There is an additional feature hiding under the display too, with a fingerprint scanner built into the screen. The Nokia 9 PureView comes with the commonly used optical reader, rather than the ultrasonic tech in the Galaxy S10, but it's still good to see a hot flagship feature make its way into a Nokia.
In our tests, the fingerprint sensor works reasonably well most times, but there have been instances in which it refuses to recognize our thumbprint after several tries. The technology is cutting-edge and therefore early.
What's a little more disappoint to see is the slightly bezel-heavy design (by 2019's smartphone standards at least) employed here, which doesn't make the front of the Nokia 9 PureView look quite as futuristic as its rear camera array - but those who aren't fans of the notch or 'punch-hole' styles may be pleased with the more traditional look.
Image 1 of 11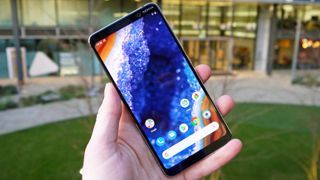 Image 2 of 11
Image 3 of 11
Image 4 of 11
Image 5 of 11
Image 6 of 11
Image 7 of 11
Image 8 of 11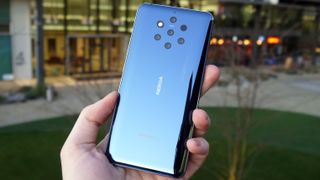 Image 9 of 11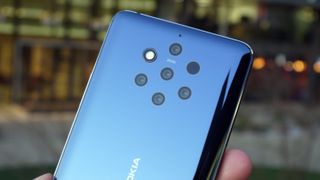 Image 10 of 11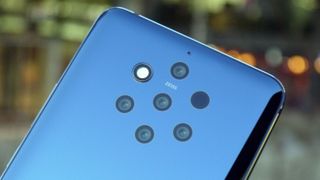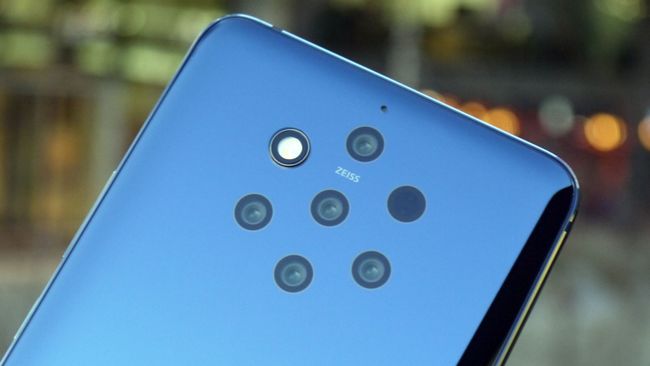 Image 11 of 11
Camera
Ah yes – the cameras.
A little clarification up front: while the Nokia 9 PureView does indeed have five rear cameras, only two are in color. These occupy the central and bottom spots in the array, with the other three lenses – all monochrome – arranged equally around the color ones.
Image 1 of 4
Nokia 9 photo comparison: Nokia 9
Here's a slideshow comparing the Nokia 9 camera to the Google Pixel 3, iPhone XS Max, and Samsung Galaxy S10 Plus. Nokia's photo comes out darker, but the higher resolution does allow us to work with this photo in Lightroom by increasing the exposure, contrast and clarity (without destroying the image). Other phones come out looking brighter from the beginning. This cements the Nokia 9 as a tinkerer's smartphone. That means it's good – but it's not for everyone.
Image 2 of 4
Nokia 9 photo comparison: Google Pixel 3
The Google Pixel 3 is slightly brighter in some areas, and darker in others, giving off a better HDR look than any other smartphone camera we tested today. The clock at the top of Grand Central Terminal looks golden without overexposing the rest of the image. Of the four camera phones we tested in this scenario, it's the winner.
Image 3 of 4
Nokia 9 photo comparison: iPhone XS Max
The iPhone XS Max photo, taken from the same location in front of Grand Central Terminal, gives us an even brighter scene, but one with slightly more yellow tones. That's typical of an iPhone. Everything looks a bit golden than the competition.
Image 4 of 4
Nokia 9 photo comparison: Samsung Galaxy S10 Plus
The Samsung Galaxy S10 Plus really amps up the exposure, and compared to the darker Nokia 9 photo, it's almost as if someone has turned on bright lights in front of Grand Central Terminal. it still looks highly detailed, though. We see one problem: the lights underneath the bridge do bloom a little too much, while they remain smaller in every other camera sample. It's not a bit deal here, but can be an issue in low-light with bright spots.
This orientation is precise and important, Nokia maintains, which ensures that all cameras contribute their images just so. Likewise, the five cameras are identically-spec'd at 12MP and f/1.8 with Zeiss optics.
That sounds low considering the escalating megapixels in phones over the last few years (with plenty of phones reaching for the 48MP camera high-water mark). But Nokia customers didn't appreciate the massive photos, and certainly didn't enjoy the correspondingly massive file sizes, a Nokia rep told TechRadar.
The company predicts users will be satisfied with 12MP photos, which shouldn't take up too much space if users shoot using only one of the Nokia 9's lenses.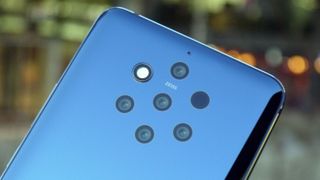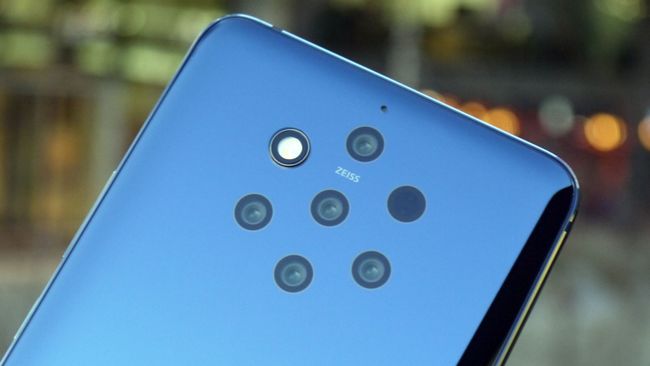 Because, yes, those five-lens photos are large (from 25MB to 40MB) - which is why you can toggle depth mode on or off. But if you do turn it on, expect "up to 1,200 layers of depth data" to be captured, and by using machine learning it can calculate almost an infinite number of layers between 7cm and 40 meters away from the lens.
When in depth mode, the Nokia 9 PureView captures at least one picture from each of five lens at the same time, and depending on scene it may capture up to four shots on each.
It means the final image could end up holding anything from 60MP to 240MP of information when shot in the RAW 'DNG' format - providing a huge amount of editing scope for professional photographers.
If you're not capturing your shots in RAW, the Nokia 9 PureView will fuse all of these shots into one, highly-detailed 12MP photograph.
In short, the Nokia 9 PureView is the first smartphone that's capable of simultaneously capturing pictures from five cameras and fusing them into one single image.
Combining a five-camera photo is a different approach to fidelity, essentially using AI to pick the best parts of each pic to form an image that could produce photos that are truer to life. The cameras auto-adjust exposure across the screen and, all combined, let in 10 times more light than a single color sensor of the same type, Nokia claims.
It's a lot to boast, and with good reason: the phone's photo capabilities are by far the biggest feature that will distinguish the Nokia 9 from the competition. But the device does offer a lot to mobile photographers on top of the camera cluster, with a lot to tinker with in Adobe's mobile Lightroom app along with compatibility with Google Photos' new depth-adding features.
While the Nokia 9 doesn't have a similarly impressive array for front-facing features - it packs a lone 20MP lens in the top bar. However, our firsts tests show that it offers blown out backgrounds with no signs of HDR. It's also slow to save these selfies.
Image 1 of 4
The Nokia 9 camera has a tight field of a view, closer to that of the iPhone, but contains none of the HDR perks of higher-priced flagships. It's almost as if all of Nokia's camera resources went into the five rear cameras, and not the sixth seemingly forgotten front-facing cameras. Compare to the the Google Pixel 3 (best), iPhone XS Max (nearly the best), and Samsung Galaxy S10 Plus (distant third) in our slideshow.
Image 2 of 4
There's a lot more to see from the Google Pixel 3 camera. It's able to better separate the subject from the background and not blow out the bright background entirely (or at all).
Image 3 of 4
That more golden color comes through on the iPhone XS Max front-facing camera. It has a tighter field of view than the Google Pixel 3 and Samsung Galaxy S10 Plus front cameras and has natural tones. For some people, this may be more favorable than the HDR effect of the Google Pixel 3.
Image 4 of 4
The Samsung Galaxy S10 Plus image is reversed by default, which can be a bit distracting. But at least it includes decent HDR. It has a wider field of view, and is the brightest of the bunch, but not the best. The saturation is a little high – typical of Samsung phones (that often results in too much red on skin tones).
So how do these cameras actually perform? In our brief time, we found the multi-camera setup produced a ton of detail in shots, producing good-looking photos, even when left unedited.
We're still spending time with the photos in photo-editing software – all that extra detail gave us a lot to play with in the Lightroom app - noticeably more than, say, photos from an iPhone XS.
Nokia might be leaning on its partnership with Adobe, but given how tried-and-true the latter's mobile photo editing app is, we don't mind at all.
We'll put the Nokia 9 PureView cameras and software through their paces in our full review to see if its utterly unique photography setup produces images a cut above the competition.
The Pro Camera UI in the camera app has also been updated for the Nokia 9 PureView, with HMD Global extending the range of the values (brightness, white balance, shutter speed etc) in response to user feedback.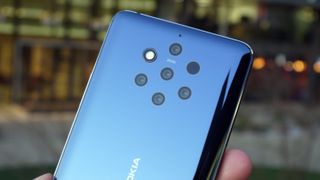 Specs and performance
Anyone who needs the absolute latest and greatest specs in their phone should think twice about the Nokia 9 PureView.
It packs 2018's leading Qualcomm chipset, the Snapdragon 845, which is a curious choice for a phone released in 2019 that will compete with devices packing the Snapdragon 855.
That doesn't mean the phone will under perform – the Snapdragon 845 is plenty fast, and considering phones with it were released up until the end of 2018, that means the Nokia 9 is only a few months out of date.
In our brief time with the new phone, the chip was plenty fast for zipping around the interface and taking quick shots.
But the Nokia 9 PureView won't just have a stock Snapdragon 845; it turns out the chip can only handle images from three lenses simultaneously for HDR-like processing. The phone uses a dedicated Light Lux Capacitor, which is designed for bespoke multi-camera setups, to wrangle imagery from all five of its rear lenses at once, allowing it to process 240MP of photo before feeding it into the Snapdragon processor.
Otherwise, the phone packs a respectable 6GB of RAM and 128GB of storage, which should store quite a few five-camera shots. The phone comes with Android 9 Pie out of the box, which is expected but still nice to see from a flagship.
The Nokia 9 PureView's 3,320mAh battery should be enough for a full day's charge, though we're extremely curious if shooting (and processing) five-lens images will significantly drain the battery – something we'll pay attention to in our full review. If so, the wireless charging may come in handy to juice it back up during the day.
Early verdict
The Nokia 9 PureView is an impressive device built for photographers on the go, and if you're truly committed to this format, this could be the phone for you. Its specs are respectable but not outstanding, which is fine for a phone priced hundreds of dollars below the top-spec'd handsets on the market.
But whether it will be easy to pick up Nokia's latest phone is another issue, given its limited production. That alone suggests to us that the company knows it's a device for a niche crowd.
On the other hand, the phones we hold in highest photo-esteem are the top-tier devices with the high price tag to afford all the best equipment. $699 is a much easier number to swallow than $799, $899 or $999 for the best devices from Google, Samsung and Apple.
Nokia isn't the only brand trying to distinguish itself with photography; Sony's Xperia flagships also seem to be investing in nice screens and cameras. But Sony hasn't gone the distance to stuff the Xperia 1's backside with five lenses.
it's exciting for HMD to stick its neck out for mobile photography that isn't following other flagships in stuffing as many different lenses as possible into their phones. Instead, the Nokia 9 PureVire is committed to taking one kind of shot as best it can. Whether its photo quality outweighs the utility it gives up will have to wait for our review.
MWC (Mobile World Congress) is the world's largest showcase for the mobile industry, stuffed full of the newest phones, tablets, wearables and more. TechRadar is reporting live from Barcelona all week to bring you the very latest from the show floor. Head to our dedicated MWC 2019 hub to see all the new releases, along with TechRadar's world-class analysis and buying advice about your next phone.