We love it when a phone like the Moto G6 comes along. Don't get us wrong...you won't see us spouting inverted snobbery, decrying high-end smartphones like the iPhone X or Samsung Galaxy Note 8. But when a phone as good as the Moto G6 comes along for these kind of prices, we get some serious feels.
So if you're looking at the Moto G6, we're guessing you're somebody who regards great value as highly as you do screen pixels and RAM. That's where we can really get along, you and us, because we're listing the very best Moto G6 deals you can currently buy.
And for this relatively low amount of money, don't start thinking you'll be short-changed. We've already reviewed the Moto G6, and we love it. The design belies the meagre price tag and the display is as bright and clear as on many more expensive handsets. The quibbles we have are fairly minor and far outweighed by the pros.
But you can read more about all that at the bottom of this page, where you'll see a potted version of our review. Before that, you'll see our Moto G6 comparison chart where you can hand-pluck the tariff that best suits your needs. As well as a list of retailers flogging SIM-free Moto G6 phones.
Moto G6 SIM-free price drop: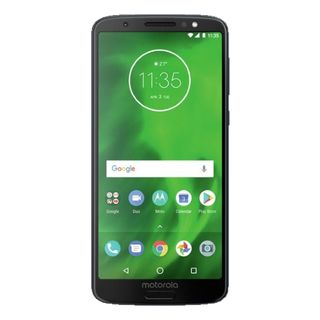 Moto G6 | £199.95 Now £179.95 at Argos
There are very few smartphones you can get at a price like this, especially when the G6 only came out earlier this year. For this price you are getting an attractive screen and a surprisingly premium design.
View Deal
Unlocked Moto G6 SIM-free deals
£220. That's it. That's all you need to spend to get a SIM-free Moto G6 handset delivered to you and ready to insert a SIM card.
And if you have the cash to splash at the outset, it's by far the cheapest way to own the Moto G6 over the course of the next two years. Team it up with one of our best SIM only deals and the whole thing will come to less than £350 for 24 months all in. If you're looking to save the pennies, then definitely consider this route before you commit to a contract. Those pounds will take care of themselves, right?
The Moto G6 obviously won't knockout the big boys, but it's not far off from sparring with them. It's a solid smartphone with the kind of features that most modern users have come to expect, but with a price tag you probably hadn't.
The Full HD+ screen is the real standout, matching the likes of more expensive phones like the Sony Xperia XZ2. It has an 18:9 ratio, which gives it the same kind of look as flagship phones, and it boasts almost immaculate clarity. On top of that, there's the dual-sensor camera on the rear, a fast charging battery and more. You could do a lot worse, but will struggle to do a lot better - especially at the price.
Read TechRadar's Moto G6 review