I tried Sonos' most elite Dolby Atmos home theater speakers, and they surprised me in 2 ways
The Sonos Era 300 bring a new level of Dolby Atmos sound quality when paired with a Sonos Arc.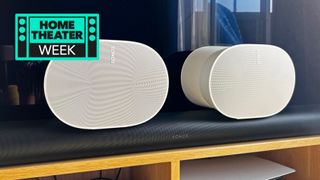 (Image credit: Future)
I've been using a Sonos surround system in my house for a little while now. I have a Sonos Arc, two Sonos Ones as rear speakers, and a Sonos Sub Mini – and it's a great setup for the amount of space I had, but as soon as the Sonos Era 300 appeared, I knew I needed to try the step up.
I first got to try the Sonos Era 300 in a surround setup when it was unveiled, and it really impressed me. With side and up-firing drivers built specifically for Dolby Atmos, it was clearly going to be quite different to the basic two-way speakers of the Sonos One. But when I wrote my Sonos Era 300 review, I only had one unit, so I couldn't try a pair as rear speakers with my Arc. But now I have two, and now I have tried them.
The promise here compared to a pair of Sonos Ones is of a much more dynamic sound, both in terms of Dolby Atmos spatial audio positioning of sounds, and in terms of the overall audio quality and power.
And the Era 300 delivers on these – but the balance is different than I expected, and there was one other pleasant surprise. Let's start with that.
A light touch for a big guy
I don't have a vast living room. Contrary to the pictures so many home theater companies put out, there isn't a large empty space behind my couch to put large speakers in their exactly optimum position. My Sonos One units sit on angled stands that allow them to snake up and behind my couch, but they're very close to my head.
And so the Era 300 speakers were very close to my head too… and that turned out to be just fine. They might be large and seriously beefy, but having used Sonos' Trueplay system when setting them up, the system knows exactly where I'll sit in relation to the speakers, and does an incredible job of making them sound big and powerful, but without overwhelming you because they're close. They feel like big speakers placed further away.
So if you've had any concerns about upgrading to them because they seem like too much for your small space, don't worry about that – they'll work it out nicely.
The Dolby Atmos upgrade is subtle
With side-firing and up-firing speakers (as well as foward-firing, and a couple of woofers) on the Era 300, the obvious upgrade you're expecting is more height and width from Dolby Atmos soundtracks. Sonos says that with an Arc, Sub and two Era 300 speakers, you get a 7.1.4-channel setup, compared to a 5.1.2 system with two Sonos Ones. That means two extra side channels of sound, and two extra height channels.
In terms of what you'll actually hear, that means a better connection between the soundbar and the speakers, and more precise movement of sound above your head – and, generally, a stronger impression of height.
The Sonos Arc isn't the most effective creator of height channels of all the soundbars we've tested on its own – it does fine, just not best-in-class. But adding the Era 300 really helps, and in The Last Jedi, when the Millennium Falcon arrives over Crait, it doesn't just appear "above" you – it moves across the space above you. When Maverick flies the Mach 10 jet in Top Gun: Maverick, it roars from the horizon right over you, front to back.
The additional side angles show themselves in something like The Matrix's bullet time sequences. As the camera circles around, you get a more seamless ring of noise from the bullets howling past. It's less like they're in front and then behind, and more like a complete movement.
It's the same kind of thing going back to Top Gun: Maverick, in the final mission when missiles are constantly chasing the pilots. As they perform evasive maneuvers, the missiles hiss behind and to the side, snaking forward and past your head.
However, the difference is more subtle than you might think. What I'm describing above is the difference I notice as someone who's tested a lot of Atmos stuff, and who knows what to listen for. My partner was testing with me, and when I asked her she kind of apologetically shrugged and said she wasn't hearing a significant difference in the positioning of sounds compared to the Sonos One setup. So if you're hoping that upgrading from some Ones to Era 300s will blow other people away, you might be disappointed, from my experience.
However, my partner actually was still extremely impressed with the speakers, and asked if they really had to back to Sonos. It just wasn't for the Atmos effects.
Just a better, clearer sound
What she was enjoying was the step up in the meat and clarity of the sound that the Sonos Era 300 provide. Ignoring object-based positioning and all that stuff, she was putting on the docking scene from Insterstellar and just being blown away by the simultaneous heft and detail they can produce. They combination of music and ship rumble in that moment will overwhelm all but the best speakers, and the Era 300 keep right up with it.
In Pacific Rim, the scale of destruction you're feeling takes a step up when the rear speakers can hit so deep and so clearly at the same time. And they're on a new level when it comes to detail, so something like rain or the sprinklers from Morpheus' escape from the the Agents in The Matrix sounds so realistic, not because of the spatial effect, but because you can hear each drop with such precision.
It's an elevation of the soundstage – and again, I would argue it's not night and day, because the Sonos One is a truly remarkable small speaker. But you can't argue with size and newer technology – this is the improvement that stood out to both me as the Atmos nerd, and to someone who just loves watching movies in a great setup.
Should you buy them?
There's two questions here – if you have a Sonos Arc with two Sonos Ones, should you upgrade those Sonos Ones to the Era 300; and if you have a Sonos Arc and no rear speakers, are the Era 300 a good choice for your first rear speakers?
Obviously, it comes down to price in both cases. Two Era 300 units cost $900 / £900 / AU$1,500 – but if you've already got two Sonos Ones, you've already spent around $350 / £350 / AU$650. So is it worth spending another chunk of money for the upgrade? I think it really depends on your budget – if you've had that setup for a while and the expenditure isn't a big deal to you, I think adding the Era 300 to refresh your system is a good idea. Bear in mind what I've said about how big an effect it will have – or, rather, how subtle an effect. Set expectations accordingly.
But because of that, if budget is tight, I wouldn't recommend it as an update if you have two Sonos Ones. It's great, but it's not transformative enough to push your finances for.
If you have a Sonos Arc but no rear speakers currently, then again my answer is split into two, but it's about how invested in Sonos you are. If you have other Sonos stuff and it's important that your soundbar is part of that ecosystem, and you want the best possible rear speaker upgrade, then go for it. Adding rear speakers is a huge improvement to the Arc, and these in particular take that Dolby Atmos element to a new level.
However, if you're not wedded to Sonos, then consider the fact that the price of the two Sonos Era 300 speakers alone is the same as price of the whole Samsung HW-Q930C package. That's an entire 9.1.4-channel setup, including sub, for the same price as the two speakers. We haven't reviewed that model, but we raved about its previous version (the Samsung HW-Q930B), and we think its bigger brother (the Samsung HW-Q990C) produces the best Dolby Atmos effect from a soundbar of anything you can get today.
You might also like
Sign up to receive daily breaking news, reviews, opinion, analysis, deals and more from the world of tech.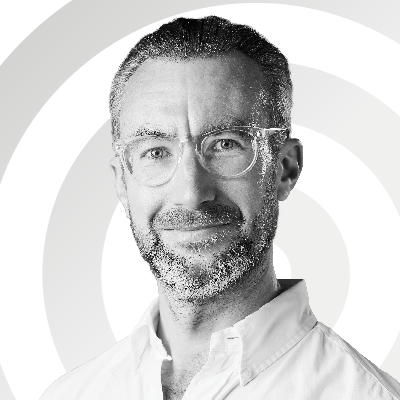 Managing Editor, Entertainment
Matt is TechRadar's Managing Editor for Entertainment, meaning he's in charge of persuading our team of writers and reviewers to watch the latest TV shows and movies on gorgeous TVs and listen to fantastic speakers and headphones. It's a tough task, as you can imagine. Matt has over a decade of experience in tech publishing, and previously ran the TV & audio coverage for our colleagues at T3.com, and before that he edited T3 magazine. During his career, he's also contributed to places as varied as Creative Bloq, PC Gamer, PetsRadar, MacLife, and Edge. TV and movie nerdism is his speciality, and he goes to the cinema three times a week. He's always happy to explain the virtues of Dolby Vision over a drink, but he might need to use props, like he's explaining the offside rule.