One-minute review
A $1000 price tag for a pair of wireless headphones made by Mark Levinson is a steal - but this is a company that has established an enviable reputation at the hi-fi high end - and usually attaches a hefty price-tag to match.
The No. 5909 headphones, though, show no signs of being a subpar experiment. Instead, they are a thoroughly sorted, endlessly covetable and undeniably high-achieving pair of wireless headphones. Yes, you can spend less than half of this amount of money on some outstanding alternatives - but if it's cachet and exclusivity you want to go along with superb sound quality, well, it's going to cost you.
Audio performance in this pair is never less than impressive and quite often thrilling. Build quality, along with the standard of materials used and finish applied, is prodigious. Control options, while not as thorough as many of those cheaper rivals, are ample. And where intangibles like 'pride of ownership' are concerned, the No. 5909 are off the chart.
So, are these noise-cancelling headphones worth the price? Read on for our full Mark Levinson No. 5909 review.
Mark Levinson No. 5909: price and release date
Available now
$999 / £999 (about AU$1,800)
The Mark Levinson No. 5909 wireless active noise-cancelling headphones are on sale now, and in the United Kingdom they're priced at a very serious £999 per pair. In the United States they're a slightly more palatable $999, while in Australia customers will be parting with AU$1,800 or so (if our understanding of exchange rates is anything to go by, anyway).
So the fact this is currently the least expensive way to get into Mark Levinson ownership is, frankly, neither here nor there. We've listened to a lot of wireless over-ear headphones at TechRadar and it's safe to say we've never been able to establish a meaningful reason why you should spend more than $350 / £350 or so for a pair. Every time we listen to a pair of headphones costing $500 / £500+ we always end up saying the same thing, fundamentally: "you can achieve quality similar to this for less money".
Mark Levinson No. 5909: design and features
LDAC and aptX Adaptive wireless codecs
Up to 34 hours battery life
Indulgent materials, frankly superb build quality
The very first fence the No. 5909 face is a tall one. After all, what's to be done about the design of over-ear headphones? They all look basically the same, and for good reason. So be as discerning and judicious as you like about the materials you use - your over-ear headphones are going to end up looking just like everybody else's.
That's not to say Mark Levinson hasn't made an effort, though. At every turn, the No. 5909 look, feel and even smell good - maybe not a grand's-worth of good, but good nevertheless. The headband and the replaceable earpads are leather-covered memory foam; the frame (arms, yokes etc) is anodized aluminium… even the plastic elements of the earcups themselves are upmarket to the touch. Clamping force is just so, and the compact dimensions means no one who can afford the price tag is excluded from No. 5909 ownership. Add in an impeccable standard of build and finish, and it's hard to suggest these headphones could be any better presented.
(Even their travel case feels nice in a waxy sort of way. And the cables inside it - a 1.25m USB-C to 3.5mm, a 4m alternative and a USB-C to USB-C charging cable - are pleasantly braided and perfectly finished.)
Key specs
Acoustic design: Closed
Weight: 340g
Frequency response: 10Hz to 40kHz
Drivers: 40mm beryllium-coated
Battery life: 34 hours
Active noise cancellation? Yes
Extra features: Hi-res audio, Ambient Aware, adjustable EQ
The headphones use Bluetooth 5.1 for wireless connectivity, with SBC, AAC, LDAC and aptX Adaptive codecs supported. Sound is served up by a couple of 40mm beryllium-coated full-range drivers, and they're said to adhere more closely to the Harman curve than any alternative.
(For the uninitiated: Mark Levinson is a Harman brand. And Harman's acoustic engineers are responsible for the 'Harman curve' - which is basically a graphic representation of the sort of sound that many people enjoy a lot of the time. Unlike the sort of market research that this sounds suspiciously like, though, the Harman curve is an ideal, rather than the sort of inoffensive bland-enough-for-the-masses result market research usually returns.)
Battery life is quoted at somewhere between 30 hours (with active noise-cancellation switched on) and 34 hours (with it switched off). The No. 5909 can hold six hours-worth of power after just 15 minutes on the mains.
The noise-cancelling itself is configurable in the Mark Levinson Headphones app (for iOS and Android). It's switchable between 'off', 'on' and 'awareness', with sub-categories for 'on' ('high', 'low' or 'adaptive') and 'awareness' ('voice pass' and 'ambient') - once you've decided on your preferences, there's a button on the left earcup that lets you toggle between 'ANC' and 'awareness'.
It's next to a button that looks after 'power on/off/Bluetooth pairing'. Over on the right earcup, meanwhile, is the classic three-button strip with 'volume up/down' at either end and 'answer/end call', 'skip forwards/backwards' and 'activate voice assistant' in the middle.
Elsewhere, the app features three EQ presets (described here as 'bass contours'): 'neutral', 'enhanced' and 'attenuated'. There's also an auto-off timer to power down the headphones when no content is detected ('never', '30mins', '60mins' or '180mins') and an 'on/off' switch for on-head detection (it's on an absolute hair-trigger when switched on, so 'off' is deeply preferable). What else? Well, there's an indication of remaining battery power, and a nice picture of the headphones themselves… and that's your lot. A Sony control app it ain't, but it's very useful as far as it goes.
Mark Levinson No. 5909: audio performance
Opulent, informative and thoroughly believable sound
Particularly sympathetic to vocalists
Not quite as impressive where noise-cancelling is concerned
Up to this point, it might have been possible to dismiss the Mark Levinson No. 5909 as tinsel for the wealthy - beautifully made and good-looking tinsel, yes, but tinsel nonetheless. But give them some music to deal with (any kind of music, really - this test included everything from Billie Holiday's Fine and Mellow through The Creation's How Does It Feel to Feel? to Rudimental's Waiting All Night) and they stop being an accessory and start being a thoroughly impressive source of thoroughly impressive sound.
Certainly as far as detail retrieval, transient response and soundstaging go, the No. 5909 need no lessons from anyone. They're absolutely fanatical where fine detail is concerned, giving proper expression to the most fleeting or transitory information without ever losing sight of the overall picture. They organize a stage with complete assurance, making even complex recordings simple to follow - and giving every on-stage participant the breathing space to do their thing without impacting others. And they do this while integrating and focusing expertly - there's a singularity to the Mark Levinson presentation that's by no means a given, no matter how much money you've forked out.
Control is absolute, from the straight-edged attack of the (deep, textured and substantial) low frequencies to the crisply substantial top-end equivalents. The No. 5909 have no problem letting a recording express itself, both dynamically and rhythmically, but at no point will it even threaten to escape the authority of these headphones. If a song has momentum, or weight, or an eccentric tempo, the Mark Levinson will let you know all about it. But on their terms, which are stringent.
It's in the midrange, though, that the No. 5909 shine brightest. They communicate to an almost indecent degree, giving singers of every type and every ability the platform on which to fully express themselves. Few are the singers that can communicate with the immediacy or the directness of Billie Holiday - and when she's heard via a pair of these headphones, her peerless virtuosity is apparent. And, consequently, thrilling.
This rather lavish level of praise isn't quite so appropriate when discussing the way the No. 5909 deal with external sounds. They're by no means inefficient - they can reduce a hubbub to a murmur quite easily - but neither are they the most accomplished. We can think of quite a few alternative pairs - not all wearing a 'Bose' badge but all significantly more affordable - that can do a more complete job. At least the Mark Levinson do their thing without in any way shifting their tonality, though.
Should I buy the Mark Levinson No. 5909?
Buy them if...
You value quality and exclusivity
Between the materials, the standard of finish and the price, you're covered.
You want the complete picture
The sound here is vivid and convincing.
You want to be Boss of Business Class
It seems unlikely you'll see another pair while out and about.
Don't buy them if...
You demand value for money
They're very very good, but ultimately the No. 5909 are 'just' wireless headphones.
You want to listen in silence
The noise-cancelling here isn't bad at all, but it's not class-leading.
You're touchy-feely
Many control options here, but touch-control is not among them.
Also consider
Not convinced by our Mark Levinson No. 5909 review? Here are three more pairs of wireless headphones to consider.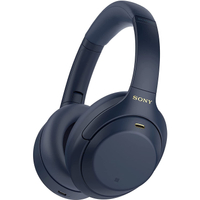 (opens in new tab)
Sony WH-1000XM4 Wireless Headphones
For a much more palatable price, you can get the Sony WH-1000XM4 - our pick for the best headphones you can buy today. They offer an excellent audio performance, great noise cancellation, and lots of extra features.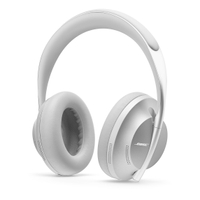 (opens in new tab)
Bose Noise Cancelling Headphones 700
If you're looking for a more unique design, try the Bose Noise Cancelling Headphones 700. These lightweight headphones offer 11 modes of active noise cancellation and an excellent audio performance.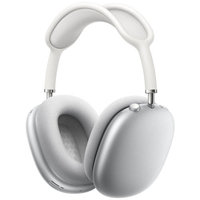 (opens in new tab)
Apple AirPods Max
For comprehensive spatial audio support, you're better off with the AirPods Max. Be warned though - these wireless headphones don't come with a 3.5mm audio jack.
First reviewed: April 2022