The Levoit Core 300S offers a good balance of style and substance. Despite its compact size and mid-range price, it has a wide range of smart features. Its app is intuitive and insightful, and its performance outweighs what we'd expect for its affordability. It has a number of small flaws in terms of response times and fan speeds, but overall, the Levoit 300S empowers you to take better control of the air quality of your home.
Pros
+

Performance and smart features outweigh its price

+

Protects against 99.97% of indoor pollution

+

Incredibly useful and intuitive app
Cons
-

Performance varies depending on room size

-

Delays in fan and app response time
Why you can trust TechRadar We spend hours testing every product or service we review, so you can be sure you're buying the best. Find out more about how we test.
One-minute review
I live in the countryside and have a family with very few allergies and no pets, so I'd never felt the need to buy an air purifier for my home. I'm not ashamed to say this assumption was wrong, and the Levoit 300S has changed my mind.
Straight out of the box, it impressed me with its compact size, sleek design, and portability. Measuring just 14.2 inches / 220mm tall and 8.7 inches /220mm wide, the Levoit 300S packs an impressive range of tech into that compact, portable form. It fits easily on a kitchen counter and thanks to its subtle white design, won't look out of place against most home's aesthetics.
The fan is quiet, further adding to how inconspicuous it is, and despite the fact it's fixed into position, it offers full 360-degree coverage. This means it maximizes both the amount of air it can filter and where it can be positioned. The touchscreen LED on the top makes the purifier look more expensive than it is and also incredibly easy to use.
The initial baseline air quality readings of the rooms of my house were what Levoit's app, VeSync, called Very Good, but there was still room for improvement. Improvement that the Levoit 300S made with ease thanks to its three-step filtration system. This system filters out 99.97% of PM2.5 particles and, as a result, is great at capturing dust, hair, lint, fibers, fur, and smoke particles, as well as tackling odors, fumes, and VOCs (volatile organic compounds).
I had no idea just how many of these particulates were present in my home, but thanks to the VeSync app, I am now more informed. For instance, I had no idea how much aerosols decrease air quality or how long the particles from cooking dinner can linger in the air, meaning I had no idea how exposed my family was to such indoor pollution each and every day.
The performance of the Levoit 300S, including how effectively it clears even the dirtiest of air in just 30 minutes, impressed and reassured me. As did the color-coded warning system and the simple yet effective app design.
Elsewhere, I love the fact I can control it remotely via the app, on the appliance itself, and using my voice through my Amazon Alexa. It also has neat little touches like Sleep mode, which switches off the LED display at night, that are welcome and could have easily been omitted to save money.
It's not perfect. There was often a delay in the purifier identifying a change in air quality and jumping into action. Its performance varied depending on the size of the room, and its choice of fan speed when on Auto mode often left me confused.
It's not immediately clear how the number on the app's homepage corresponds with the PM2.5 readings shown on the built-in charts. A Levoit spokesperson told me that the first number is "the concentration of particles" but was unable to elaborate when I followed up for further clarification. This is a minor point, as the color-coded warnings and the exact readings are enough, but it's worth noting.
As is the fact that, due to its lower price, you don't get a dedicated fan or dehumidifier features as seen on more expensive models. You also don't get any replacement filters. However, you do get a lot of bang for your buck overall, so for me, this is far from a dealbreaker.
Keep reading to hear what else I thought about it, then head to our best air purifier guide to see if it made our shortlist.
Levoit Core 300S True HEPA air purifier review: price and availability
List price: $199.99 / £149.99 / AU$255
Available in the US, UK, and Australia
There's a sweet spot when it comes to buying a portable air purifier. Spend more than $300, and the performance gains you get begin to taper off the higher the price. Spend less than $100, and you'll find that the purifier doesn't last very long, or you'll be constantly replacing the filters to achieve maximum purifying power. You may also have to sacrifice truly useful smart features.
At $199.99 / £149.99 / AU$255, Levoit Core 300S sits in the sweet spot. It's available directly from Levoit, as well as via Amazon in the US, UK, and Australia.
Its lower price means you only get one pre-installed HEPA filter, so you will have to pay for replacements, but it also means you don't have to scrimp too much on smart functionality or performance.
There is a cheaper version of this purifier called the Levoit 300. It costs $99 / £99 / AU$199 and has the same design and filtration system. However, you don't get the smart app features of the 300S model.
Price: 4.5/5
Levoit Core 300S True HEPA air purifier review: Specs
Swipe to scroll horizontally
The specs of our Levoit Core 300S True HEPA air purifier review unit

| | Air purifier |
| --- | --- |
| Price | $199.99 / £149.99 / AU$255 |
| Power settings | 4 + Auto |
| Oscillation | 360 degrees |
| Filtration | 0.3 microns (PM2.5, PM10, VOC, NO2, HCHO) |
| Filters | HEPA and carbon |
| Control | LED touch display, app or Amazon Alexa, Google Assistant |
| Dimensions | 8.7 x 14.2 inches / 220 x 360 mm (H x D) |
| Weight | 5.95 lb / 2.7 kg |
Levoit Core 300S True HEPA air purifier review: Design
Sleek and subtle design
Portable and compact
Digital, color-coded controls
The Levoit Core 300S has a sleek, subtle design. It blends in with most room aesthetics and doesn't have any features that stand out or look out of place. In all of the rooms I placed it in, it easily sat in a nook or corner without getting in the way.
The filter takes up the entire bottom half of the purifier, and it's easy to swap in and out by twisting and removing the base. It should be noted that the filter is wrapped in plastic upon opening so remember to take it off before setting up your purifier. It will drastically impact its performance if you don't.
Speaking of setup, the Levoit 300S took less than five minutes from unboxing to purifying. A QR code on the appliance takes you straight to its accompanying VeSync app. You do have to create an account, but the form asks for minimal information. Then it's just a case of giving your purifier a name and connecting to Wi-Fi.
It's then simple to connect the purifier to your Amazon Alexa or Google Home. The app guides you through the process, and once the purifier and smart home speaker are on the same network, this is done in seconds.
Size-wise, the purifier measures 14.7 x 8.72 inches / 360 x 220 mm (H x D) and weighs just 5.9lb / 2.7kg. There are smaller and lighter purifiers on the market, but few offer the same range of features and touch controls for such a mid-range price. Plus, the Levoit Core 300S is half the height of the more expensive Dyson Hot+Cool Formaldehyde and weighs 40% less.
Due to the compact size, it's small and light enough to move the whole appliance higher up or closer to a window, should you need to. I often move it from whatever room it's in to the kitchen to clear cooking smells before putting it back. The fan offers 360 degrees of oscillation but is fixed in position, meaning you can't tilt it up or down to target specific areas i.e. towards a window or stove.
The best results I got, in terms of purifying speed, were when I placed the purifier on my kitchen counter rather than on the floor. This can take a bit of maneuvering due to managing the cable and plug, but the cable is 6.6ft / 2m, allowing you to position it where you need it.
All the Levoit Core 300S' settings can be managed via an LED touch display on the top of the appliance, remotely via the VeSync app, or voice controls when connected to an Amazon Alexa or Google Home smart speaker.
Both the physical and digital controls let you toggle between three fan speed settings – low, medium, and high – plus a Sleep mode in which the noise and lights are reduced. You can set the purifier to turn on via a timer feature and lock the display both physically and digitally.
On the appliance, you get the option of resetting the filter. There's also a ring of light that changes color based on the air quality. When the number of particulates is low, the ring is blue. As the particulate levels rise, the ring changes from blue (very good) to green (good), to orange (moderate), and then red (bad). These colors correspond with the colors seen on the app.
Speaking of the app, you can schedule the purifier to turn itself on and off via your phone and see data ranging from micron levels to filter life, plus how long you've been running the purifier, and the amount of air that's been purified. You can control the purifier via this app from anywhere in the world, too. As long as the purifier is turned on and connected to your Wi-Fi network, it's accessible on the app.
Design: 4.5/5
Levoit Core 300S True HEPA air purifier review: Performance
Fast purification speeds
Doesn't reduce odors as well as expected
Performance varies based on room size
The Levoit 300S promises to filter out 99.97% of PM2.5 particles, or "particulate matter with a diameter of less than 2.5 micrometers". This includes fine dust, pollen and pet hair. These tiny particles can linger in the air, get into the respiratory tract, reach the lungs, and enter the bloodstream. Prolonged exposure has been linked with health issues.
A PM2.5 level at or below 12 μg/m3 is generally considered safe. If the concentration exceeds 35 μg/m3 during a 24-hour period, the air quality is deemed unhealthy and can pose problems to people with respiratory conditions like asthma. The average baseline reading for the rooms in my house, during tests, was ~5µg/m3.
The Levoit 300S keeps the particles within safe levels using a three-stage filtration system. The pre-filter stage traps dust, hair, lint, fibers, and fur. As the air passes through the H13 True HEPA Filter, the purifier captures fine dust, smoke particles, and pollen before a final carbon filter gets rid of odors, fumes, and VOCs (volatile organic compounds).
To test the purifying power of the Levoit 300S, we sprayed heavy particulates, including dry shampoo and deodorant, directly at the purifier for five seconds. We also placed the purifier in the kitchen while cooking a variety of meals, including roast chicken and steak, and had it in the office with a scented candle lit.
In each test, we put the purifier on Auto mode, which detects changes in the room and sets the fan speed accordingly.
The highest reading came from frying steak. The air quality jumped from Very Good to Bad after a small delay of around 10 seconds. It then took a further 10 seconds after the app and light ring changed from blue to red for the fan to kick in. Despite turning red, the auto mode switched the fan to medium speed, not high as I would have expected.
After 15 minutes on medium, the fan automatically dropped to low speed, and 30 minutes after the initial reading, the air quality returned to Very Good. I repeated this test the following week, with the fan manually set to high, but there was no noticeable improvement in purification speed – the air quality went from Bad to Very Good in 30 minutes. I'm not sure if that showcases just how good the fan is on medium speed or how poor the high-speed mode is, but it's worth noting.
This improvement in air quality in a relatively short amount of time is impressive. The purifier didn't completely remove the steak smell, which lingered on for hours, but it was a noticeable improvement compared to simply opening the windows to get rid of the smell. It's also impressive when you consider I have a large open-plan kitchen and dining room, covering a total of 185ft2 / 17m2.
With the dry shampoo and deodorant tests, the particulate readings averaged 22µg/m3, going from Very Good to Moderate each time. Again, there was a slight delay between the purifier registering the air quality change and switching on the fan. In this instance, the Auto mode selected the low-speed option, and the air quality returned to Very Good in 30 minutes in my home office (105ft2 / 9.75m2), but took 90 minutes to return to Very Good in the loft (315ft2 / 29m2). Levoit claims its ideal room size is 219ft2 / 20m2, so this may explain the lower performance.
Finally, during the candle test in my home office, the air quality went from Very Good to Moderate and back to Very Good in just 15 minutes with the fan automatically set to low. I often have candles lit, and I hadn't considered how much lighting a candle would decrease air quality, so I was pleased to see how quickly and effectively the Levoit 300S handled it.
I was also pleased with how quiet this purifier is. The brand claims that thanks to its so-called patented QuietKEAP technology, the purifier operates as low as 22dB. My tests confirmed that the purifier is almost whisper-quiet in Sleep mode, registering 24dB. The loudest readings came when the fan was in high mode, registering 60dB. This is equivalent to the noise generated from normal conversation. Thankfully, the sound is soft, so even when it was in high mode, my family and I never had to talk over it or compete with the noise.
Performance: 4/5
Levoit Core 300S True HEPA air purifier review: voice control
Easy to set up
Adds an extra level of control and personalization
Perfect when juggling work or the kids
One of the standout features of the Levoit 300S is the ability to control it using voice commands via your smart speaker.
Once the purifier is connected to your home Wi-Fi, it can connect to any Amazon Echo or Google Home device on the same network at the press of a button. The VeSync app even gives you voice command prompts to get you started, which can be found via Settings and Voice Commands (should you forget.)
As you might expect, the range of controls that can be accessed via your voice is limited compared to those available on the app. You can ask Google or Alexa to turn the purifier on and off. You can adjust the fan speed – either by asking it to select a specific speed (low, medium, high) or to increase or decrease the speed. You can also ask your smart speaker to set the Levoit 300S to a specific mode – Sleep, manual, or auto.
I often use the mode controls at night, when the purifier is in my youngest's bedroom, and I want to dim the lights and fan speed to get the room ready for him to sleep. When the purifier is in the kitchen, I can easily override the auto fan settings and switch the speed to high to remove any lingering cooking smells by calling out to the Alexa on the other side of the room.
By connecting to Alexa, you can also access basic controls via the Alexa app – on/off, fan speed, mode, and display options. What's more, the Alexa app lets you create routines. Beyond the timer and scheduling tools available on the VeSync app, Alexa Routines allow you to create a sequence of events based on other criteria.
For instance, I set my Echo in the kitchen to automatically switch on the purifier when it hears the oven timer beeping. This is when the cooking smells are likely to envelop the room and when I need the odors and any steam or smoke to be purified.
Levoit Core 300S True HEPA air purifier review: App
Offers a variety of control options
Color-coded design is intuitive and simple to navigate
Near-live air quality data
The app, as well as using voice commands, is one of my favorite features of the Levoit 300S.
It's incredibly intuitive, and everything is well-labelled and clear. In the center of the home page is your room's current air quality reading, and the entire screen is the color that corresponds with this reading. As the air quality changes, so does this number and the screen's color.
Beneath the central console are five buttons that let you quickly switch between Auto mode and Sleep mode or select one of the fan speeds – low, medium, or high. Swipe up, and you're shown how much life is left in your filter (as a percentage), the total time the purifier has been running, and how much air has been cumulatively purified. During testing, we purified 118,000ft3, which the app tells us is equivalent to planting 111.4 trees around our home.
At the bottom of the home screen is an On/Off button, as well as access to the Timer and Schedule options. If you swipe up, you can switch off the LED display on the purifier, which is great if you're running it overnight in your bedroom.
To get a more detailed view of your air quality history, press the central console number to see two charts – the history of your PM2.5 levels and your fan speed history. During our steak frying test, for instance, we could see that PM2.5 levels rose from 4µg/m3 to 76µg/m3. It's on this screen we can see exactly how long it took for these levels to return to normal.
Despite the fact these charts deal with some complex information and could be quite confusing, Levoit makes them easy to navigate and read by carrying through its color-coded system and keeping details to a minimum.
There's a delay of around 10 minutes in this chart being updated following an air quality change, so it's not hugely useful in the moment, but it's interesting and useful to check after the fact. It's also reassuring to see how the levels change over the day and how well the purifier responds when we're not at home.
App: 5/5
Levoit Core 300S True HEPA air purifier: should I buy?
Swipe to scroll horizontally
Levoit Core 300S True HEPA air purifier score card

| Attribute | Notes | Score |
| --- | --- | --- |
| Value | Performance and smart features far outweigh its relatively affordable price | 4.5/5 |
| Design | The Levoit Core 300S is light, compact and has a number of design touches, such as the smart LED display, that make it look more expensive than it is | 4.5/5 |
| Performance | It performed admirably, even in the largest rooms but delays and the choice of speed setting on Auto can impact performance. | 4.5/5 |
| App | The app is user friendly and presents everything in a clear, intuitive way. | 5/5 |
Buy it if...
You want smart features on a budget
Few purifiers offer such a range of smart features and control options for this price.
You want your air purifier to blend in, not stand out
The Levoit Core 300S is subtle, sleek, and lightweight meaning it blends in with most aesthetics.
You like a good app
The VeSync app is intuitive and doesn't overwhelm, thanks to a simple yet effective color-coded system.
Don't buy it if...
You have a large or open-plan house
The Levoit 300S performs much better in smaller rooms than in large, open-plan spaces. It's not terrible at managing larger rooms, but if your whole house is open and airy, performance may drop.
You want replacement filters
The lack of replacement filters is a sacrifice you make for the lower price of the Levoit 300S so you will need to buy them separately.
Also consider
Swipe to scroll horizontally
| | Blue Pure 411 Auto | LG PuriCare AeroTower Air Purifying Fan | MeacoClean CA-HEPA 76x5 WiFi Air Purifier |
| --- | --- | --- | --- |
| Price | $140/ £179 | $400 | £230 |
| Dimensions | 416.7 x 7.9 x 7.9 in/ 42.5 x 20 x 20 cm | 44.1 x 10.4 x 10.4 in/ 112 x 26.4 x 26.4cm | 19.6 x 11.9 x 10.6 in/ 49.7 x 30.3 x 27 cm |
| Weight | 3.8lbs/ 1.68kg | 27.6lbs/12.5kg | 10.1lbs/ 4.6kg |
| Speeds | 3 + Auto | 10 | Unknown |
| Filtration | Three stage filtration system with HEPASilent particle and carbon filter | Advanced true HEPA | H13 HEPA filter |
| Air sensors | Yes | Yes | Yes |
If you would prefer a fan to keep to cool instead, here are a couple of options to consider...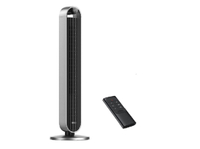 Dreo Pilot Max
This tower fan is a top option for those on a budget, and it doesn't lack features. It offers 12 speeds, 4 modes, and 4 oscillation degrees. The overall design is sleek too.
Read our full Dreo Pilot Max review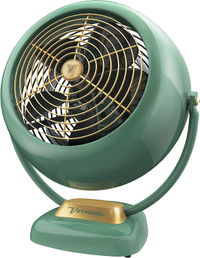 Vornado VFAN Sr. Vintage
If you're in need of a desk fan or countertop fan that isn't white, then this Vornado fan is a fantastic option. It has three settings and features a 360-degree pivot.
Read our full Vornado VFAN Sr. Vintage review
How I tested the Levoit Core 300S True HEPA air purifier
I used the Levoit Core 300S True HEPA air purifier and its partner app for 2 weeks
Positioned in different rooms around the house
Stress testing various different substances
I used the Levoit Core 300S True HEPA air purifier in multiple rooms of my home for two weeks. This included the kitchen, large open-plan loft, children's bedrooms, and main bathroom.
Every day I used the device to manage the air quality in each room, with the windows both open and closed.
To test the air purification monitoring and speed, I sprayed heavy particulate aerosols (dry shampoo and deodorant) while the purifier was in Auto mode. This mode detects changes in the room and sets the fan speed accordingly.
I lit a scented candle next to the purifier and also positioned it in the kitchen while frying and grilling different meat and vegetables. I measured the volume with a mobile phone decibel meter.
Read more about how we test.
[First reviewed April 2023]
Victoria Woollaston is a freelance science and technology journalist with more than a decade's experience writing for Wired UK, Alphr, Expert Reviews, TechRadar, Shortlist and the Sunday Times. She has a keen interest in next-generation technology and its potential to revolutionise how we live and work.