JTX Movelight: One minute review
Buying a treadmill can be a bit of a scary proposition, with so many variables in play - do you need hand rails? What about elevation options? Can I fit the one from the gym in my house?
Thankfully, the JTX MoveLight is an excellent treadmill that's likely to do a lot of the thinking for you, since it's one of the best under-desk treadmills we've tested. It can even be used as one of the best treadmills, but it's a little long so alcove desk spaces may struggle to take advantage of this.
Still, it's relatively compact, and surprisingly easy to slide under some sofas or out of the way. That compact nature does have a downside, however - there's a weight limit of 100kg, which sounds like a lot but for someone like myself, made testing feel a little uneasy.
Thankfully, the build quality is good, and the JTX MoveLight is sturdy, if unspectacular, in its design. For a low-profile treadmill to keep the blood pumping it certainly understands the assignment. In fact, I was surprised by how often (weight limit be damned) I found myself returning to the JTX MoveLight during the review process - even as the weather outside made outdoor walking much more of an option.
Swipe to scroll horizontally
JTX MoveLight: Specifications

| | |
| --- | --- |
| Component | Value |
| Dimensions | 53 in x 21 in x 5 in |
| Price | £499 (around $620 / AU$900) |
| Maximum User weight | 220 lbs (100 kgs) |
| Deck | Eight-piece elastic cushion deck |
| Top speed | 6km p/h |
| Wheels? | Yes |
| Controls | Remote |
JTX MoveLight: Price and availability
£499 (around $620 / AU$900)
Only available in the UK so far
The JTX Movelight retails for just under £500 (around $620 / AU$900) in the UK, but it's not available in the US at present.
That's not cheap by any stretch, but it a far cry from the most expensive under-desk treadmills, which reach into the thousands for office-standard kit, and remains more wallet-friendly than buying most gym-sized treadmills.
JTX Movelight: Design
Flat, low-profile design
Easy to read, large LED screen
Easily stored
We've mentioned it a few times in this review, but the JTX MoveLight is made to be fairly nondescript – it's sporting a low-profile design that doesn't catch the eye, and that's, well, fine.
It's 1.43m in length, under 55 cm wide, and it's less than 13 cm tall (53 in x 21 in x 5 in), meaning you can brush it under the sofa for the most part when you need it out of the way.
It's also only available in black, with a matte finish on the sides. As you can probably guess, the belt is black, too, so there are no concerns with scuffs.
You'll find a screen at the front, and it's relatively unambitious but means there's less to be distracted by when you're on the move, and you can read it easily thanks to white text.
JTX MoveLight: Features
1HP motor
0.5-6kmph speeds
Easy to set up
One of the JTX MoveLight's best features is just how easy it is to put together. Plug it in with a single cord, and you're off to the (walking) races once you press the remote.
That removes some of the friction of feeling like your workout needs a lengthy setup procedure and allows you to get moving as and when the mood strikes.
Thankfully, doing so won't cause too much noise if you're watching TV or listening to music while walking on the MoveLight. That's thanks to a 1HP motor that's almost whisper quiet, meaning if you do use it at a desk, it won't be seen or heard in meetings.
The starting speed of 0.5kph can ramp up to 6kph, and while JTX says that's a light jog, for taller users it's likely to be more of a power walk. Still, it's plenty for burning calories, and you're likely to reach step goals much more regularly with it.
The LED display can track your steps, distance, calories and speed, meaning you can set your own goals for each to keep on track, and the remote is easy to use, too.
JTX MoveLight: Performance
Comfortable in motion
Longer legs may need a little more runway
Easy to use
The JTX MoveLight, despite its relatively basic appearance, is impressively built for comfort and safety.
This is done through eight-piece elastic cushioning under the belt that gives a pleasing amount of feedback per step, while also helping your joints with the ongoing motions. The result is a walking surface that feels almost as sturdy as heavy-duty, handrail-offering treadmill options, and feels a little magical - like walking on a cloud.
That's particularly useful for using as an under-desk treadmill, which JTX suggests. However, the remote doesn't give you the values or stats from the treadmill, and under-desk, the LED display would be partially or completely hidden. It's a minor quibble, but on worth noting. In my testing, it's perhaps a smidge too long for smaller office spaces, and even then as a 6 ft 4 (193cm) tall user, I did feel I could have done with just a few more inches of length to really get into a stride.
That's likely to be no trouble for many, however, and if it gets your blood pumping and your brain feeling productive, it's likely to be a watershed moment you can't go back from. The lack of features is almost a blessing for beginners, as it removes intimidating options paralysis. You just get on and walk at the speed you want.
JTX Movelight: Buy it if...
You're looking for a compact treadmill
The JTX Movelight is easy to pop under some couches for storage, but it's lightweight enough to be moved to another room with a moderate amount of effort
You want a quick setup process
Plug it in, turn it on. That's it. The screen is easy to read, and the operation is incredibly simple.
JTX Movelight: Don't buy it if...
You're over 100kg in weight
As a tall man that works out a lot, I was worried about doing damage to the treadmill if I was any larger.
You've got a small space
Although the JTX is a low-profile treadmill, it's pretty long. Check the dimensions and ensure your space is fit for the treadmill.
Also consider
Swipe to scroll horizontally
Also consider

| | | |
| --- | --- | --- |
| Component | JTX Movelight | Lifespan TR1200 |
| Dimensions | 53 x 21 x 5 in. | 63 x 28 x 7 in. |
| Price | £499 (around $620 / AU$900) | $1,199 / £1,099 (around AU$2,000 USD |
| Maximum User weight | 220 lbs (100 kgs) | 350 lbs (159kgs) |
| Deck | Eight-piece elastic cushion deck | Thermoset plastic, six compression shocks |
| Top speed | 6km p/h | 6.4km p/h |
| Wheels? | Yes | Yes |
| Controls | Remote | Plug-in console |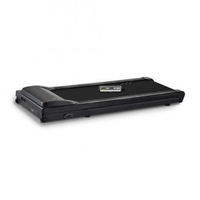 Lifespan TR1200-DT3
Our best under-desk treadmill is much more expensive and a bigger unit overall, but it's heavy-duty, will last for years and is ideal for heavier users.