Why you can trust TechRadar We spend hours testing every product or service we review, so you can be sure you're buying the best. Find out more about how we test.
Verdict
If you're using it mainly in good light, or as a holiday camera, you're going to be extremely pleased with this camera. It's nice to see Canon thinking about advanced amateurs with this bridge camera offering, for instance by keeping raw format shooting as an option. Manual control and a decent range of dials and buttons also makes it likely to appeal to the enthusiast user.
Image quality is good, with bright and punchy colours and plenty of detail. In lower light, then you will see noise starting to appear if you examine at 100%, and in situations where it's very dark, the PowerShot SX60 HS struggles, but not any more so than other cameras of its kind. Given its big appearance, it can be hard to remember that at its heart is a small (1/2.3-inch) sensor.
Many people appreciate a viewfinder, and while the electronic device found here on the SX60 HS is large enough to be useful, there's no eye sensor which makes using it a less than seamless transition, which is a touch disappointing. On the plus side, the high resolution screen is fully articulating, which makes composing from awkward angles easy, it would have been nice to see a touch sensitive device here though.
With a host of interesting and useful features, picking one as a standout feature is fairly tricky, but it probably has to be the incredible zoom range that the SX60 HS offers. Not only is 65x optical zoom versatile, the performance at the far end of the telephoto optic is also impressive, while even the ZoomPlus is useful if you really do need to get even closer than the 65x optical zoom allows.
Luckily there's no huge bugbear with the SX60, rather a series of small things that if each were corrected would add up to make a good camera even better. For instance, it'd be nice to see a touchscreen, but it's not a deal breaker. Similarly, the Camera Window app could have greater control, but the fact that you have it at all is a bonus. What is a little more disappointing is the fact that the viewfinder doesn't have an eye sensor.
Another great performer by Canon which is kept from perfection by a few small, but significant, niggles.If you're mainly interested in a camera that you're going to use in good light but you still want to maintain control over every aspect of shooting, this is a good option, while the incredible zoom gives you lots of scope for flexibility.
Competition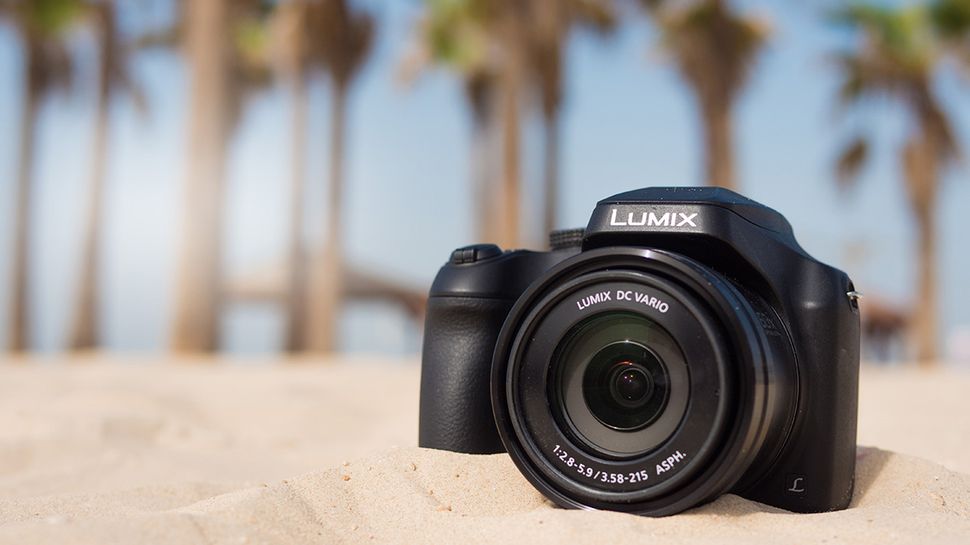 Panasonic Lumix FZ80 / FZ82
The Panasonic Lumix FZ80 (known as the Lumix FZ82 outside the US) sports a strong 20-1200mm focal range (60x) and features 4K video capture. The camera is incredibly easy to use, and the menus feel light and not at all intimidating, making it ideal for beginners. The biggest let-downs are the EVF magnification, and the lack of an eye sensor to automatically switch between Live View on the LCD and the EVF. Noise at the highest ISO settings the camera offers is high, but shouldn't prove too much of an issue for the photographers this camera is aimed at. Put into context, though, none of those are deal-breakers, making the FZ80 / FZ82 one of the best budget bridge cameras out there.
Read the full review: Panasonic Lumix FZ80 / Lumix FZ82
Sony Cyber-shot HX400V
The Sony Cyber-shot DSC HX400V sports a Carl Zeiss Vario-Sonnar T lens offering a 50x optical zoom with a focal range of 24-1200mm and Optical SteadyShot stabilization. The 20.4MP Exmor R CMOS sensor is powered by the BIONZ X image processor, and the camera can be connected to smart devices using NFC or Wi-Fi, while GPS allows you to geotag your images.
Read the full review: Sony Cyber-shot HX400V
Nikon Coolpix B700
With a high resolution of 20.3MP you can make some large prints from the Nikon Coolpix B700. For sharing images easily online and taking control of some camera functions the B700 features Nikon Snapbridge, with apps available for iOS and Android. The lens offers 60x optical zoom, with a focal range extending from 24-1440mm, and is supported by 5-stop dual-detect optical VR (vibration reduction).
Amy has been writing about cameras, photography and associated tech since 2009. Amy was once part of the photography testing team for Future Publishing working across TechRadar, Digital Camera, PhotoPlus, N Photo and Photography Week. For her photography, she has won awards and has been exhibited. She often partakes in unusual projects - including one intense year where she used a different camera every single day. Amy is currently the Features Editor at Amateur Photographer magazine, and in her increasingly little spare time works across a number of high-profile publications including Wired, Stuff, Digital Camera World, Expert Reviews, and just a little off-tangent, PetsRadar.