Apple's 'Shot on iPhone' controversy is missing the point
I want to see videos that only use the iPhone 15 Pro Max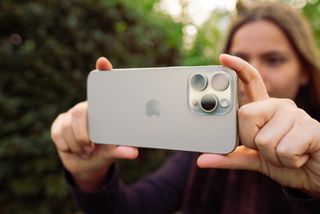 (Image credit: DXOMARK)
While competition is fierce for a top spot on our best camera phones list, I'd argue that when shooting video Apple's iPhones are some way ahead of rival Android phones. When it comes to ease of use and good results (particularly in color balance and clear footage), you'll want an iPhone Pro in your hand over one of the best Android phones.
In a move to hammer home this point, Apple's Scary Fast showcase – which saw the launch of the Apple M3 chip, new 16-inch and 14-inch MacBook Pro with M3 models, and a refreshed 24-inch iMac with M3 – it was noted that the whole showcase, which included a series of so-slick shots, was filmed on an iPhone 15 Pro Max.
Impressive right? Well yes. But it also doesn't mean you can get the same results with Apple's latest flagship phone, even with its new 5x telephoto camera and powerful A17 Pro chip.
That's because Apple used a range of professional-grade lighting, gimbals, and other equipment to record the event. It also used the iOS-only Blackmagic camera app, as well as editing the footage on Macs. So if you want to get the same video quality as Apple did out of the iPhone 15 Pro Max, then be prepared to spend a good deal of money and look for a load of space; plus, you'll want to have professional video editing skills.
But this doesn't diminish the iPhone 15 Pro Max's video recording chops. While it would be easy to dismiss the video's quality due to all the extra equipment used, it's been rightly observed that such gear would be put to task when using professional cameras worth thousands.
I usually love @verge but this is a bad take. Of course Apple used professional lighting and equipment when taking the video. That doesn't at all diminish the result or achievement here. pic.twitter.com/kFztYPYsu0October 31, 2023
So the fact that this footage can be had from a phone that starts at $1,199 / £1,199 / AU$2,199, is undeniably noteworthy.
And there are also major tech YouTubers like Marques Brownlee (aka MKBHD) who've also shot entire videos on iPhones before, again harnessing things like gimbals and pro-editing tools, to get impressive results. MKBHD also weighed in on the behind-the-scenes video of the Apple event, noting that "Every shot, every frame is a masterclass in subject lighting, practical shooting, etc."
Alright so yesterday Apple revealed that yesterday's event was shot on the iPhone (15 Pro/Pro Max)They've also now published some BTS, and as expected there's a LOT of gear alongside that iPhone... but there's still a lot to learn here. Here's my biggest takeaways (Thread) pic.twitter.com/TG0Wfx0JUpOctober 31, 2023
From my perspective, there are valuable takeaways from this video, namely smart use of lighting, careful planning of shots, and the use of gimbals with smartphones can elevate the quality of video even without the need for masses of editing software. You can also get gimbals and other stabilization tools for smartphones without spending a fortune.
Rather than look at this BTS video as a form of overly glossy marketing from Apple, I see it as a springboard for inspiration on how to get better videos from a smartphone.
There is a but…
Let's get real
My colleague and news guru Mark Wilson noted that it would be good if Apple took a "Shot only on iPhone" approach to its iPhone video showcases. By this, he means simply showing off video that uses only the iPhone 15 Pro Max and its native apps and features. And I fully agree.
Too often, I've been at phone launches where presenters have asked attendees to spot which photograph was shot on the phone they're launching versus those that were shot on a DSLR: the answer is nearly always a trick as they claim all the photos were shot on their phone – the same can broadly apply to video.
This has become rote at best and irritating at worst. With perfect lighting, the chance to tee up a great frame, and then high-end editing after the fact, all sorts of smartphones can deliver compelling shots. I'm much more interested in seeing how good photos and videos are from a point-and-shoot perspective, as that's how the average consumer will be using smartphone cameras.
I think Apple could lead the way here. Sure, it would likely choose stunning locations for photo and video shoots. But I think it could really be a proper showcase of iPhone camera capabilities without the slight whiff of smoke and glint of mirrors in the background.
Of course, if you want a more realistic rundown of the latest iPhone cameras, check out TechRadar's iPhone 15 review, iPhone 15 Plus review, iPhone 15 Pro review, and iPhone 15 Pro Max review.
You might also like
Sign up for Black Friday email alerts!
Get the hottest deals available in your inbox plus news, reviews, opinion, analysis and more from the TechRadar team.
Managing Editor, Mobile Computing
Roland Moore-Colyer a Managing Editor at TechRadar with a focus on phones and tablets, but a general interest in all things tech, especially things with a good story behind them. He can also be found writing about games, computers, and cars when the occasion arrives. And he also supports with the day-to-day running of TechRadar. When not at his desk Roland can be found wandering around London, often with a look of curiosity on his face and a nose for food markets.