Xiaomi cops a ban in the US for alleged connections with the Chinese military
But may not face Huawei-like impact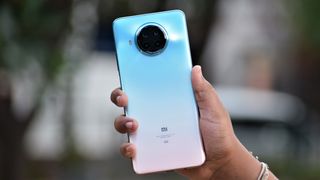 (Image credit: Srivatsa Ramesh)
The Trump administration has been severe on Chinese tech companies. While Huawei has borne the maximum brunt of the outgoing US president, it has now trained the guns on another major Chinese smartphone maker Xiaomi which along with 8 other Chinese companies have been blacklisted.
These companies include state-owned plane manufacturer Commercial Aircraft Corp. of China (Comac), China National Offshore Oil Corp. (CNOOC), Skyrizon apart from the third-largest smartphone maker Xiaomi and others are facing the ire of the Trump administration for alleged links with the Chinese military, Reuters reported.
Placing these companies in the "military list" means that the US investors will not be able to purchase securities of these companies and existing investors will have to divest from these companies by November this year.
Since Trump has just 5 more days left to remain in power, these decisions will remain unless the incoming Biden Administration overturns them.
Xiaomi refutes the claim
Xiaomi has released a statement denying any links with the Chinese Army and says that it will "take appropriate course of actions to protect the interests of the Company and its shareholders."
According to CNBC, Xiaomi in its prepared statement said, "The Company reiterates that it provides products and services for civilian and commercial use. The Company confirms that it is not owned, controlled or affiliated with the Chinese military, and is not a 'Communist Chinese Military Company' defined under the NDAA."
Impact on Xiaomi
This blacklist is different from Entity list that has companies like Huawei, SMIC and DJI and only limits US investors from investing in the company. The Department of Defence in its statement has stated that it is "determined to highlight and counter the People's Republic of China's military-civil fusion development strategy."
The Trump Administration has not been able to furnish proof of any wrongdoing by Xiaomi nor has it been able to establish its connection with the Chinese military.
However, we've already seen the impact of similar action against Huawei which brought the once-market leading company to its haunches by drying up all the supplies and technology.
And while there are over 60 Chinese companies that have been blacklisted by the US Government, Xiaomi, unlike Huawei, can still import and use US technology like Google's Android Operating System or Qualcomm's chipsets.
That said, Xiaomi may not be immediately impacted, but if the decision does not get overturned with the arrival of the new administration, the company stands to lose significant liquid capital.
Want to know about the latest happenings in tech? Follow TechRadar India on Twitter, Facebook and Instagram!
Sign up to receive daily breaking news, reviews, opinion, analysis, deals and more from the world of tech.
Jitendra has been working in the Internet Industry for the last 7 years now and has written about a wide range of topics including gadgets, smartphones, reviews, games, software, apps, deep tech, AI, and consumer electronics.