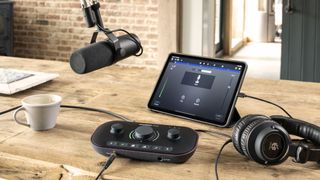 (Image credit: Focusrite)
Podcasting is popular. According to hosting platform Buzzsprout, more than 75.9 million people in the US listen to podcasts regularly, and forecasters predict that number could rise to 160 million by 2023.
It's no surprise that people want to start podcasting or elevate their current podcast to a professional standard. However, it can be challenging to figure out what kind of tech you need to ensure the audio you record sounds excellent. Not only is there so much choice, but there's a lot of conflicting advice about which devices, accessories and software are nice-to-have and which are necessary.
Audio tech brand Focusrite has recently launched Vocaster, a new product range that takes the stress out of picking the right tech for your podcast. There are several Vocaster kit options that boast easy-to-use functionality, allowing beginner and intermediate podcasters and content creators to bring their ideas to life and make everything they record sound professional.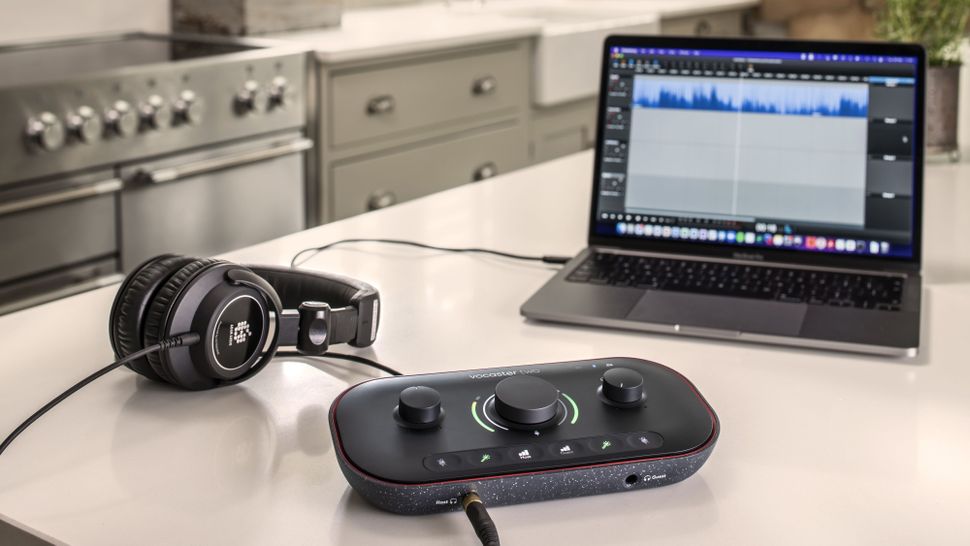 Which Vocaster kit is right for you?
The Vocaster range offers different podcasting solutions. There are standalone interfaces to bring fantastic sound to recordings, and there are also studio packs, which are all-in-one solutions for anyone wanting to up their podcasting game.
An audio interface is a small device that converts audio signals from your microphone into a format your computer can recognize. You can also route audio from your computer to your headphones. An interface allows you to use any XLR microphone, offers more connections and gain, and ultimately upgrades your recordings to be clearer and louder.
Vocaster offers two interface options. The Vocaster One is for solo content creators, allowing you to record audio from one microphone. The Vocaster two is for two microphones, enabling you to capture conversation in a studio, over the phone, or online.
Vocaster also provides full podcasting solutions with its studio bundles. The Vocaster One Studio includes a professional quality Vocaster DM1 mic and Vocaster HP60v closed-back studio headphones. The Vocastar Two studio includes a Vocaster DM14v broadcast-quality studio mic and the same Vocaster HP60v headphones.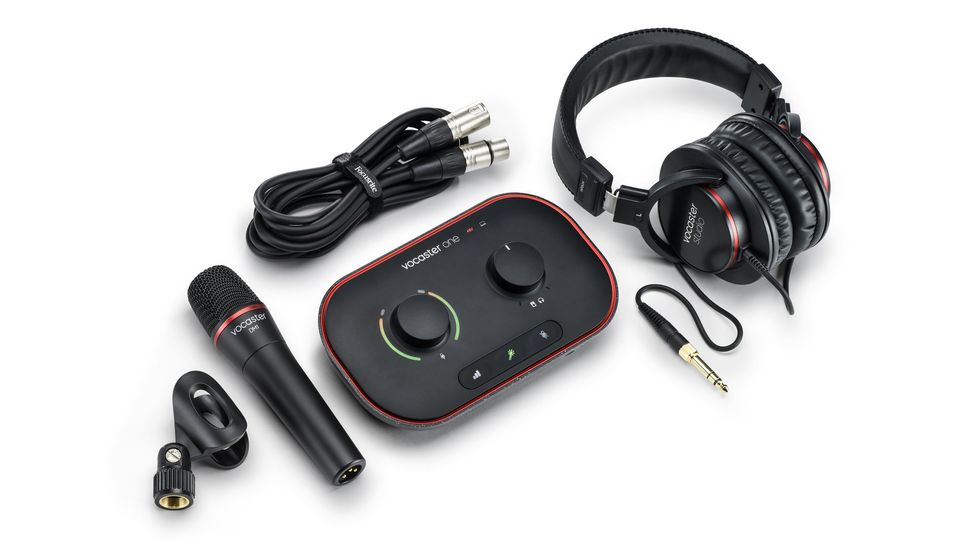 Here's why you should choose Vocaster
All of the Vocaster audio interfaces boast several features that set them apart from the competition. The Auto Gain tool allows you to set your levels quickly and easily with more than enough gain on tap for the most popular broadcast mics.
The Enhance feature lets you boost audio, revealing the clarity of your voice and allowing you to choose from three voice presets. You can hit the mute button to silence the mic during unexpected interruptions. And Loopback lets you stream pre-recorded segments from your computer, like intros, outros, interviews, jingles and background music, throughout your show.
Whichever Vocaster option you choose, you'll also get the Vocastar software bundle created with software partners Acast, Hindenburg and Squadcast. A full suite worth more than $600 that helps users get up-and-running so they can record, edit, and share their content in the best possible way.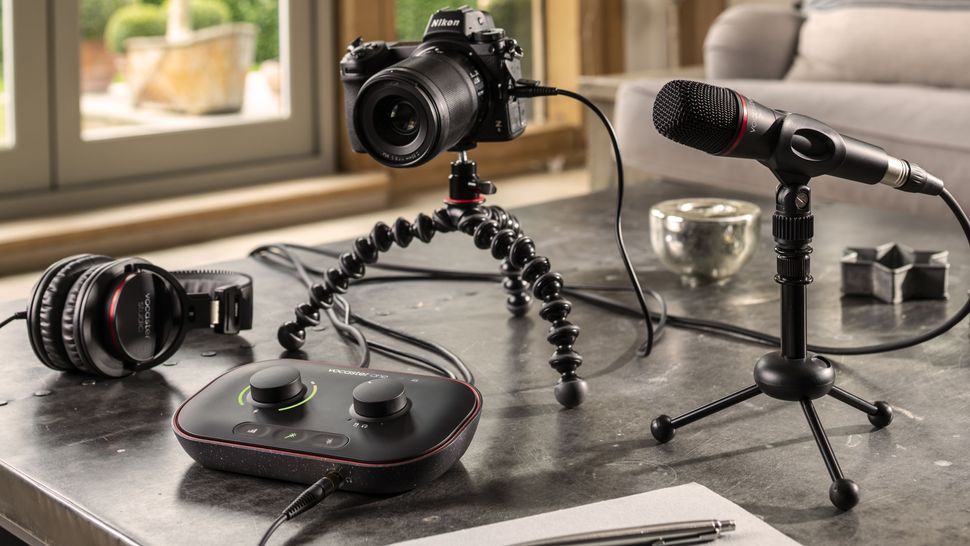 It's the holiday season
The Vocaster audio interfaces and studio bundles are essential for anyone keen to kickstart a new podcast in 2023. They also make fantastic gifts for podcasters and content creators who want to start a podcast or up their game to elevate their show.
There's never been a better time to buy an audio interface or studio bundle from the Vocaster range, as holiday period promotions currently offer huge discounts. Until December 31, 2022, you can get up to 20% off the Vocaster range on Amazon and on Focusrite eStores.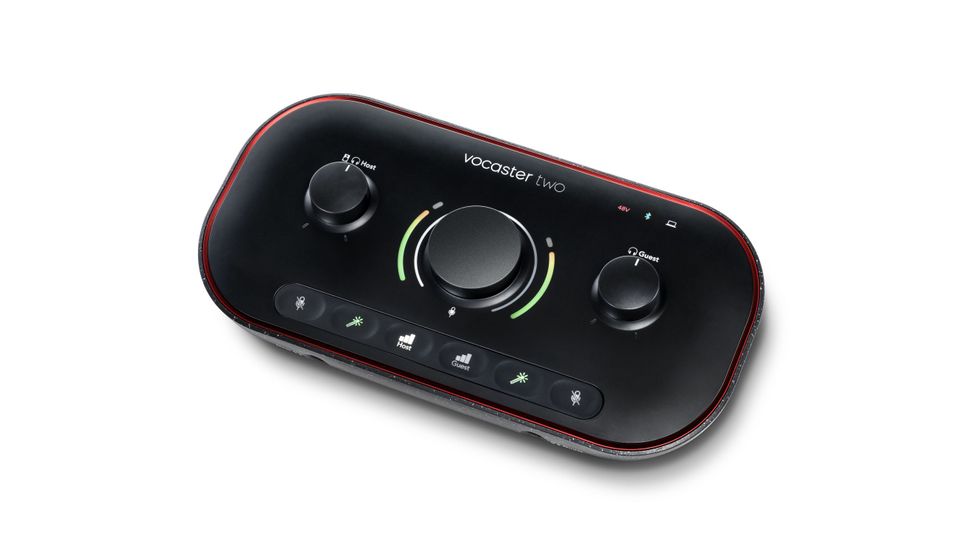 Vocaster deals US
Vocaster One - $40 off = Advertised Promo price: $159.99 (usually $199.99)
Vocaster Two - $50 off = Advertised Promo price: $249.99 (usually $299.99)
Vocaster One Studio - $50 off = Advertised Promo price: $249.99 (usually $299.99)
Vocaster Two Studio - $50 off = Advertised Promo price: $449.99 (usually $499.99)
Vocaster deals UK
Vocaster One - Advertised Promo price: £149.99 (usually £189.99)
Vocaster Two - Advertised Promo price: £229.99 (usually £289.99)
Vocaster One Studio - Advertised Promo price: £239.99 (usually £289.99)
Vocaster Two Studio - Advertised Promo price: £399.99 (usually £469.99)
Available at Focusrite.com and Amazon
Sign up to receive daily breaking news, reviews, opinion, analysis, deals and more from the world of tech.