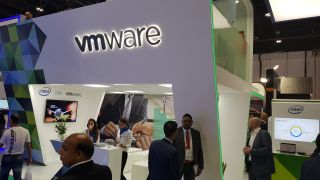 Barely ten years ago or so, companies were still unaware of what virtualization was, or how it could benefit them. The traditional model of assigning one service per physical server was a tried and true practice, and companies failed to see a reason why it should change.
But once IT heads saw the real benefits of virtualization and what it was capable off, virtualization quickly became a hot topic. "It's great to be a part of VMware – it's a growing industry and there's a lot happening," says Ossama Eldeeb, Senior Manager - MENA Partner Organization, VMware.
"Software is where the future is at, since companies are focusing less on the hardware and more on the software side of virtualization. It's a transition that most companies are adopting, which in turn opens a new spectrum of possibilities for us."
Virtualization was once a mystery for the enterprise sector, but has gained tremendous footing in recent years, given the drastic cost-saving with companies relying less on physical servers.
"Cutting down on hardware expense is the first and obvious advantage for enterprise market. The second part is the convenience – you can migrate virtual servers with a click of a button from one place to another, even to another country. With a physical server you've got to disconnect it, pack it up, transfer it to the new location, connect and power it back up – in the meantime you've got services that are offline with no way to access them, so virtual servers are easiest to change around with minimal to no downtime," remarked Eldeeb.
When asked if companies in the region are now more open to on-site virtualization that sourcing it externally, Eldeeb adds that it's a trick question to answer directly. "There's no one-size-fits-all template, as it depends on the type of company. We strongly believe in the hybrid cloud where some mission-critical applications are stored on-site, while other workloads are easily offloaded to a public or private cloud. We enable customers to quickly roll out services via the public cloud, which cuts down on deployment time and resources greatly until you're able to build your own systems internally. Essentially, you're able to use cloud services where it makes sense, and move on from there."
At GITEX Technology Week, 5G was a hot topic as well, with Etisalat demonstrating a live 5G trial that pulled in an incredible speed of 71Gbps. Eldeeb agrees that technologies like 5G will greatly improve the adoption of virtualization, as it results in a more stable connection for end users, no matter where they're connecting to resources.
"The key ingredient for cloud is always going to be connectivity. Without it, you can never have the cloud, so it needs to be reliable with no bottlenecks, 24/7. For us, it means that customers can use whatever device they want to access the same data, across multiple platforms and operating systems. The data is consistent, and you can only get this when you're running things through the cloud. It gives a certain level of flexibility because you're not tied down to one physical space, but instead you can work out of pretty much any location. Virtualization and cloud services are helping companies to achieve this, and offer their employees a degree of freedom that they didn't have before. 5G is an important technology because it really sets the bar with what can be achieved with remote access and virtualization."
Specific to telcos, virtualization is something that could be adopted for simple services that are still being run off traditional physical servers. "From what we see the next step for telecos is with network function virtualization (NFV)," says Eldeeb. " With NFV, global operators are able to virtualize the functions that typically would be relegated to traditional large appliances that would be required to deliver a certain service. So instead of waiting for months before you can deliver a service, you can do it virtually over a period of a few days. Mobile operators are becoming less and less profitable due to fierce competition, so NFV is certainly going to be a big trend for them to be able to offer better services and recover some of the lose revenue."
"Overall, the amount of growth in virtualization is incredible. There are a few bottlenecks naturally that we're going to face, but it's forcing people to look beyond the norm. When you're just talking about having physical servers in a business, at some point there's going to be a limit to how much you can grow, and how much you can store. Virtualization helps to make things a lot more convenient and also frees up time and resources. Companies need to be more agile in competing with others while keeping costs down, and virtualization is right there at the front for any business these days," concluded Eldeeb.
Sign up to receive daily breaking news, reviews, opinion, analysis, deals and more from the world of tech.
A former IT & Marketing Manager turned full time Editor, Nick enjoys reviewing PC components, 3D Printers, projectors, and anything shiny and expensive. He can also be found baking up a storm in the kitchen, which we are more than happy to encourage.