The first fireworks show with wireless audio for your headphones is a vision of the future
Real fireworks choreographed to a free soundtrack for my earbuds? Boom!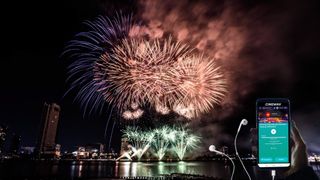 (Image credit: Cinewav, DIFF 2023)
A huge fireworks display is offering synchronized audio via mobile phones for the first time – and I think it's an idea that will go off. Wireless audio straight to your best headphones at large-scale events? That is lit – in fact, I think it'll blow up.
OK, now the puns are out of my system, the details: it's being billed as a world-first and it's happening at the Danang International Fireworks Festival in Vietnam, thanks to Cinewav, Sun Group and Global 2000.
There's nothing quite like a good fireworks display (getting out of an evening, sharing drinks, the 'ooh's and 'ah's as the action gets underway). And, after a three-year hiatus, the 2023 Danang International Fireworks Festival (DIFF 2023) in Vietnam is back.
But this year, Global 2000 International (which runs the show) turned to Cinewav to provide high-quality synchronized audio via mobile phones – and it's the first time this has ever been done an international fireworks festival. It was launched (sorry again) at the official opening ceremony on June 2, where locals and tourists across Da Nang, Vietnam's fifth most populated city, could listen to a clear soundtrack using their smartphone in perfect sync with the fireworks themselves.
For each scheduled fireworks event, visitors can download the Cinewav app (billed as 'Event audio in your pocket') to their smartphone from Apple, Google Play, or the Huawei AppGallery, get the audio ticket free of charge, and press 'Play' – and remember to bring their best earbuds or best over-ear headphones.
The festival theme for 2023 is 'Light Up a Borderless World' with fireworks from the very best in the pyrotechnics outfits in the world, including a local Vietnamese team and seven international teams.
Andrew Howard, director at Australian specialists Howard & Sons Pyrotechnics, said: "We have designed and programmed every single pyrotechnic effect to launch and burst in perfect time with the music soundtrack". That's great, but there are displays that do this without offering the audio wirelessly through headphones. Why is this better?
Howard explains: "Traditionally, event sites have a large-scale audio distribution system installed in main audience areas but not in all spectator vantage points. Our fireworks displays can (now) be designed to be viewed by spectators spread over several kilometres of an event site or city, not just the front row of seats. This technology gives the power of music to the people to ensure they can hear the music soundtrack."
There's the rub: you can see fireworks from miles away, but the soundtrack (if you can hear it at all) will arrive on delay, because science has taught us that the speed of light is much faster than the speed of sound in air. Having the audio through your headphones means physical distance is no longer an issue – and you don't even need to deal with crowds if you're not feeling up to it.
The idea of bringing your earbuds or cans to a live show is also most pertinent here because you might deploy noise cancellation to dull the loud booms and pops (especially if you're taking children and their delicate ears to an event), and better hear the soothing musical accompaniment. For that, you'll need some of the best noise-cancelling headphones or best noise-cancelling earbuds.
Analysis: big events are the perfect opportunity for audio sharing – but this may be better than Auracast
At first glance, this seems the perfect use case for Auracast, the new audio sharing feature rolling out with Bluetooth 5.2 and Bluetooth LE Audio. Once the necessary hardware becomes ubiquitous in our 'buds, events such as this might utilise Auracast. That said, attendees would still need to be within Bluetooth range of the broadcast and using Bluetooth headphones, unlike the wired EarPods (which I still think are better than any AirPods) showcased on Cinewav's poster above. So is Cinewav offering something even better? Quite possibly, depending on the event.
To clarify, the main issue with using Auracast right now is that listeners wishing to use it need newer headphones featuring a Bluetooth 5.2 chipset to get onboard (using Auracast does not require the source device your headphones are normally paired to – probably your smartphone).
However, Cinewav's solution only requires an app on your phone, a ticket, and some kind of headphones. Cinewav says its scalable audio solution for outdoor cinema or events is different in that it uses no streaming or broadcasting. Users only need the Cinewav app and their earbuds – and event holders only need the Cinewav player on a laptop. Given the continued cost of living crisis, not having to install heavy, expensive sound systems, and traditional speakers to run an event might help keep ticket prices affordable.
Now in its 11th edition, Danang International Fireworks Festival runs from June 2 to July 8, 2023. Oh, and if you want tips on how to photograph fireworks with your phone, we've got you covered. Also, did you know that if you say "Alexa, help my cat relax" your smart device can play soothing music specifically composed for your pets during fireworks? Every day is a learning day.
Sign up for Black Friday email alerts!
Get the hottest deals available in your inbox plus news, reviews, opinion, analysis and more from the TechRadar team.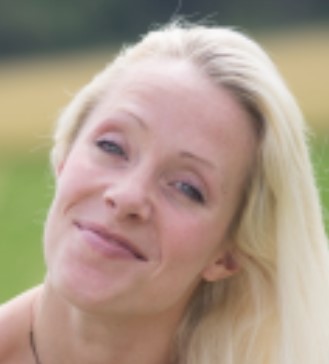 Senior Audio Staff Writer
Becky is a senior staff writer at TechRadar (which she has been assured refers to expertise rather than age) focusing on all things audio. Before joining the team, she spent three years at What Hi-Fi? testing and reviewing everything from wallet-friendly wireless earbuds to huge high-end sound systems. Prior to gaining her MA in Journalism in 2018, Becky freelanced as an arts critic alongside a 22-year career as a professional dancer and aerialist – any love of dance starts with a love of music. Becky has previously contributed to Stuff, FourFourTwo and The Stage. When not writing, she can still be found throwing shapes in a dance studio, these days with varying degrees of success.