10 concept TVs that will make you want the future right now
Television manufacturers have the TV of 2020 in their sights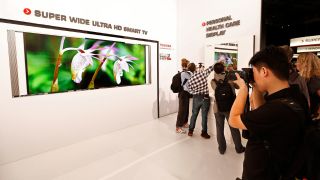 We're not getting hologram TVs anytime soon, and nor is smell-o-vision on the drawing board, but there are still plenty of innovations in the world of TV.
As the big brands gear up to sell us Ultra HD 4k TVs, their engineers have long since moved on.
From a Twitter TV and a Super Hi-Vision 98-incher designed for the Tokyo 2018 Olympics to curved, flexible and even motorised 4k ultra-widescreen TVs and 8k video walls, there are plenty of prototype TVs attempting to second-guess the future.
1. Toshiba Twitter TV
What do you do with a 105-inch TV? Equipped with a stretched CinemaScope 21:9 screen that's perfect for watching movies without the black bars, there's nevertheless a lot of screen on this flat LED TV that's not going to be used when it's busy displaying normal widescreen stuff - or Frasier in 4:3. Step forward the Twitter TV, a concept by Toshiba that puts Twitter feeds one side or another, or both, alongside weather reports and news headlines. It's stretched so wide that it actually boasts a 5k horizontal resolution.
2. Samsung 105-inch bendable UHD TV
Though a lot of lighthouse keepers have welcomed the new penchant for "gently contoured" TVs, lighthouses are obviously getting bigger if Samsung's latest curve-ball is anything to go by. Shown off at IFA 2014, this stunning 105-incher is actually an attempt to placate those who think curved TVs look good, but not all the time.
Hung from an incredibly weighty-looking motorised easel-type stand, this huge Ultra HD 4k LED TV with an 21:9 CinemaScope aspect ratio goes from curved to flat at the touch of a button. Given that Samsung sells the identically-sized curved, but non-bendable UE105S9WAL for £75,000 (US$120,000, AUS$130,000), this example of exactly what can be achieved by its engineers is likely just for show.
3. LG Curved OLED TV with Swarovski Crystals
Have televisions lost their shine? All got a bit too tasteful? If there was one company that was going to create a crystal-clad OLED TV, it was always going to be LG, and the South Korean company didn't disappoint at the recent IFA 2014 by unveiling this blinged-up version of its 4mm slim 77-inch Curved OLED TVs that dominated its stand.
"The epitome of luxury and refinement, Swarovski crystals and LG's premium OLED TV complement each other perfectly," says Hyun-hwoi Ha, president and CEO of LG's Home Entertainment Company. "The crystals help to create an aesthetic that is, quite simply, gorgeous, while our OLED technology ensures a level of picture quality that is every bit as stunning as one could imagine."
Approximately 460 luminescent Aurora Borealis crystals of three different sizes (SS8, 10 and 12) have been applied by hand using specially made stencils.
4. Haier Modular TV
How are you felling? Want to come a little closer? It's no surprise that there are concepts for TVs that feed-off the fitness metrics that smart bands like the Fitbit Flex, Jawbone UP24 and Samsung Gear Fit collect, but this is the first flatscreen we've seen that advises you on where to sit. It's called the Modular TV because it keeps pace with recent innovations and smart TV platforms; Haier will issue a new box periodically to completely update the software.
We've seen that before on Samsung TVs and their Evolution Kits, but what's new about the Modular TV is an integrated camera that advises on the optimal viewing position. An alarm is used to warn the viewer if they are too close, have poor posture, or watch TV for too long, and automatically adjusts brightness levels according to ambient lighting, too.
Available in both Full HD and Ultra HD 4k flavours, Haier's Modular TV also incorporates a range of health monitoring and care features, such as blood pressure, weight, sleep cycle quality and steps taken during the day. There'll never be a healthier way to be a couch potato.
Sign up for Black Friday email alerts!
Get the hottest deals available in your inbox plus news, reviews, opinion, analysis and more from the TechRadar team.
Jamie is a freelance tech, travel and space journalist based in the UK. He's been writing regularly for Techradar since it was launched in 2008 and also writes regularly for Forbes, The Telegraph, the South China Morning Post, Sky & Telescope and the Sky At Night magazine as well as other Future titles T3, Digital Camera World, All About Space and Space.com. He also edits two of his own websites, TravGear.com and WhenIsTheNextEclipse.com that reflect his obsession with travel gear and solar eclipse travel. He is the author of A Stargazing Program For Beginners (Springer, 2015),