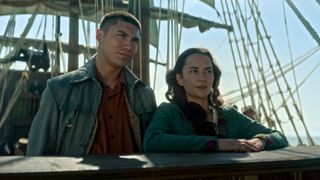 (Image credit: Netflix)
Shadow and Bone season 2: key information
- Released on March 16
- Official trailer arrived in mid-February
- Key characters returning from first season
- Fan-favorite characters set to be introduced
- Official plot synopsis revealed
- Adapting multiple books from fantasy series
- Third season not greenlit yet
Praise the Saints! Shadow and Bone season 2 has arrived, with the popular Netflix fantasy series returning to our screens on Thursday, March 16,
With two years passing since its first season aired, it's about time one of the best Netflix shows magicked its way back into our hearts. You'll want to read our spoiler-light Shadow and Bone season 2 review of all eight episodes to see whether it's better (or worse) than the season preceding it, too.
There's plenty of other reading to do around the series' latest entry once you've read our thoughts on it. Below, we've compiled everything worth know about Shadow and Bone season 2, including its Netflix release date, episode titles, cast list, potential storylines, its future, and more. Full spoilers follow for Shadow and Bone season 1, plus Leigh Bardugo's book series of the same name.
Shadow and Bone season 2 release date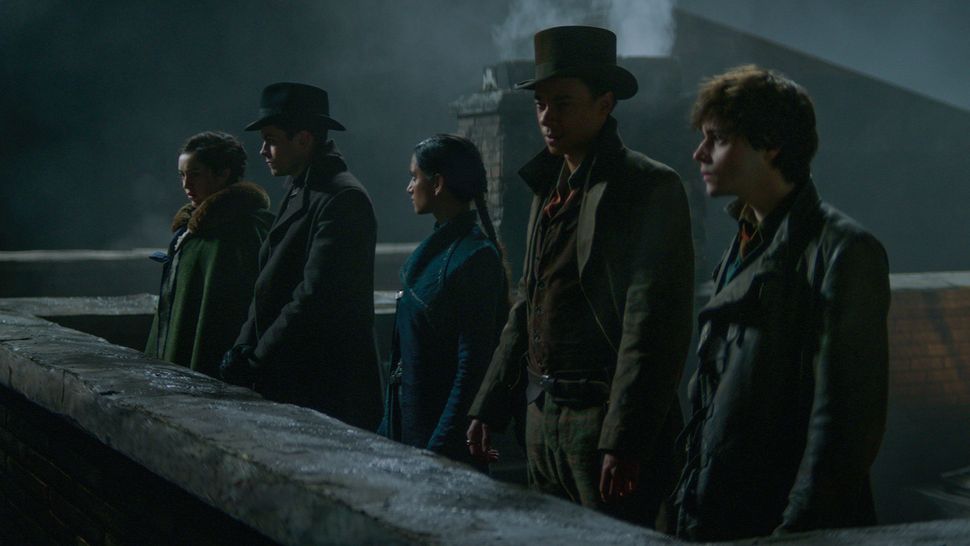 Shadow and Bone season 2 magics its way onto Netflix on Thursday, March 16. All eight episodes will debut on the world's best streaming service on that date, too. If you're curious to know about each episode's title, check out the list below:
Episode 1 – No Shelter but Me
Episode 2 – Rusalye
Episode 3 – Like Calls to Like
Episode 4 – Every Monstrous Thing
Episode 5 – Yuyeh Sesh (Despise Your Heart)
Episode 6 – Ni Weh Sesh (I Have No Heart)
Episode 7 – Meet You in the Meadow
Episode 8 – No Funerals
Shadow and Bone season 2 trailer
Shadow and Bone season 2's official trailer debuted on February 17. The near three-minute teaser, well, teases plenty of fantasy-based action, darker storylines, new heroes and enemies (and team ups!), continent-spanning adventures, and another epic showdown between Alina and Kirigan. Color us excited.
Missed the first teaser in September 2022? Watch it below:
A 25-second video of newcomers Nikolai Lantsov, Wylan Hendriks, Tolya Yul-Battar, and Tamar Kir-Battar in their official costumes debuted last year, too:
Finally, a number of Shadow and Bone-based tweets have teased more footage from the forthcoming season. Check out this General Kirigan/Darkling-centric one, before watching Alina and Mal's first meeting with Nikolai Lantsov/Sturmhond. There are snippets of new scenes in this "Everything we can tell you about season 2" video on Netflix's Twitter page, too.
Shadow and Bone season 2 cast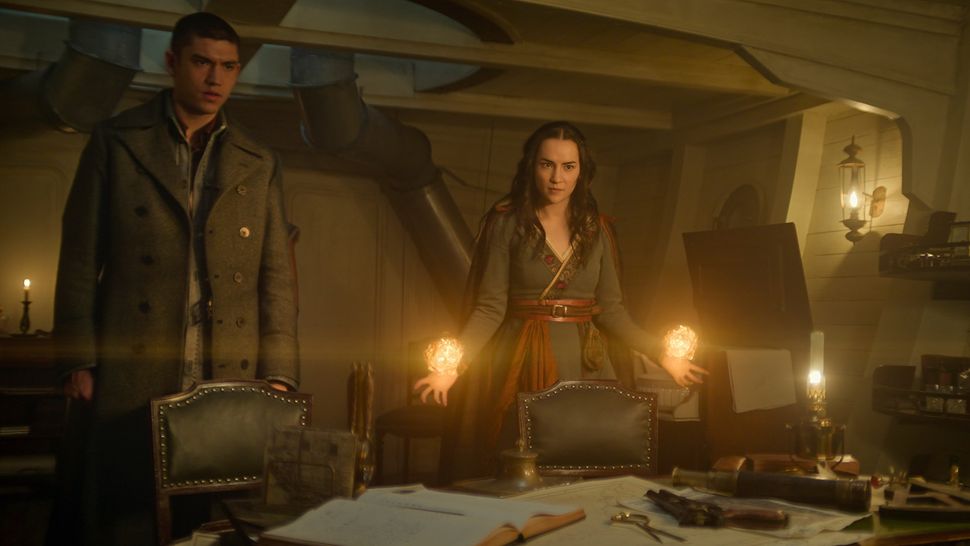 Here's Shadow and Bone season 2's confirmed cast list:
Jessie Mei Li as Alina Starkov
Ben Barnes as General Aleksander Kirigan/The Darkling
Archie Renaux as Malyen 'Mal' Oretsov
Freddy Carter as Kaz Brekker
Amita Suman as Inej Ghafa
Kit Young as Jesper Fahey
Danielle Gilligan as Nina Zenik
Calahan Skogman as Matthias Helvar
Patrick Gibson as Nikolai Lantsov
Jack Wolfe as Wylan Hendriks
Lewis Tan as Tolya Yul-Battar
Anna Leong Brophy as Tamar Kir-Battar
Daisy Head as Genya Safin
Zoe Wanamaker as Baghra
Sujaya Dasgupta as Zoya Nazyalensky
Luke Pasqualino as David Kostyk
Gabrielle Brooks as Nadia
Julian Kostov as Fedyor
Georgia Reece as Queen Tatiana
Kevin Eldon as The Apparat
Protagonists Alina Starkov and Mal Oretsov return, as does General Kirigan, who survived an attack in the Shadow Fold in the season 1 finale.
Kaz Brekker, Jesper Fahey, and Inej Ghafa are back, too. As in the Six of Crows duology, the Crows' story (more on this below) line ups with Nina Zenik and Matthias Helvar, so we'll see the former – at the very least – join their gang. Danielle Gilligan and Calahan Skogman, who play Nina and Matthias have been bumped up to series regulars alongside Daisy Head, who plays Genya Safin.
Spoilers follow for Shadow and Bone's book series and some season 2 storylines.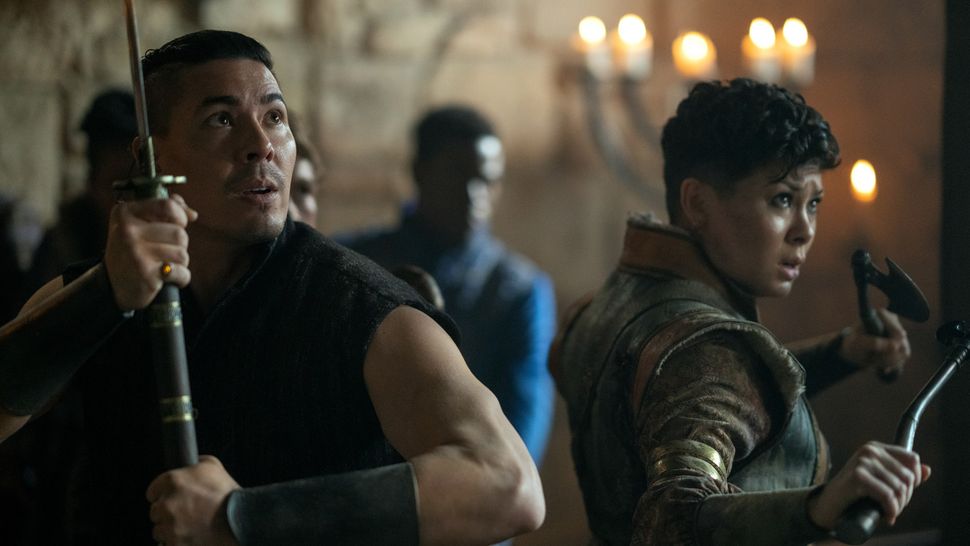 As for characters making the leap from Bardugo's books to the small screen, Wylan Hendriks (whose surname has been changed for the TV series) is one of four new major supporting characters.
In the novels, Wylan joins the Crows as their demolitions expert for a job inside Fjerdan's military stronghold known as the Ice Court. Jack Wolfe (Inside No. 9, The Witcher) portrays Wylan in Shadow and Bone season 2.
Another fan-favorite character set to appear is Nikolai Lantsov, who is portrayed by Patrick Gibson (Tolkien). In the books, Nikolai adopts the pseudonym Sturmhond and leads a pirate armada that aids the war effort for the kingdom of Ravka. Nikolai becomes a key ally of Alina and Mal's, so his arrival will be vital in their quest to stop General Kirigan. Gibson told Entertainment Weekly (EW) he wasn't sure if he could play the "Tony Stark-esque" Sturmhond persona for an entire series, but he was won round by the scenery he gets to chew as Nikolai in later episodes.
Need a refresh on what went down in Shadow and Bone S1? Let me enlighten you. ☀️ S2 drops March 16 pic.twitter.com/xLug0YzZS8January 31, 2023
The final two newcomers are twin siblings Tolya Yul-Battar and Tamar Kir-Battar, who are played by Lewis Tan (Mortal Kombat) and Anna Leong Brophy (Traces). In the source material, Tolya is a Grisha Heartrender and a member of Sturmhond's pirate crew. Meanwhile, Tamar is also an ex-member of Sturmhond's team and a fellow Heartrender. In the TV adaptation, though, both characters are part of Sturmhond's crew.
Lastly, Redanian Intelligence, a Witcher fansite, claims seven other actors – five in one article, two in another – will play bit-part roles in season 2:
Tommy Rodger (Goodbye Christopher Robin) as Jordie Rietveld, Kaz's older brother
Rhoda Ofori-Attah (Sex Education, Top Boy) as Aditi Hilli, Jesper's mom
Newcomer Alistair Nwachukwu as Adrik Zhaban, Nadia's brother
Newcomer Tumi Fani-Kayode as Miradi, an original character
Seamus O'Hara (The Northman) as Halsov, an original character
Tim Plester (After Life) as Per Haskell, the leader of the Dregs
April V. Woods (Gangs of London) as Saskia, Kaz's childhood friend
Shadow and Bone season 2 story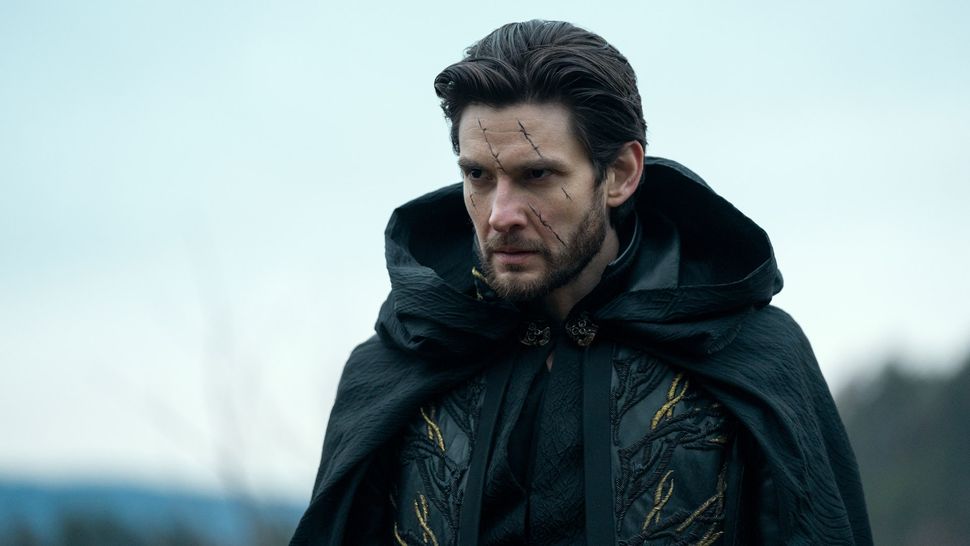 Spoilers follow for Shadow and Bone season 1 and the book series.
Here's Shadow and Bone season 2's plot synopsis: "Alina Starkov is on the run. A beacon of hope to some and a suspected traitor to others, she's determined to bring down the Shadow Fold and save Ravka from ruin.
"But General Kirigan has returned to finish what he started. Backed by a terrifying new army of seemingly indestructible shadow monsters and fearsome new Grisha recruits, Kirigan is more dangerous than ever. To stand a fighting chance against him, Alina and Mal rally their own powerful new allies and begin a continent-spanning journey to find two mythical creatures that will amplify her powers.
"Back in Ketterdam, the Crows must forge new alliances as they contend with old rivals and even older grudges that threaten not only their place in the Barrel, but their very lives. When a chance at a deadly heist comes their way, the Crows will once again find themselves on a collision course with the legendary Sun Summoner.
"Based on Leigh Bardugo's worldwide bestselling Grishaverse novels, Shadow and Bone returns for a second season of new friendships, new romance, bigger battles, epic adventures – and a shocking family secret that could shatter everything."
yes, the cast of SHADOW AND BONE have seen your theories. yes, the cast of SHADOW AND BONE have seen your thirst tweets. here's what they have to say about them pic.twitter.com/eBSpKcLrjlFebruary 24, 2023
Season 2 will follow stories from multiple novels – those being Siege and Storm, and Ruin and Rising (the second and third books in the Shadow and Bone trilogy), and the first book from the Six of Crows spin-off duology. That's based on returning cast members, new additions to the show's line-up, and what the season 1 finale set up.
With Alina and Mal going their separate ways to the Crows in episode 8, the second season will continue the former's journey to new lands to keep Alina out of Kirigan's reach and increase her power output. Per Entertainment Weekly (EW), they'll begin their quest in a new location called Novyi Zem. That's before they make plans to locate two mythical creatures that can help amplify Alina's powers (via Netflix Tudum), putting them on a collision course with Nikolai.
As season 1's final entry revealed, Kirigan has tapped further into his Darkling powers and created new creatures known as Nichevo'ya. Unlike the Volcra that inhabit the Fold, these shadow monsters can move in broad daylight. Expect them to be difficult adversaries for Alina and Mal to overcome.
Ben Barnes, who portrays Kirigan, has expressed interest in seeing Shadow and Bone season 2 "steer off" from the books (per Collider) in a similar vein to how season 1 incorporated the Crows into Alina's arc – and that'll be the case. Speaking to EW, co-showrunners Eric Heisserer and Daegan Fryklind confirmed season 2 will contain new material for fans of the novels to enjoy, as well as fresh twists on how the book series' storylines play out.
Speaking as part of IGN Fan Fest, Jessie Mei Li and Ben Barnes teased fans what can expect from the light and dark dynamic at play between their characters. "If you thought their relationship was interesting in season 1, you'll just have to wait for season 2," she said. "The way these characters are entwined and the things that they share are pretty interesting."
"When you read the books, they have this connection to each other that is almost sort of telekinetic or something," Barnes added. "But I think that's quite difficult to represent in a show, so we had to sort of find these clever ways to work around continuing their connection and their relationship."
Meanwhile, the Crow will team up with Nina and Wylan, but not in a bid to free Matthias, who was arrested in season 1 (not deliberately, anyway). Additionally, fans of the books shouldn't expect to see the Ice Court job, a major heist from the novels, this season – Heisserer telling EW it'll be part of another season. Instead, the gang need to concoct a plan to overthrow Pekka Rollins, who has taken over their establishments and framed them for crimes they didn't commit in their absence from Ketterdam.
Well, among other things we can't spoil here *tease tease*. Based on some of Shadow and Bone season 2's new cast members, we can confirm you'll see flashbacks to Kaz's and Jesper's childhoods. For every other major reveal, secret, and spoiler, though, you'll have to wait for season 2 to air.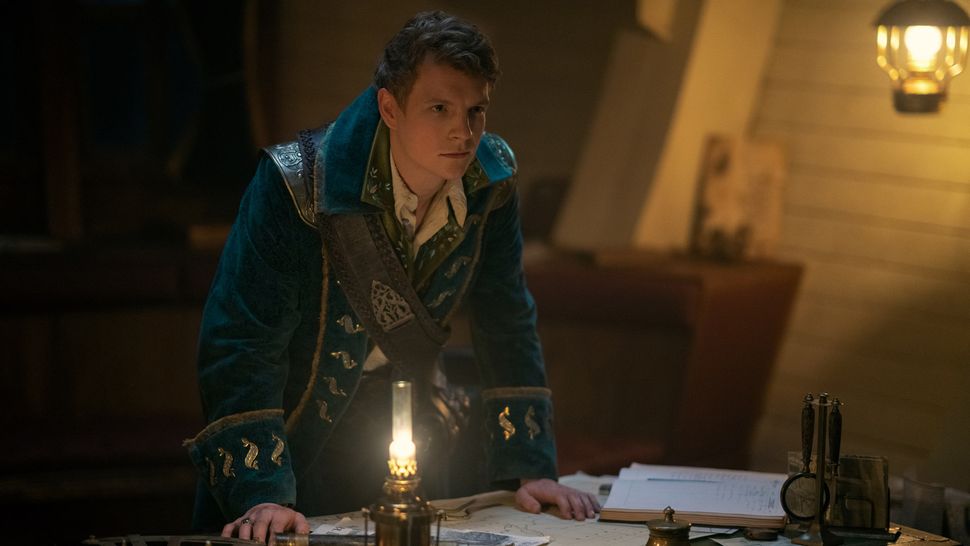 Another Grishaverse novel – King of Scars – could set the scene for Zoya's season 2 arc. A supporting character in the Grisha trilogy, Zoya's character is given a more prominent role in Bardugo's second duology, so elements of these books may be incorporated in the second season.
In the season 1 finale, Zoya was seen heading to Novokribrisk – the city that Kirigan destroys with the Fold – to search for her family. Meanwhile, in the King of Scars spin-off novels, Zoya crosses paths with Nikolai, which could've set up an intriguing subplot in Shadow and Bone season 2. Based on what we've seen, however, no elements from King of Scars have been used. Instead, Zoya has been repurposed for another subplot in the second season.
As for Nikolai, his Siege and Storm arc will be a key part of season 2. In the novels, Lantsov – who masquerades as a pirate leader (known as a Privateer) called Sturmhond – is hired by Kirigan to transport him through the True Sea in order to track down a mythical dragon known as the Rusalye. Lantsov, though, eventually teams up with Alina and Mal, and fights alongside the duo to stop the Darkling from exacting his master plan. Expect parts of this storyline to be directly adapted.
Aside from Novyi Zem, we'll be visiting other fan-favorite locations, including Shu Han and Hellgate. The latter is a Kerch prison located on the small island of Terrenjel outside of Ketterdam, and established fans will know all about the importance of this destination for some of our heroes.
Lastly, we'll learn more about Morozova, aka the mastermind behind the amplifiers' creations. Speaking to Netflix Tudum, Fryklind teased: "We've also really dug into more of the mythology this season in terms of the amplifiers, but also the creator of the amplifiers, Morozova – who he was, what his backstory is and how he ties into this world."
Will Shadow and Bone get more seasons?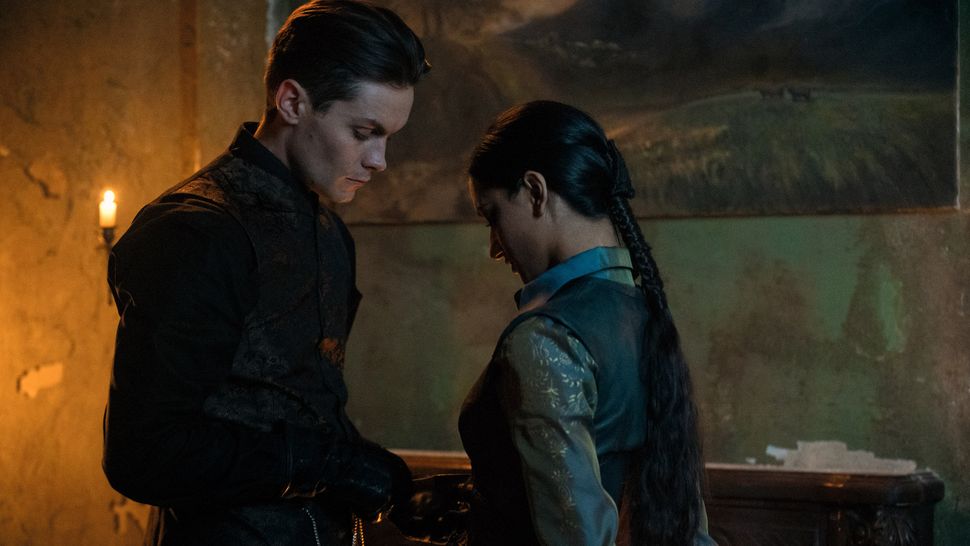 That depends on whether fans tune into Shadow and Bone season 2. The franchise doesn't have as big a following as others in the fantasy genre, but the Grishaverse still has a sizable and passionate audience. Its fanbase is likely to have grown, too, with Netflix's adaptation introduces the series to new audiences.
There are a number of directions Netflix's adaptation of the Grishaverse can go in as well. Like the streamer's growing Witcher-Verse, Shadow and Bone could potentially lead to spin-offs that delve into the wider universe and/or be based on Bardugo's sizable source material. Whether it's expanding on a pre-existing short story, a novel like King of Scars, or creating entirely new content (which its showrunners have previous form for making), Netflix can go in all manner of directions in and around Shadow and Bone season 2.
If it continues to be a success, future seasons and spin-offs may be put into production by Netflix, too. The streaming giant has shown it'll put faith in projects that deliver huge viewing figures, so Shadow and Bone's future may be bright if its second season draws in a large audience again.
For more Netflix fantasy-based content, check out these five epic fantasy shows before Shadow and Bone season 2 arrives. Alternatively, read up on everything about The Witcher season 3.
Sign up for Black Friday email alerts!
Get the hottest deals available in your inbox plus news, reviews, opinion, analysis and more from the TechRadar team.
Senior Entertainment Reporter
As TechRadar's senior entertainment reporter, Tom covers all of the latest movies, TV shows, and streaming service news that you need to know about. You'll regularly find him writing about the Marvel Cinematic Universe, Star Wars, Netflix, Prime Video, Disney Plus, and many other topics of interest.
An NCTJ-accredited journalist, Tom also writes reviews, analytical articles, opinion pieces, and interview-led features on the biggest franchises, actors, directors and other industry leaders. You may see his quotes pop up in the odd official Marvel Studios video, too, such as this Moon Knight TV spot.
Away from work, Tom can be found checking out the latest video games, immersing himself in his favorite sporting pastime of football, reading the many unread books on his shelf, staying fit at the gym, and petting every dog he comes across.

Got a scoop, interesting story, or an intriguing angle on the latest news in entertainment? Feel free to drop him a line.