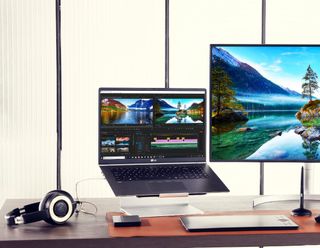 Most computer makers seem to think the laptop has already achieved its final form. They'll tout the latest CPU or graphics card upgrade, but your new "cutting-edge" laptop will still have the same 12- or 13-inch frame you've bought over and over for the past decade.
Up until now, if you didn't want a cramped screen while on-the-go, you lacked very many alternatives. A few high-end laptops for gamers and designers stretch to 15 or 17 inches, but they'll cost you an arm and a leg and weigh your bag down like a ton of bricks.
That's what makes LG's 2019 gram laptop such an intriguing option: it steps beyond the industry status quo and gives us the option for a 17-inch screen and 16:10 aspect ratio, crammed inside a 15.6-inch chassis that only measures 0.7 inches thick and weighs 2.95 lb.
For comparison, the latest 13-inch Macbook Pro weighs just over three pounds, and most 17-inch laptops weigh anywhere between five and ten pounds. Unless you're comfortable carrying these behemoths around and risking dropping them and jarring something loose, these are basically glorified desktop PCs.
But LG is trying to change the paradigm on large laptops. Made with nano carbon magnesium, LG gram survived the military-based MIL-STD-810 durability challenge, which tests everything from "shock" damage (dropping it from a great height) and excess vibration to both high and low temperatures.
Light enough to make most falls and physical damage non-fatal, the LG gram will, unlike other 17-inch laptops, actually be safe on your lap, while still giving you the powerful sensation of pulling out a desktop-sized computer in public without fear.
You might assume that the gram achieves its light, skinny frame by ditching the hardware and specs necessary for hardcore computing, but you'd be mistaken. To power its 17-inch WQXGA (2560 x 1600) screen, LG inserted an 8th Gen Intel Dual Core i7-8565U processor, 16GB of memory, and 512 GB of SSD storage into the 2019 gram.
Plus, the gram's 72wh battery is rated to last a maximum of 19.5 hours, which would dwarf the mileage that most large laptops get out of one charge. It's robust enough to run video and photo editing software, and the battery endurance to ensure it won't burn out as soon as it's unplugged.
LG hasn't abandoned any key features to make the LG gram skinny, either. It sports a Thunderbolt 3 port, three USBs, a built-in microSD card slot, backlit keys, an HD webcam, a fingerprint reader, and an Intel® UHD Graphics 620 card.
Regardless of whether or not you're currently in the market for a new laptop, it's worth checking out LG's latest #ScaleUp events for the chance at free money, or even one of three free gram laptops.
If you have an Instagram account and a knack for photography, we recommend that you enter LG's #ScaleUpIdea photo contest and win a $1,699 laptop.
The theme of the contest is forced perspective photography. This type of photo uses optical illusion to make objects in the frame look larger or smaller than they actually are. Peter Jackson most famously used this technique in Lord of the Rings to make six-foot actors look like tiny hobbits and dwarves.
It's a fitting theme for a contest to win an LG gram, a 17-inch laptop that, to the naked eye, looks like a 15.6-inch one.
To enter, you must post a photo on your public Instagram page; your photo must thematically fit with one of three topics: the LG gram's big screen size (tagged with #ScaleUpScreen in the description), its lightweight frame (#ScaleUplightweight), or its long lasting battery (#ScaleUpBattery). The best photo in each category wins the grand prize, and you have from now through 3/7 to submit your entry.
If you're not confident in your photography, you still have a chance to win free swag through their #ScaleUpQuiz. On both YouTube and Instagram, LG has posted a video about the new gram, asking people a question about its new laptop. Leave a comment on both video platforms, and you'll be entered to win a $30 gift card to Amazon—just be sure to give the right answer!
You have anytime between 2/14 and 2/27 to enter the contest. You'll have to include the #lggram and #ScaleUpQuiz hashtags in your comment on Instagram to have a chance to win, but you can simply answer the question in your YouTube comment.
Sign up to receive daily breaking news, reviews, opinion, analysis, deals and more from the world of tech.