La razón por la que es imposible encontrar el iPhone 12 Pro e iPhone 12 Pro Max
Casi un mes de retraso de media en 27 países y 33 días en EEUU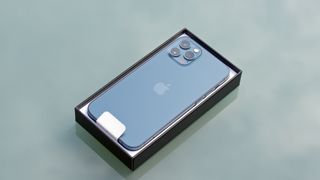 (Image credit: TechRadar)
Conseguir un iPhone 12 Pro o Pro 12 Max es ahora mismo muy difícil. El celular de Apple no está disponible en tiendas y tardará aproximadamente un mes en llegar si lo pides online en la Apple Store. La media de tiempo para obtener uno de estos nuevos iPhone se ha disparado a 27 días en varias regiones. Los iPhone 12 e iPhone 12 Mini, sin embargo, están disponibles.
Son datos del analista Samik Chatterjee, del banco de inversión JP Morgan, en una nota obtenido por AppleInsider. Según Chatterjee, este retraso podría indicar una gran demanda por los modelos modelos Pro del iPhone: "teniendo en cuenta que ya han pasado unas semanas desde que [el lanzamiento], esto es un indicador positivo sobre la demanda existente".
La nota indica un tiempo de espera medio de 27 días para el iPhone 12 Pro, 23 días para el iPhone Pro Max 12 y sólo tres días para el iPhone 12 y el iPhone 12 Mini.
El tiempo de espera en los Estados Unidos es mayor: 33 días de media para conseguir el iPhone 12 Pro. Si encuentras alguno en una tienda puedes conseguirlo inmediatamente, dice la nota, pero no están disponibles. Por ejemplo, nosotros sólo hemos podido encontrar una tienda con unidades de iPhone 12 Pro disponibles entre todas las de Los Angeles — que probablemente se agotarán a las pocas horas.
En Reino Unido, Alemania o China, el tiempo medio de espera es de 22 días.
Sin embargo, aunque la demanda claramente es superior a la oferta, esto no indica que la demanda por estas unidades sea mayor que la del iPhone 12 o iPhone 12 Mini en números absolutos. Obviamente, Apple no puede fabricar suficientes unidades de los modelos Pro para satisfacer al mercado, pero la nota no indica cuál es el tamaño de ese mercado ni cuál es el motivo de que haya esta desigualdad entre oferta y demanda.
¿Es Covid-19 el motivo de este desequilibrio?
Chatterjee afirma que una de las razones por las que existe esta desigualdad entre oferta y demanda puede ser que los consumidores están comprando unidades a un ritmo que Apple no esperaba. Sin embargo, también existe la posibilidad de que Apple no sea capaz de fabricar los iPhone 12 Pro que tenía previstos vender.
El motivo podría ser el mismo que ha afectado a otros productos, como la PS5 y la Xbox Series X: el Covid-19.
Antes de la salida de la serie iPhone 12, leímos rumores sobre estos retrasos, que afectaron a las fechas de lanzamiento de varios modelos. El iPhone 12 y el iPhone 12 Pro llegaron a las tiendas a finales de octubre, mientras que el iPhone 12 Mini y el iPhone 12 Pro Max llegaron a mediados de noviembre. En ningún momento Apple admitió que estos retrasos fueran causados por el Covid-19, pero parece lógico pensar que la compañía de Cupertino se ha visto afectada como todo el mundo.
Es posible que Apple se esté encontrando con otros problemas en la fabricación de los modelos Pro, como la disponibilidad de algunos de sus componentes. No sería la primera vez: tanto el iPhone 8 como el iPhone X se anunciaron en septiembre de 2017 pero el iPhone X no se envió a los compradores hasta noviembre.
Independientemente de la razón, Apple ha admitido que efectivamente hay problemas de suministro. El mismo Tim Cook los reconoció en una llamada para anunciar resultados del último trimestre a finales de octubre: "Estamos trabajando muy, muy duro para remediar estos [problemas de suministro] tan rápido como podamos pero, en este punto, no puedo predecir cuándo lo solucionaremos".
Sign up for Black Friday email alerts!
Get the hottest deals available in your inbox plus news, reviews, opinion, analysis and more from the TechRadar team.
David is now a mobile reporter at Cnet. Formerly Mobile Editor, US for TechRadar, he covered phones, tablets, and wearables. He still thinks the iPhone 4 is the best-looking smartphone ever made. He's most interested in technology, gaming and culture – and where they overlap and change our lives. His current beat explores how our on-the-go existence is affected by new gadgets, carrier coverage expansions, and corporate strategy shifts.