HTC One (M8) vs Samsung Galaxy S5: Early view
Which of the flagship phones will be the one for you?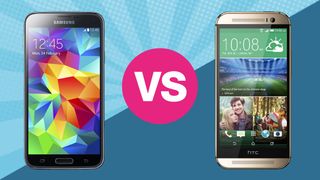 Samsung is the reigning heavyweight champion on the Android scene, and the Galaxy S5 looks like a return to form after the slightly disappointing S4.
The Taiwanese contender has a proud Android pedigree and last year's HTC One was our pick of the smartphone bunch. The HTC One (M8) isn't the catchiest name we've ever heard, but even if the ungainly tag sticks, this is a beautiful-looking device.
If any Android smartphone can mount a credible challenge to Samsung's dominance this year, it's got to be the HTC One (M8).
Headline features
Duking it out for the affections of the mass market means producing phones that have a really wide appeal. All the top Android phones have plenty in common, but the HTC One (M8) does offer a few standout features.
Opting out of the megapixel war with ultrapixels, HTC is not afraid to be different. The HTC One (M8) has dual cameras on the back. There's a 4.1 ultrapixel camera with a depth perceiving camera above it, which gives 3D effects and, more importantly, the ability to refocus after taking a shot.
That reassuringly expensive feel and aesthetic will win the One (M8) a lot of friends, and it retains the smart front-facing BoomSound speakers which were universally praised in its predecessor.
A redesigned Sense interface with a stark, flat icon look and a host of time-saving gestures brings HTC bang up to date.
The Samsung Galaxy S5 has a lot going for it. The company really took the criticism of the S4 to heart and responded by scaling down the huge list of features and dubious software enhancements to focus the S5 on what people really want.
That's why there's a 16MP camera capable of snapping a shot in 0.3 seconds. Samsung also added real-time HDR and a handful of other modes and effects, which have resulted in a very strong-looking camera.
Another big trend in mobile tech right now is fitness tracking. Samsung has improved the S Health app from last year, and added a heart rate sensor - decide for yourself whether that's something you'd want.
Following Sony's lead, the Galaxy S5 is IP67 rated, which means dust poses no threat and it can be submerged at a depth of up to 1 metre for up to 30 minutes.
Design
Its predecessor certainly turned heads and the HTC One (M8) has a similar aluminium body with a really precise, premium feel. HTC understands how to make a gorgeous smartphone that people will fall in love with on sight. It is 146.36 x 70.6 x 9.35mm and it weighs in at 160g.
Samsung's decision to stick with the same design language as its galaxy of Galaxy models has grown is harder to justify. The complaints about a cheap, plastic feel now stretch back years, and if you think the textured back resembles a sticking plaster, you're not the only one.
On the other hand, the S5 is lighter and slimmer than its competitor. It weighs 145g and measures 142 x 72.5 x 8.1mm, but lacks that premium feel that we love on the One (M8).
UI
Both devices feature Google's biscuity goodness in the shape of Android 4.4 KitKat. The One has HTC's Sense 6.0 on top, with some handy new gesture shortcuts and a flatter icon design. The S5 has Samsung's TouchWiz, which offers a huge list of settings to play with (though you might not find all of them very useful).
HTC eschews separate buttons beneath the screen, opting for Google's preference of onscreen keys that can fade away when not in use. Samsung decided to stick with the physical home button and its touch-sensitive wing men.
Both are decent overlays in their own right, in our opinion, and while we're getting used to having all keys on screen, we do like a physical home button.
Screen
The HTC One (M8) has a 5-inch display with a 1,920 x 1,080 pixel resolution. The Galaxy S5 has a 5.1-inch screen which is also full HD at 1080p. Technically the One should be slightly sharper, but it isnt easy to tell the difference.
The HTC goes for a Super LCD3 option, where Samsung has stayed true to form and gone with a bright and vibrant Super AMOLED HD option instead - this leads to higher colour saturation, but can be tweaked to your own preference.
CPU and RAM
The Samsung Galaxy S5 is packing an impressive 2.5GHz quad-core Snapdragon 801 processor backed up by 2GB of RAM. The HTC One (M8) is almost exactly the same with 2GB of RAM, and it's also powered by the quad-core Snapdragon 801 processor, although it's clocked at 2.3GHz.
We need to put them through their paces and check the benchmarks, but a major gap between them in terms of speed would be a surprise - despite HTC running ahead of the pack in our benchmark tests.
Battery
You'll find a 2,600 mAh battery in the HTC One (M8), while the S5's battery is slightly bigger at 2,800 mAh. The slightly smaller screen and the lower clock speed might help close the gap here.
Both phones have a special power-saving mode that will help you prioritize when the battery gets low and squeeze the maximum use from your dwindling juice. The battery in the S5 can be swapped out, but the One (M8) is sealed.
Camera
The cameras are a headline feature for both phones, but the approaches are very different. We have the dual rear camera setup of the HTC One (M8) with a 4.1 ultrapixel camera and a distance measuring camera above it. There's also a 5MP front-facing camera for top quality selfies.
Samsung has gone for a 16MP main camera and a 2.1MP front-facing camera. The S5 is also capable of recording 4K video, while the One tops out at 1080p, something that could prove important to anyone who's taken the 4K plunge with a new TV.
Price
If you want to own either of these smartphones then you'll need to be prepared to part with £550 (about US$900, AU$1,000). Contract deals will vary, but we expect both handsets to be priced very similarly.
Early verdict
The HTC One (M8) and the Samsung Galaxy S5 are both impressive, and they need to be. The top of the Android tree is a very competitive space and it's not just HTC aiming to knock Samsung off its perch: Sony, LG, and others are releasing compelling smartphones too.
Few devices can match the Galaxy S5's hidden depths, but if you want a piece of tech that even iPhone owners will drool over, the HTC One (M8) cannot be overlooked.
Will the HTC One (M8) follow its predecessor to the top of our best smartphones chart?
Get daily insight, inspiration and deals in your inbox
Get the hottest deals available in your inbox plus news, reviews, opinion, analysis and more from the TechRadar team.