Past Wordle answers - every solution so far, by date
Looking for past Wordle answers? Here's the full list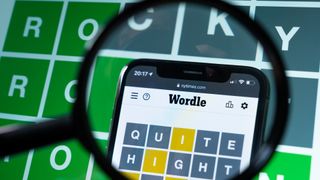 (Image credit: Shutterstock / DVKi)
Memorizing all of the past Wordle answers is nearly impossible - after all, there have now been more than 700 of them. But knowing what's gone before is important, because Wordle answers don't repeat - so you could easily be wasting guesses.
What you need then, is a list of past Wordle answers - and that's what I've made for you here. It's organized by month and you can simply search the page to see whether the word you're thinking of has already been used.
So pick one of the best Wordle starting words, take a look at the Wordle hints for today and keep this list close when you're playing - your streak will thank you.
Your Wordle expert
Marc is TechRadar's UK Editor in Chief and has been playing Wordle for more than a year. He's authored dozens of articles on the game for TechRadar and its sister site Tom's Guide, including a detailed analysis of the most common letters in every position. His Wordle streak recently reached the 500 mark and he'll be inconsolable if he loses it. Yes, he takes it all too seriously.
Past Wordle answers: The full list
Below you'll find a list of every Wordle so far - all 834 of them (and counting!)
I've organised the answers by month, making it easy to browse them. And if you're trying to find out whether a specific word has already been an answer, there are easy ways to do that:
Windows: click CTRL+F
macOS: click CMD+F
iOS: click Share (the box with the arrow), then 'Find on page'
Android: click the three dots in the top-right then 'Find in page'
Right, on with the list - starting with yesterday's answer.
Past Wordle answers: September 2023
Swipe to scroll horizontally
| Game | Date | Wordle answer |
| --- | --- | --- |
| 833 | Saturday, 30 September 2023 | DADDY |
| 832 | Friday, 29 September 2023 | AZURE |
| 831 | Thursday, 28 September 2023 | COACH |
| 830 | Wednesday, 27 September 2023 | SMILE |
| 829 | Tuesday, 26 September 2023 | LOYAL |
| 828 | Monday, 25 September 2023 | ROCKY |
| 827 | Sunday, 24 September 2023 | RIGHT |
| 826 | Saturday, 23 September 2023 | CAROL |
| 825 | Friday, 22 September 2023 | BRUSH |
| 824 | Thursday, 21 September 2023 | STONE |
| 823 | Wednesday, 20 September 2023 | SNARE |
| 822 | Tuesday, 19 September 2023 | CLOSE |
| 821 | Monday, 18 September 2023 | FRANK |
| 820 | Sunday, 17 September 2023 | MUSIC |
| 819 | Saturday, 16 September 2023 | ANGEL |
| 818 | Friday, 15 September 2023 | EXERT |
| 817 | Thursday, 14 September 2023 | RAYON |
| 816 | Wednesday, 13 September 2023 | CLEAR |
| 815 | Tuesday, 12 September 2023 | WHISK |
| 814 | Monday, 11 September 2023 | OLDER |
| 813 | Sunday, 10 September 2023 | QUOTE |
| 812 | Saturday, 9 September 2023 | LUCKY |
| 811 | Friday, 8 September 2023 | ROUSE |
| 810 | Thursday, 7 September 2023 | DWELL |
| 809 | Wednesday, 6 September 2023 | GNASH |
| 808 | Tuesday, 5 September 2023 | BIRCH |
| 807 | Monday, 4 September 2023 | GIDDY |
| 806 | Sunday, 3 September 2023 | AWAIT |
| 805 | Saturday, 2 September 2023 | ONION |
| 804 | Friday, 1 September 2023 | SPACE |
Past Wordle answers: August 2023
Swipe to scroll horizontally
| Game | Date | Wordle answer |
| --- | --- | --- |
| 803 | Thursday, 31 August 2023 | BRIDE |
| 802 | Wednesday, 30 August 2023 | AUDIO |
| 801 | Tuesday, 29 August 2023 | CAPER |
| 800 | Monday, 28 August 2023 | WRITE |
| 799 | Sunday, 27 August 2023 | PEACE |
| 798 | Saturday, 26 August 2023 | CHOIR |
| 797 | Friday, 25 August 2023 | OCEAN |
| 796 | Thursday, 24 August 2023 | WORDY |
| 795 | Wednesday, 23 August 2023 | VERVE |
| 794 | Tuesday, 22 August 2023 | SPICE |
| 793 | Monday, 21 August 2023 | BEACH |
| 792 | Sunday, 20 August 2023 | QUEST |
| 791 | Saturday, 19 August 2023 | MAGMA |
| 790 | Friday, 18 August 2023 | EXACT |
| 789 | Thursday, 17 August 2023 | AMISS |
| 788 | Wednesday, 16 August 2023 | SCRUB |
| 787 | Tuesday, 15 August 2023 | INDEX |
| 786 | Monday, 14 August 2023 | SNAKY |
| 785 | Sunday, 13 August 2023 | WRATH |
| 784 | Saturday, 12 August 2023 | QUICK |
| 783 | Friday, 11 August 2023 | HELLO |
| 782 | Thursday, 10 August 2023 | EMPTY |
| 781 | Wednesday, 9 August 2023 | LOVER |
| 780 | Tuesday, 8 August 2023 | BULLY |
| 779 | Monday, 7 August 2023 | BROOK |
| 778 | Sunday, 6 August 2023 | POLYP |
| 777 | Saturday, 5 August 2023 | ANODE |
| 776 | Friday, 4 August 2023 | CHART |
| 775 | Thursday, 3 August 2023 | PARTY |
| 774 | Wednesday, 2 August 2023 | BEGET |
| 773 | Tuesday, 1 August 2023 | TENTH |
Past Wordle answers: July 2023
Swipe to scroll horizontally
| Game | Date | Wordle answer |
| --- | --- | --- |
| 772 | Monday, 31 July 2023 | STYLE |
| 771 | Sunday, 30 July 2023 | BATHE |
| 770 | Saturday, 29 July 2023 | CURLY |
| 769 | Friday, 28 July 2023 | ETHOS |
| 768 | Thursday, 27 July 2023 | DISCO |
| 767 | Wednesday, 26 July 2023 | HEART |
| 766 | Tuesday, 25 July 2023 | WHEEL |
| 765 | Monday, 24 July 2023 | HOBBY |
| 764 | Sunday, 23 July 2023 | WHALE |
| 763 | Saturday, 22 July 2023 | FROZE |
| 762 | Friday, 21 July 2023 | BURLY |
| 761 | Thursday, 20 July 2023 | FLANK |
| 760 | Wednesday, 19 July 2023 | TONIC |
| 759 | Tuesday, 18 July 2023 | FLYER |
| 758 | Monday, 17 July 2023 | DROOP |
| 757 | Sunday, 16 July 2023 | TOPAZ |
| 756 | Saturday, 15 July 2023 | CRONE |
| 755 | Friday, 14 July 2023 | FIEND |
| 754 | Thursday, 13 July 2023 | BARGE |
| 753 | Wednesday, 12 July 2023 | WHIRL |
| 752 | Tuesday, 11 July 2023 | EARTH |
| 751 | Monday, 10 July 2023 | FOLLY |
| 750 | Sunday, 9 July 2023 | ENTER |
| 749 | Saturday, 8 July 2023 | COWER |
| 748 | Friday, 7 July 2023 | DONUT |
| 747 | Thursday, 6 July 2023 | WINDY |
| 746 | Wednesday, 5 July 2023 | VENOM |
| 745 | Tuesday, 4 July 2023 | IRATE |
| 744 | Monday, 3 July 2023 | HOTEL |
| 743 | Sunday, 2 July 2023 | MOSSY |
| 742 | Saturday, 1 July 2023 | BLEEP |
Past Wordle answers: June 2023
Swipe to scroll horizontally
| Game | Date | Wordle answer |
| --- | --- | --- |
| 741 | Friday, 30 June 2023 | STRAW |
| 740 | Thursday, 29 June 2023 | DINER |
| 739 | Wednesday, 28 June 2023 | TRACT |
| 738 | Tuesday, 27 June 2023 | ABOUT |
| 737 | Monday, 26 June 2023 | GUEST |
| 736 | Sunday, 25 June 2023 | RODEO |
| 735 | Saturday, 24 June 2023 | GRAND |
| 734 | Friday, 23 June 2023 | COVET |
| 733 | Thursday, 22 June 2023 | TASTE |
| 732 | Wednesday, 21 June 2023 | CRANE |
| 731 | Tuesday, 20 June 2023 | FROST |
| 730 | Monday, 19 June 2023 | KAZOO |
| 729 | Sunday, 18 June 2023 | SHYLY |
| 728 | Saturday, 17 June 2023 | RANCH |
| 727 | Friday, 16 June 2023 | STRAP |
| 726 | Thursday, 15 June 2023 | MAYBE |
| 725 | Wednesday, 14 June 2023 | CRIME |
| 724 | Tuesday, 13 June 2023 | PLUNK |
| 723 | Monday, 12 June 2023 | WRONG |
| 722 | Sunday, 11 June 2023 | GUARD |
| 721 | Saturday, 10 June 2023 | AGAIN |
| 720 | Friday, 9 June 2023 | BALSA |
| 719 | Thursday, 8 June 2023 | CRUMB |
| 718 | Wednesday, 7 June 2023 | HATER |
| 717 | Tuesday, 6 June 2023 | SCOUT |
| 716 | Monday, 5 June 2023 | ENNUI |
| 715 | Sunday, 4 June 2023 | BEAST |
| 714 | Saturday, 3 June 2023 | NANNY |
| 713 | Friday, 2 June 2023 | HUMID |
| 712 | Thursday, 1 June 2023 | JAZZY |
Past Wordle answers: May 2023
Swipe to scroll horizontally
| Game | Date | Wordle answer |
| --- | --- | --- |
| 711 | Wednesday, 31 May 2023 | AGILE |
| 710 | Tuesday, 30 May 2023 | KNEEL |
| 709 | Monday, 29 May 2023 | MOUSE |
| 708 | Sunday, 28 May 2023 | SKIMP |
| 707 | Saturday, 27 May 2023 | RAMEN |
| 706 | Friday, 26 May 2023 | SWINE |
| 705 | Thursday, 25 May 2023 | BAGEL |
| 704 | Wednesday, 24 May 2023 | UTTER |
| 703 | Tuesday, 23 May 2023 | CLERK |
| 702 | Monday, 22 May 2023 | IGLOO |
| 701 | Sunday, 21 May 2023 | BRASH |
| 700 | Saturday, 20 May 2023 | FLASK |
| 699 | Friday, 19 May 2023 | GRIEF |
| 698 | Thursday, 18 May 2023 | SHORN |
| 697 | Wednesday, 17 May 2023 | PLANK |
| 696 | Tuesday, 16 May 2023 | LATTE |
| 695 | Monday, 15 May 2023 | CANOE |
| 694 | Sunday, 14 May 2023 | SCARF |
| 693 | Saturday, 13 May 2023 | ACRID |
| 692 | Friday, 12 May 2023 | SNACK |
| 691 | Thursday, 11 May 2023 | BROOM |
| 690 | Wednesday, 10 May 2023 | ETHIC |
| 689 | Tuesday, 9 May 2023 | COCOA |
| 688 | Monday, 8 May 2023 | AGLOW |
| 687 | Sunday, 7 May 2023 | GHOUL |
| 686 | Saturday, 6 May 2023 | ANGER |
| 685 | Friday, 5 May 2023 | BELOW |
| 684 | Thursday, 4 May 2023 | GUPPY |
| 683 | Wednesday, 3 May 2023 | HORDE |
| 682 | Tuesday, 2 May 2023 | SULKY |
| 681 | Monday, 1 May 2023 | RANGE |
Past Wordle answers: April 2023
Swipe to scroll horizontally
| Game | Date | Wordle answer |
| --- | --- | --- |
| 680 | Sunday, 30 April 2023 | PLAZA |
| 679 | Saturday, 29 April 2023 | CEDAR |
| 678 | Friday, 28 April 2023 | CIRCA |
| 677 | Thursday, 27 April 2023 | LOGIC |
| 676 | Wednesday, 26 April 2023 | METRO |
| 675 | Tuesday, 25 April 2023 | JOKER |
| 674 | Monday, 24 April 2023 | DITTO |
| 673 | Sunday, 23 April 2023 | UNZIP |
| 672 | Saturday, 22 April 2023 | BROKE |
| 671 | Friday, 21 April 2023 | KAYAK |
| 670 | Thursday, 20 April 2023 | PLATE |
| 669 | Wednesday, 19 April 2023 | THUMP |
| 668 | Tuesday, 18 April 2023 | HOUND |
| 667 | Monday, 17 April 2023 | WHIFF |
| 666 | Sunday, 16 April 2023 | DWELT |
| 665 | Saturday, 15 April 2023 | AGONY |
| 664 | Friday, 14 April 2023 | THIEF |
| 663 | Thursday, 13 April 2023 | CARAT |
| 662 | Wednesday, 12 April 2023 | BORAX |
| 661 | Tuesday, 11 April 2023 | QUALM |
| 660 | Monday, 10 April 2023 | UNDER |
| 659 | Sunday, 9 April 2023 | SNAFU |
| 658 | Saturday, 8 April 2023 | LEDGE |
| 657 | Friday, 7 April 2023 | LOCUS |
| 656 | Thursday, 6 April 2023 | LEAFY |
| 655 | Wednesday, 5 April 2023 | SMASH |
| 654 | Tuesday, 4 April 2023 | RATIO |
| 653 | Monday, 3 April 2023 | FLORA |
| 652 | Sunday, 2 April 2023 | STOCK |
| 651 | Saturday, 1 April 2023 | MARCH |
Past Wordle answers: March 2023
Swipe to scroll horizontally
| Game | Date | Wordle answer |
| --- | --- | --- |
| 650 | Friday, 31 March 2023 | EVERY |
| 649 | Thursday, 30 March 2023 | BREAD |
| 648 | Wednesday, 29 March 2023 | BESET |
| 647 | Tuesday, 28 March 2023 | HURRY |
| 646 | Monday, 27 March 2023 | GUANO |
| 645 | Sunday, 26 March 2023 | UNTIE |
| 644 | Saturday, 25 March 2023 | VOTER |
| 643 | Friday, 24 March 2023 | GROUT |
| 642 | Thursday, 23 March 2023 | STAID |
| 641 | Wednesday, 22 March 2023 | DUVET |
| 640 | Tuesday, 21 March 2023 | TOUGH |
| 639 | Monday, 20 March 2023 | GLOVE |
| 638 | Sunday, 19 March 2023 | CREDO |
| 637 | Saturday, 18 March 2023 | YACHT |
| 636 | Friday, 17 March 2023 | MEALY |
| 635 | Thursday, 16 March 2023 | CIDER |
| 634 | Wednesday, 15 March 2023 | SWEEP |
| 633 | Tuesday, 14 March 2023 | SURLY |
| 632 | Monday, 13 March 2023 | BLAME |
| 631 | Sunday, 12 March 2023 | BIRTH |
| 630 | Saturday, 11 March 2023 | EMAIL |
| 629 | Friday, 10 March 2023 | REVEL |
| 628 | Thursday, 9 March 2023 | WHERE |
| 627 | Wednesday, 8 March 2023 | REGAL |
| 626 | Tuesday, 7 March 2023 | HORSE |
| 625 | Monday, 6 March 2023 | PINKY |
| 624 | Sunday, 5 March 2023 | TOXIC |
| 623 | Saturday, 4 March 2023 | TREND |
| 622 | Friday, 3 March 2023 | SQUAT |
| 621 | Thursday, 2 March 2023 | ABOVE |
| 620 | Wednesday, 1 March 2023 | MOOSE |
Past Wordle answers: February 2023
Swipe to scroll horizontally
| Game | Date | Wordle answer |
| --- | --- | --- |
| 619 | Tuesday, 28 February 2023 | POLKA |
| 618 | Monday, 27 February 2023 | WORSE |
| 617 | Sunday, 26 February 2023 | SYRUP |
| 616 | Saturday, 25 February 2023 | FIFTY |
| 615 | Friday, 24 February 2023 | ARBOR |
| 614 | Thursday, 23 February 2023 | VAGUE |
| 613 | Wednesday, 22 February 2023 | RIPER |
| 612 | Tuesday, 21 February 2023 | RUDDY |
| 611 | Monday, 20 February 2023 | SWEAT |
| 610 | Sunday, 19 February 2023 | KIOSK |
| 609 | Saturday, 18 February 2023 | AVAIL |
| 608 | Friday, 17 February 2023 | CACHE |
| 607 | Thursday, 16 February 2023 | MAGIC |
| 606 | Wednesday, 15 February 2023 | SALSA |
| 605 | Tuesday, 14 February 2023 | SOUND |
| 604 | Monday, 13 February 2023 | USAGE |
| 603 | Sunday, 12 February 2023 | GIANT |
| 602 | Saturday, 11 February 2023 | DEBUG |
| 601 | Friday, 10 February 2023 | HEADY |
| 600 | Thursday, 9 February 2023 | STAGE |
| 599 | Wednesday, 8 February 2023 | FLAIL |
| 598 | Tuesday, 7 February 2023 | APPLE |
| 597 | Monday, 6 February 2023 | NINTH |
| 596 | Sunday, 5 February 2023 | DANCE |
| 595 | Saturday, 4 February 2023 | UNLIT |
| 594 | Friday, 3 February 2023 | TASTY |
| 593 | Thursday, 2 February 2023 | SHIRK |
| 592 | Wednesday, 1 February 2023 | SCOLD |
Past Wordle answers: January 2023
Swipe to scroll horizontally
| Game | Date | Wordle answer |
| --- | --- | --- |
| 591 | Tuesday, 31 January 2023 | CROSS |
| 590 | Monday, 30 January 2023 | CRAVE |
| 589 | Sunday, 29 January 2023 | FISHY |
| 588 | Saturday, 28 January 2023 | FLIRT |
| 587 | Friday, 27 January 2023 | WORRY |
| 586 | Thursday, 26 January 2023 | BEEFY |
| 585 | Wednesday, 25 January 2023 | MAIZE |
| 584 | Tuesday, 24 January 2023 | COUNT |
| 583 | Monday, 23 January 2023 | ELUDE |
| 582 | Sunday, 22 January 2023 | MATEY |
| 581 | Saturday, 21 January 2023 | BLURB |
| 580 | Friday, 20 January 2023 | ALTER |
| 579 | Thursday, 19 January 2023 | MUCKY |
| 578 | Wednesday, 18 January 2023 | CHARD |
| 577 | Tuesday, 17 January 2023 | ADOPT |
| 576 | Monday, 16 January 2023 | FROCK |
| 575 | Sunday, 15 January 2023 | SPIRE |
| 574 | Saturday, 14 January 2023 | KOALA |
| 573 | Friday, 13 January 2023 | HUMAN |
| 572 | Thursday, 12 January 2023 | LEAPT |
| 571 | Wednesday, 11 January 2023 | SEDAN |
| 570 | Tuesday, 10 January 2023 | GRIMY |
| 569 | Monday, 9 January 2023 | PIXIE |
| 568 | Sunday, 8 January 2023 | OPERA |
| 567 | Saturday, 7 January 2023 | LEMON |
| 566 | Friday, 6 January 2023 | BELIE |
| 565 | Thursday, 5 January 2023 | SLEEK |
| 564 | Wednesday, 4 January 2023 | LAYER |
| 563 | Tuesday, 3 January 2023 | ANTIC |
| 562 | Monday, 2 January 2023 | SKIRT |
| 561 | Sunday, 1 January 2023 | WHINE |
Past Wordle answers: December 2022
Swipe to scroll horizontally
| Game | Date | Wordle answer |
| --- | --- | --- |
| 560 | Saturday, 31 December 2022 | MANLY |
| 559 | Friday, 30 December 2022 | MOLAR |
| 558 | Thursday, 29 December 2022 | HAVOC |
| 557 | Wednesday, 28 December 2022 | IMPEL |
| 556 | Tuesday, 27 December 2022 | CONDO |
| 555 | Monday, 26 December 2022 | JUDGE |
| 554 | Sunday, 25 December 2022 | EXTRA |
| 553 | Saturday, 24 December 2022 | POISE |
| 552 | Friday, 23 December 2022 | AORTA |
| 551 | Thursday, 22 December 2022 | EXCEL |
| 550 | Wednesday, 21 December 2022 | LUNAR |
| 549 | Tuesday, 20 December 2022 | THIRD |
| 548 | Monday, 19 December 2022 | SLATE |
| 547 | Sunday, 18 December 2022 | TAPER |
| 546 | Saturday, 17 December 2022 | CHORD |
| 545 | Friday, 16 December 2022 | PROBE |
| 544 | Thursday, 15 December 2022 | RIVAL |
| 543 | Wednesday, 14 December 2022 | USUAL |
| 542 | Tuesday, 13 December 2022 | SPOKE |
| 541 | Monday, 12 December 2022 | APPLY |
| 540 | Sunday, 11 December 2022 | NAIVE |
| 539 | Saturday, 10 December 2022 | KNOCK |
| 538 | Friday, 9 December 2022 | BRAID |
| 537 | Thursday, 8 December 2022 | INFER |
| 536 | Wednesday, 7 December 2022 | JOUST |
| 535 | Tuesday, 6 December 2022 | AMBER |
| 534 | Monday, 5 December 2022 | WOKEN |
| 533 | Sunday, 4 December 2022 | ADORE |
| 532 | Saturday, 3 December 2022 | TORSO |
| 531 | Friday, 2 December 2022 | CHAFE |
| 530 | Thursday, 1 December 2022 | EJECT |
Past Wordle answers: November 2022
Swipe to scroll horizontally
| Game | Date | Wordle answer |
| --- | --- | --- |
| 529 | Wednesday, 30 November 2022 | STUDY |
| 528 | Tuesday, 29 November 2022 | UNDUE |
| 527 | Monday, 28 November 2022 | TEPID |
| 526 | Sunday, 27 November 2022 | HAPPY |
| 525 | Saturday, 26 November 2022 | CLEAN |
| 524 | Friday, 25 November 2022 | ITCHY |
| 523 | Thursday, 24 November 2022 | FEAST |
| 522 | Wednesday, 23 November 2022 | DRIVE |
| 521 | Tuesday, 22 November 2022 | PRIME |
| 520 | Monday, 21 November 2022 | AXIOM |
| 519 | Sunday, 20 November 2022 | BRAVE |
| 518 | Saturday, 19 November 2022 | AVERT |
| 517 | Friday, 18 November 2022 | GLYPH |
| 516 | Thursday, 17 November 2022 | THERE |
| 515 | Wednesday, 16 November 2022 | BAKER |
| 514 | Tuesday, 15 November 2022 | SNARL |
| 513 | Monday, 14 November 2022 | MAPLE |
| 512 | Sunday, 13 November 2022 | INANE |
| 511 | Saturday, 12 November 2022 | VALET |
| 510 | Friday, 11 November 2022 | MEDAL |
| 509 | Thursday, 10 November 2022 | UNITE |
| 508 | Wednesday, 9 November 2022 | RAINY |
| 507 | Tuesday, 8 November 2022 | SPELL |
| 506 | Monday, 7 November 2022 | BEGIN |
| 505 | Sunday, 6 November 2022 | STALE |
| 504 | Saturday, 5 November 2022 | DREAM |
| 503 | Friday, 4 November 2022 | PHOTO |
| 502 | Thursday, 3 November 2022 | ALOUD |
| 501 | Wednesday, 2 November 2022 | INEPT |
| 500 | Tuesday, 1 November 2022 | PINEY |
Past Wordle answers: October 2022
Swipe to scroll horizontally
| Game | Date | Wordle answer |
| --- | --- | --- |
| 499 | Monday, 31 October 2022 | APTLY |
| 498 | Sunday, 30 October 2022 | WALTZ |
| 497 | Saturday, 29 October 2022 | LIBEL |
| 496 | Friday, 28 October 2022 | SNEAK |
| 495 | Thursday, 27 October 2022 | CARRY |
| 494 | Wednesday, 26 October 2022 | FLOUT |
| 493 | Tuesday, 25 October 2022 | FOGGY |
| 492 | Monday, 24 October 2022 | FAULT |
| 491 | Sunday, 23 October 2022 | MUMMY |
| 490 | Saturday, 22 October 2022 | SPIEL |
| 489 | Friday, 21 October 2022 | GROVE |
| 488 | Thursday, 20 October 2022 | DENIM |
| 487 | Wednesday, 19 October 2022 | QUIRK |
| 486 | Tuesday, 18 October 2022 | EXIST |
| 485 | Monday, 17 October 2022 | STEIN |
| 484 | Sunday, 16 October 2022 | SPADE |
| 483 | Saturday, 15 October 2022 | CATCH |
| 482 | Friday, 14 October 2022 | FLOOR |
| 481 | Thursday, 13 October 2022 | EQUAL |
| 480 | Wednesday, 12 October 2022 | IONIC |
| 479 | Tuesday, 11 October 2022 | VALID |
| 478 | Monday, 10 October 2022 | ENJOY |
| 477 | Sunday, 9 October 2022 | HOWDY |
| 476 | Saturday, 8 October 2022 | VIGOR |
| 475 | Friday, 7 October 2022 | DANDY |
| 474 | Thursday, 6 October 2022 | SLOTH |
| 473 | Wednesday, 5 October 2022 | MARSH |
| 472 | Tuesday, 4 October 2022 | BOUGH |
| 471 | Monday, 3 October 2022 | STING |
| 470 | Sunday, 2 October 2022 | TWINE |
| 469 | Saturday, 1 October 2022 | LEAVE |
Past Wordle answers: September 2022
Swipe to scroll horizontally
| Game | Date | Wordle answer |
| --- | --- | --- |
| 468 | Friday, 30 September 2022 | SCORN |
| 467 | Thursday, 29 September 2022 | SCALD |
| 466 | Wednesday, 28 September 2022 | USURP |
| 465 | Tuesday, 27 September 2022 | SOGGY |
| 464 | Monday, 26 September 2022 | BRISK |
| 463 | Sunday, 25 September 2022 | ADMIT |
| 462 | Saturday, 24 September 2022 | GRATE |
| 461 | Friday, 23 September 2022 | GLORY |
| 460 | Thursday, 22 September 2022 | SAINT |
| 459 | Wednesday, 21 September 2022 | RECAP |
| 458 | Tuesday, 20 September 2022 | ALIKE |
| 457 | Monday, 19 September 2022 | TRICE |
| 456 | Sunday, 18 September 2022 | STICK |
| 455 | Saturday, 17 September 2022 | CHUTE |
| 454 | Friday, 16 September 2022 | PARER |
| 453 | Thursday, 15 September 2022 | DOUBT |
| 452 | Wednesday, 14 September 2022 | THYME |
| 451 | Tuesday, 13 September 2022 | ALPHA |
| 450 | Monday, 12 September 2022 | BOOZE |
| 449 | Sunday, 11 September 2022 | TIBIA |
| 448 | Saturday, 10 September 2022 | LOFTY |
| 447 | Friday, 9 September 2022 | THEME |
| 446 | Thursday, 8 September 2022 | CLASS |
| 445 | Wednesday, 7 September 2022 | LEERY |
| 444 | Tuesday, 6 September 2022 | TAUNT |
| 443 | Monday, 5 September 2022 | WHOOP |
| 442 | Sunday, 4 September 2022 | INTER |
| 441 | Saturday, 3 September 2022 | GULLY |
| 440 | Friday, 2 September 2022 | CHARM |
| 439 | Thursday, 1 September 2022 | FUNGI |
Past Wordle answers: August 2022
Swipe to scroll horizontally
| Game | Date | Wordle answer |
| --- | --- | --- |
| 438 | Wednesday, 31 August 2022 | PRIZE |
| 437 | Tuesday, 30 August 2022 | ONSET |
| 436 | Monday, 29 August 2022 | CHIEF |
| 435 | Sunday, 28 August 2022 | GAUZE |
| 434 | Saturday, 27 August 2022 | RUDER |
| 433 | Friday, 26 August 2022 | IRONY |
| 432 | Thursday, 25 August 2022 | CLOWN |
| 431 | Wednesday, 24 August 2022 | NEEDY |
| 430 | Tuesday, 23 August 2022 | WOVEN |
| 429 | Monday, 22 August 2022 | MERIT |
| 428 | Sunday, 21 August 2022 | WASTE |
| 427 | Saturday, 20 August 2022 | TREAT |
| 426 | Friday, 19 August 2022 | SHRUG |
| 425 | Thursday, 18 August 2022 | TWANG |
| 424 | Wednesday, 17 August 2022 | TWICE |
| 423 | Tuesday, 16 August 2022 | GRUEL |
| 422 | Monday, 15 August 2022 | POKER |
| 421 | Sunday, 14 August 2022 | KHAKI |
| 420 | Saturday, 13 August 2022 | HUNKY |
| 419 | Friday, 12 August 2022 | LABEL |
| 418 | Thursday, 11 August 2022 | GLEAN |
| 417 | Wednesday, 10 August 2022 | CLING |
| 416 | Tuesday, 9 August 2022 | PATTY |
| 415 | Monday, 8 August 2022 | UNFIT |
| 414 | Sunday, 7 August 2022 | SMEAR |
| 413 | Saturday, 6 August 2022 | ALIEN |
| 412 | Friday, 5 August 2022 | BUGGY |
| 411 | Thursday, 4 August 2022 | RHYME |
| 410 | Wednesday, 3 August 2022 | YOUTH |
| 409 | Tuesday, 2 August 2022 | COYLY |
| 408 | Monday, 1 August 2022 | QUART |
Past Wordle answers: July 2022
Swipe to scroll horizontally
| Game | Date | Wordle answer |
| --- | --- | --- |
| 407 | Sunday, 31 July 2022 | CRAMP |
| 406 | Saturday, 30 July 2022 | BLUFF |
| 405 | Friday, 29 July 2022 | UPSET |
| 404 | Thursday, 28 July 2022 | STOMP |
| 403 | Wednesday, 27 July 2022 | MOTTO |
| 402 | Tuesday, 26 July 2022 | CINCH |
| 401 | Monday, 25 July 2022 | ELOPE |
| 400 | Sunday, 24 July 2022 | POWER |
| 399 | Saturday, 23 July 2022 | MIDGE |
| 398 | Friday, 22 July 2022 | TRYST |
| 397 | Thursday, 21 July 2022 | APHID |
| 396 | Wednesday, 20 July 2022 | TRITE |
| 395 | Tuesday, 19 July 2022 | ANGRY |
| 394 | Monday, 18 July 2022 | FLOCK |
| 393 | Sunday, 17 July 2022 | WACKY |
| 392 | Saturday, 16 July 2022 | ROOMY |
| 391 | Friday, 15 July 2022 | WEDGE |
| 390 | Thursday, 14 July 2022 | LIVER |
| 389 | Wednesday, 13 July 2022 | BLAND |
| 388 | Tuesday, 12 July 2022 | NIGHT |
| 387 | Monday, 11 July 2022 | MADAM |
| 386 | Sunday, 10 July 2022 | BERTH |
| 385 | Saturday, 9 July 2022 | STEAD |
| 384 | Friday, 8 July 2022 | VOICE |
| 383 | Thursday, 7 July 2022 | AGAPE |
| 382 | Wednesday, 6 July 2022 | FLUFF |
| 381 | Tuesday, 5 July 2022 | FIELD |
| 380 | Monday, 4 July 2022 | SEVER |
| 379 | Sunday, 3 July 2022 | LILAC |
| 378 | Saturday, 2 July 2022 | EGRET |
| 377 | Friday, 1 July 2022 | PINTO |
Past Wordle answers: June 2022
Swipe to scroll horizontally
| Game | Date | Wordle answer |
| --- | --- | --- |
| 376 | Thursday, 30 June 2022 | HUTCH |
| 375 | Wednesday, 29 June 2022 | GAWKY |
| 374 | Tuesday, 28 June 2022 | DROLL |
| 373 | Monday, 27 June 2022 | RETRO |
| 372 | Sunday, 26 June 2022 | RUSTY |
| 371 | Saturday, 25 June 2022 | BEADY |
| 370 | Friday, 24 June 2022 | SMITE |
| 369 | Thursday, 23 June 2022 | BRINK |
| 368 | Wednesday, 22 June 2022 | AWFUL |
| 367 | Tuesday, 21 June 2022 | GLOAT |
| 366 | Monday, 20 June 2022 | INPUT |
| 365 | Sunday, 19 June 2022 | LOSER |
| 364 | Saturday, 18 June 2022 | CACAO |
| 363 | Friday, 17 June 2022 | BLOWN |
| 362 | Thursday, 16 June 2022 | APRON |
| 361 | Wednesday, 15 June 2022 | PRIMO |
| 360 | Tuesday, 14 June 2022 | ATONE |
| 359 | Monday, 13 June 2022 | DONOR |
| 358 | Sunday, 12 June 2022 | FLOAT |
| 357 | Saturday, 11 June 2022 | GOOSE |
| 356 | Friday, 10 June 2022 | PIETY |
| 355 | Thursday, 9 June 2022 | GIRTH |
| 354 | Wednesday, 8 June 2022 | TRAIT |
| 353 | Tuesday, 7 June 2022 | FLOOD |
| 352 | Monday, 6 June 2022 | GLOOM |
| 351 | Sunday, 5 June 2022 | DEPTH |
| 350 | Saturday, 4 June 2022 | FROTH |
| 349 | Friday, 3 June 2022 | PHASE |
| 348 | Thursday, 2 June 2022 | SHOWY |
| 347 | Wednesday, 1 June 2022 | CREAK |
Past Wordle answers: May 2022
Swipe to scroll horizontally
| Game | Date | Wordle answer |
| --- | --- | --- |
| 346 | Tuesday, 31 May 2022 | MANOR |
| 345 | Monday, 30 May 2022 | ATOLL |
| 344 | Sunday, 29 May 2022 | BAYOU |
| 343 | Saturday, 28 May 2022 | CREPT |
| 342 | Friday, 27 May 2022 | TIARA |
| 341 | Thursday, 26 May 2022 | ASSET |
| 340 | Wednesday, 25 May 2022 | VOUCH |
| 339 | Tuesday, 24 May 2022 | ALBUM |
| 338 | Monday, 23 May 2022 | HINGE |
| 337 | Sunday, 22 May 2022 | MONEY |
| 336 | Saturday, 21 May 2022 | SCRAP |
| 335 | Friday, 20 May 2022 | GAMER |
| 334 | Thursday, 19 May 2022 | GLASS |
| 333 | Wednesday, 18 May 2022 | SCOUR |
| 332 | Tuesday, 17 May 2022 | BEING |
| 331 | Monday, 16 May 2022 | DELVE |
| 330 | Sunday, 15 May 2022 | YIELD |
| 329 | Saturday, 14 May 2022 | METAL |
| 328 | Friday, 13 May 2022 | TIPSY |
| 327 | Thursday, 12 May 2022 | SLUNG |
| 326 | Wednesday, 11 May 2022 | FARCE |
| 325 | Tuesday, 10 May 2022 | GECKO |
| 324 | Monday, 9 May 2022 | SHINE |
| 323 | Sunday, 8 May 2022 | CANNY |
| 322 | Saturday, 7 May 2022 | MIDST |
| 321 | Friday, 6 May 2022 | BADGE |
| 320 | Thursday, 5 May 2022 | HOMER |
| 319 | Wednesday, 4 May 2022 | TRAIN |
| 318 | Tuesday, 3 May 2022 | HAIRY |
| 317 | Monday, 2 May 2022 | STORY |
| 316 | Sunday, 1 May 2022 | FORGO |
Past Wordle answers: April 2022
Swipe to scroll horizontally
| Game | Date | Wordle answer |
| --- | --- | --- |
| 315 | Saturday, 30 April 2022 | LARVA |
| 314 | Friday, 29 April 2022 | TRASH |
| 313 | Thursday, 28 April 2022 | ZESTY |
| 312 | Wednesday, 27 April 2022 | SHOWN |
| 311 | Tuesday, 26 April 2022 | HEIST |
| 310 | Monday, 25 April 2022 | ASKEW |
| 309 | Sunday, 24 April 2022 | INERT |
| 308 | Saturday, 23 April 2022 | OLIVE |
| 307 | Friday, 22 April 2022 | PLANT |
| 306 | Thursday, 21 April 2022 | OXIDE |
| 305 | Wednesday, 20 April 2022 | CARGO |
| 304 | Tuesday, 19 April 2022 | FOYER |
| 303 | Monday, 18 April 2022 | FLAIR |
| 302 | Sunday, 17 April 2022 | AMPLE |
| 301 | Saturday, 16 April 2022 | CHEEK |
| 300 | Friday, 15 April 2022 | SHAME |
| 299 | Thursday, 14 April 2022 | MINCE |
| 298 | Wednesday, 13 April 2022 | CHUNK |
| 297 | Tuesday, 12 April 2022 | ROYAL |
| 296 | Monday, 11 April 2022 | SQUAD |
| 295 | Sunday, 10 April 2022 | BLACK |
| 294 | Saturday, 9 April 2022 | STAIR |
| 293 | Friday, 8 April 2022 | SCARE |
| 292 | Thursday, 7 April 2022 | FORAY |
| 291 | Wednesday, 6 April 2022 | COMMA |
| 290 | Tuesday, 5 April 2022 | NATAL |
| 289 | Monday, 4 April 2022 | SHAWL |
| 288 | Sunday, 3 April 2022 | FEWER |
| 287 | Saturday, 2 April 2022 | TROPE |
| 286 | Friday, 1 April 2022 | SNOUT |
Past Wordle answers: March 2022
Swipe to scroll horizontally
| Game | Date | Wordle answer |
| --- | --- | --- |
| 285 | Thursday, 31 March 2022 | LOWLY |
| 284 | Wednesday, 30 March 2022 | STOVE |
| 283 | Tuesday, 29 March 2022 | SHALL |
| 282 | Monday, 28 March 2022 | FOUND |
| 281 | Sunday, 27 March 2022 | NYMPH |
| 280 | Saturday, 26 March 2022 | EPOXY |
| 279 | Friday, 25 March 2022 | DEPOT |
| 278 | Thursday, 24 March 2022 | CHEST |
| 277 | Wednesday, 23 March 2022 | PURGE |
| 276 | Tuesday, 22 March 2022 | SLOSH |
| 275 | Monday, 21 March 2022 | THEIR |
| 274 | Sunday, 20 March 2022 | RENEW |
| 273 | Saturday, 19 March 2022 | ALLOW |
| 272 | Friday, 18 March 2022 | SAUTE |
| 271 | Thursday, 17 March 2022 | MOVIE |
| 270 | Wednesday, 16 March 2022 | CATER |
| 269 | Tuesday, 15 March 2022 | TEASE |
| 268 | Monday, 14 March 2022 | SMELT |
| 267 | Sunday, 13 March 2022 | FOCUS |
| 266 | Saturday, 12 March 2022 | TODAY |
| 265 | Friday, 11 March 2022 | WATCH |
| 264 | Thursday, 10 March 2022 | LAPSE |
| 263 | Wednesday, 9 March 2022 | MONTH |
| 262 | Tuesday, 8 March 2022 | SWEET |
| 261 | Monday, 7 March 2022 | HOARD |
| 260 | Sunday, 6 March 2022 | CLOTH |
| 259 | Saturday, 5 March 2022 | BRINE |
| 258 | Friday, 4 March 2022 | AHEAD |
| 257 | Thursday, 3 March 2022 | MOURN |
| 256 | Wednesday, 2 March 2022 | NASTY |
| 255 | Tuesday, 1 March 2022 | RUPEE |
Past Wordle answers: February 2022
Swipe to scroll horizontally
| Game | Date | Wordle answer |
| --- | --- | --- |
| 254 | Monday, 28 February 2022 | CHOKE |
| 253 | Sunday, 27 February 2022 | CHANT |
| 252 | Saturday, 26 February 2022 | SPILL |
| 251 | Friday, 25 February 2022 | VIVID |
| 250 | Thursday, 24 February 2022 | BLOKE |
| 249 | Wednesday, 23 February 2022 | TROVE |
| 248 | Tuesday, 22 February 2022 | THORN |
| 247 | Monday, 21 February 2022 | OTHER |
| 246 | Sunday, 20 February 2022 | TACIT |
| 245 | Saturday, 19 February 2022 | SWILL |
| 244 | Friday, 18 February 2022 | DODGE |
| 243 | Thursday, 17 February 2022 | SHAKE |
| 242 | Wednesday, 16 February 2022 | CAULK |
| 241 | Tuesday, 15 February 2022 | AROMA |
| 240 | Monday, 14 February 2022 | CYNIC |
| 239 | Sunday, 13 February 2022 | ROBIN |
| 238 | Saturday, 12 February 2022 | ULTRA |
| 237 | Friday, 11 February 2022 | ULCER |
| 236 | Thursday, 10 February 2022 | PAUSE |
| 235 | Wednesday, 9 February 2022 | HUMOR |
| 234 | Tuesday, 8 February 2022 | FRAME |
| 233 | Monday, 7 February 2022 | ELDER |
| 232 | Sunday, 6 February 2022 | SKILL |
| 231 | Saturday, 5 February 2022 | ALOFT |
| 230 | Friday, 4 February 2022 | PLEAT |
| 229 | Thursday, 3 February 2022 | SHARD |
| 228 | Wednesday, 2 February 2022 | MOIST |
| 227 | Tuesday, 1 February 2022 | THOSE |
Past Wordle answers: January 2022
Swipe to scroll horizontally
| Game | Date | Wordle answer |
| --- | --- | --- |
| 226 | Monday, 31 January 2022 | LIGHT |
| 225 | Sunday, 30 January 2022 | WRUNG |
| 224 | Saturday, 29 January 2022 | COULD |
| 223 | Friday, 28 January 2022 | PERKY |
| 222 | Thursday, 27 January 2022 | MOUNT |
| 221 | Wednesday, 26 January 2022 | WHACK |
| 220 | Tuesday, 25 January 2022 | SUGAR |
| 219 | Monday, 24 January 2022 | KNOLL |
| 218 | Sunday, 23 January 2022 | CRIMP |
| 217 | Saturday, 22 January 2022 | WINCE |
| 216 | Friday, 21 January 2022 | PRICK |
| 215 | Thursday, 20 January 2022 | ROBOT |
| 214 | Wednesday, 19 January 2022 | POINT |
| 213 | Tuesday, 18 January 2022 | PROXY |
| 212 | Monday, 17 January 2022 | SHIRE |
| 211 | Sunday, 16 January 2022 | SOLAR |
| 210 | Saturday, 15 January 2022 | PANIC |
| 209 | Friday, 14 January 2022 | TANGY |
| 208 | Thursday, 13 January 2022 | ABBEY |
| 207 | Wednesday, 12 January 2022 | FAVOR |
| 206 | Tuesday, 11 January 2022 | DRINK |
| 205 | Monday, 10 January 2022 | QUERY |
| 204 | Sunday, 9 January 2022 | GORGE |
| 203 | Saturday, 8 January 2022 | CRANK |
| 202 | Friday, 7 January 2022 | SLUMP |
| 201 | Thursday, 6 January 2022 | BANAL |
| 200 | Wednesday, 5 January 2022 | TIGER |
| 199 | Tuesday, 4 January 2022 | SIEGE |
| 198 | Monday, 3 January 2022 | TRUSS |
| 197 | Sunday, 2 January 2022 | BOOST |
| 196 | Saturday, 1 January 2022 | REBUS |
Past Wordle answers: December 2021
Swipe to scroll horizontally
| Game | Date | Wordle answer |
| --- | --- | --- |
| 195 | Friday, 31 December 2021 | UNIFY |
| 194 | Thursday, 30 December 2021 | TROLL |
| 193 | Wednesday, 29 December 2021 | TAPIR |
| 192 | Tuesday, 28 December 2021 | ASIDE |
| 191 | Monday, 27 December 2021 | FERRY |
| 190 | Sunday, 26 December 2021 | ACUTE |
| 189 | Saturday, 25 December 2021 | PICKY |
| 188 | Friday, 24 December 2021 | WEARY |
| 187 | Thursday, 23 December 2021 | GRIPE |
| 186 | Wednesday, 22 December 2021 | CRAZE |
| 185 | Tuesday, 21 December 2021 | PLUCK |
| 184 | Monday, 20 December 2021 | BRAKE |
| 183 | Sunday, 19 December 2021 | BATON |
| 182 | Saturday, 18 December 2021 | CHAMP |
| 181 | Friday, 17 December 2021 | PEACH |
| 180 | Thursday, 16 December 2021 | USING |
| 179 | Wednesday, 15 December 2021 | TRACE |
| 178 | Tuesday, 14 December 2021 | VITAL |
| 177 | Monday, 13 December 2021 | SONIC |
| 176 | Sunday, 12 December 2021 | MASSE |
| 175 | Saturday, 11 December 2021 | CONIC |
| 174 | Friday, 10 December 2021 | VIRAL |
| 173 | Thursday, 9 December 2021 | RHINO |
| 172 | Wednesday, 8 December 2021 | BREAK |
| 171 | Tuesday, 7 December 2021 | TRIAD |
| 170 | Monday, 6 December 2021 | EPOCH |
| 169 | Sunday, 5 December 2021 | USHER |
| 168 | Saturday, 4 December 2021 | EXULT |
| 167 | Friday, 3 December 2021 | GRIME |
| 166 | Thursday, 2 December 2021 | CHEAT |
| 165 | Wednesday, 1 December 2021 | SOLVE |
Past Wordle answers: November 2021
Swipe to scroll horizontally
| Game | Date | Wordle answer |
| --- | --- | --- |
| 164 | Tuesday, 30 November 2021 | BRING |
| 163 | Monday, 29 November 2021 | PROVE |
| 162 | Sunday, 28 November 2021 | STORE |
| 161 | Saturday, 27 November 2021 | TILDE |
| 160 | Friday, 26 November 2021 | CLOCK |
| 159 | Thursday, 25 November 2021 | WROTE |
| 158 | Wednesday, 24 November 2021 | RETCH |
| 157 | Tuesday, 23 November 2021 | PERCH |
| 156 | Monday, 22 November 2021 | ROUGE |
| 155 | Sunday, 21 November 2021 | RADIO |
| 154 | Saturday, 20 November 2021 | SURER |
| 153 | Friday, 19 November 2021 | FINER |
| 152 | Thursday, 18 November 2021 | VODKA |
| 151 | Wednesday, 17 November 2021 | HERON |
| 150 | Tuesday, 16 November 2021 | CHILL |
| 149 | Monday, 15 November 2021 | GAUDY |
| 148 | Sunday, 14 November 2021 | PITHY |
| 147 | Saturday, 13 November 2021 | SMART |
| 146 | Friday, 12 November 2021 | BADLY |
| 145 | Thursday, 11 November 2021 | ROGUE |
| 144 | Wednesday, 10 November 2021 | GROUP |
| 143 | Tuesday, 9 November 2021 | FIXER |
| 142 | Monday, 8 November 2021 | GROIN |
| 141 | Sunday, 7 November 2021 | DUCHY |
| 140 | Saturday, 6 November 2021 | COAST |
| 139 | Friday, 5 November 2021 | BLURT |
| 138 | Thursday, 4 November 2021 | PULPY |
| 137 | Wednesday, 3 November 2021 | ALTAR |
| 136 | Tuesday, 2 November 2021 | GREAT |
| 135 | Monday, 1 November 2021 | BRIAR |
Past Wordle answers: October 2021
Swipe to scroll horizontally
Game

Date

Wordle answer

134

Sunday, 31 October 2021

CLICK

133

Saturday, 30 October 2021

GOUGE

132

Friday, 29 October 2021

WORLD

131

Thursday, 28 October 2021

ERODE

130

Wednesday, 27 October 2021

BOOZY

129

Tuesday, 26 October 2021

DOZEN

128

Monday, 25 October 2021

FLING

127

Sunday, 24 October 2021

GROWL

126

Saturday, 23 October 2021

ABYSS

125

Friday, 22 October 2021

STEED

124

Thursday, 21 October 2021

ENEMA

123

Wednesday, 20 October 2021

JAUNT

122

Tuesday, 19 October 2021

COMET

121

Monday, 18 October 2021

TWEED

120

Sunday, 17 October 2021

PILOT

119

Saturday, 16 October 2021

DUTCH

118

Friday, 15 October 2021

BELCH

<