Oral-B Pro 7000 SmartSeries: should I buy it?
If you're ready to up your tooth brushing game, then yes.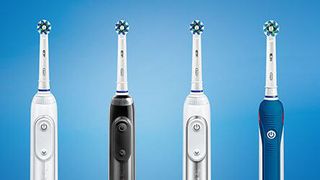 Electric toothbrushes have been around for years now, even to the point where you can find cheap ones lining the shelves of your local grocery store. However, the Oral-B Pro 7000 SmartSeries Toothbrush takes things to levels of luxury, convenience and decadence hitherto undreamed of.
Not only does this Toothbrush include all the necessary features that people are demanding from their oral hygiene products in 2018, like interchangeable brushing heads and custom angles for maximum reach – but it also has Bluetooth and an Android and iOS App. That's right, your toothbrush is now a smart device, and can help you brush your teeth for a dentist-level clean every day.
Pros: The Oral-B Pro 7000 SmartSeries not only features state-of-the-art toothbrush technology, letting you clean your teeth at a professional level, but its smartphone integration will help motivate you to clean your teeth for two minutes, twice a day – every day. It's also sleek looking, and the refill heads are similarly impressive. You'll never have to worry about your teeth again, provided you actually use it.
Cons: With all these features, there's nothing particularly wrong with the actual toothbrush. It's kind of like dental nirvana. However, it's not cheap, as it normally retails around $115.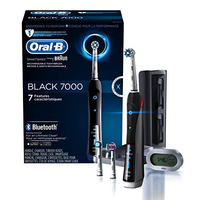 Oral-B 7000 SmartSeries: was $114, now $79 at Amazon
Brush your teeth in style with this high-end electric toothbrush that has also gotten a significant 30% off discount.

Oral-B Pro 7000 SmartSeries: Everything you need to know
The Oral-B Pro 7000 SmartSeries usually retails around $115 in the US, which is admittedly a lot of money for a toothbrush. However, for Amazon Prime Day, that price is down to a much more palatable $79. Even at the regular price it's not the highest-end toothbrush in Oral-B's lineup, as it follows the Oral-B Genius Pro 8000.
What you're getting is an extremely high-end toothbrush, and you're getting all the features you could dream of, with smart device integration, Bluetooth and all the toothbrush heads you could ever want.
Smart Toothbrush: This toothbrush will connect with your phone, and you'll be able to track your usage, set reminders and even get motivation to brush for the full recommended 2 minutes each time.
Variety, the spice of life: With the Oral-B Pro 7000 SmartSeries, you get the option to choose between myriad toothbrush heads, which means you can get exactly the brush that your teeth require. Do you have sensitive gums? Need whitening? Something that does a bit of everything? Oral-B has you covered.
Anything else? There are dozens of manufacturers that are cranking out electric toothbrushes, but Oral-B didn't become a household name without reason. You can be sure you're getting nothing but the utmost quality with this product.
It comes with a charger, that conveniently will store all of your extra toothbrush heads so you can conveniently keep all of your dental products in one place. Oral-B also throws in a premium carrying case so that you don't have to worry about this premium device getting scuffed up while traveling.
Sign up to receive daily breaking news, reviews, opinion, analysis, deals and more from the world of tech.
Bill Thomas (Twitter) is TechRadar's computing editor. They are fat, queer and extremely online. Computers are the devil, but they just happen to be a satanist. If you need to know anything about computing components, PC gaming or the best laptop on the market, don't be afraid to drop them a line on Twitter or through email.