*Psst* Whisper it, but Black Friday is once again just around the corner. Your piggy bank may be overflowing now, but give it a few weeks and the Black Friday deals and Cyber Monday bargains will be landing to hammer your wallet – and no one takes the deals season more seriously than Amazon.
From Kindle to the Alexa-powered Echo Dot, Amazon's products already sit at price points which seem too good to be true – and with Black Friday around the corner, Amazon's deals could soon seem even more bargainous.
So if you're looking for a Black Friday deal to watch out for come November 25, keep your eyes on these top Amazon gadgets…
Fire TV
You don't need a crystal ball to know there will be some great Black Friday 4K TV deals come the end of next month. But what will you use to show off all that UHD pixel-pushing goodness?
The Amazon Fire TV set-top box makes a good case for itself. Super-fast and with an interface simple enough for a total tech luddite to understand, it offers as big a selection of paid-for 4K content (whether Amazon's own 4K TV original programming or Hollywood big hitters available to rent) as you'll find anywhere else.
With a microphone packed into the remote for voice search, and an App Store that's increasingly populated with gaming content too, it makes for a very affordable alternative to the Apple TV at an RRP of £79.99. Come Black Friday (where Amazon is likely to be pushing its lucrative Prime subscription service, tied to the best elements of the Fire TV box), we wouldn't be surprised to see this get a hefty discount.
Fire tablet
If you wrap your iPad in bubble wrap each time you take it out of the house, we can't blame you. Lovely as Apple's tablets are they're too pricey to risk damaging – which is a shame given they're at their best when used out and about in the big wide world.
Amazon's entry-level Fire tablet won't win any prizes for looks or speed. But what it does have to its advantage is a super-cheap price tag, allowing you to adopt a devil-may-care attitude to using it. Chuck it in a handbag, let the toddler slobber all over it… the 7-inch, 8GB Amazon Fire tablet can take quite a beating for its £49.99 price tag.
It's a loss-leading device for Amazon already – it's using the tablet to lure users to its Amazon Prime subscription service. As a result, when the Black Friday and Cyber Monday deals start trickling through, expect the 7-inch Amazon Fire tablet to land at pocket-money prices.
Amazon Echo Dot
Amazon's line of smart speakers has only just been released in the UK, but already we're quietly excited about the form factor, which gives Amazon's voice assistant, Alexa, a permanent place in your home.
The Dot is the cheapest way to get the Echo. It's a much smaller device than the full-size Echo, thanks to the fact that it eschews a beefier internal speaker in favor of connecting to your existing hi-fi setup – and it's a lot cheaper as a result.
We already think the Echo Dot is a great piece of hardware at its full retail price of £49.99, but if you're more on the fence about making a space in your home for Alexa, then you might want to wait for Black Friday, when Amazon is sure to push its exciting new products.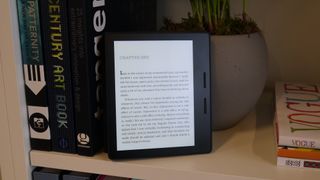 Kindle Oasis
Amazon's line of ereaders have been getting cheaper and cheaper with each passing year, but there's still a place for a more premium reading experience, and the Kindle Oasis delivers just that.
It's thinner, it's lighter and the screen is brighter – and if you opt to use the swanky leather cover, it's also got great battery life.
So if you've been slumming it with a more basic Kindle, or even if you've yet to embrace the ereader, then keep a keen eye on the Kindle Oasis this Black Friday. It's currently priced at £269.99.
Fire TV Stick
Amazon's Fire TV is a great little box, but if you're short of space and don't have a 4K TV, then the Fire TV Stick is a great affordable little machine.
The stick gives access to a full suite of streaming services such as Netflix, Now TV and of course Amazon Prime, and can make even the dumbest of TVs smarter than Albert Einstein jacked into the Matrix.
Better still, the stick was recently updated to allow it to be used with the same voice-activated remote that's used with the bigger Fire TV, allowing you to have Alexa help you find all your favourite shows. Its usual RRP is £34.99 - don't be surprised to see that slashed significantly.