Mobile phone insurance: compare cover for smartphone theft and accidental damage
Everything you need to know about smartphone insurance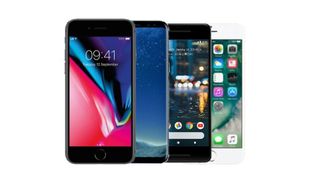 Mobile phone insurance is one of those things you might not think about until it's too late. So if you've made it this far without insurance, you're in the right place as protecting your smartphone with insurance is a smart and simple way to give you peace of mind.
Phones are so expensive these days it makes sense to insure them, especially when you consider how often you're out and about with them – it's only a matter of time until something goes wrong and a phone case can only do so much.
Why do I need mobile phone insurance?
This could be a long list....
For a start breakages - if you've ever dropped your phone or cracked your screen then you'll know the feeling of settling into a life with a broken screen. Streaming Netflix becomes far less enticing, and you'll be reminded of your daft error (or somebody else's!) every time you unlock your screen.
And it's ten times worse if you lose your phone or have it stolen.
Or maybe you've dropped your phone in water and it's never been quite right since.
Whatever the issue, if you're insured properly you don't need to worry about any of that. In fact, if it's really good cover, you could even use your phone without a case, leaving it as slim and good looking as when you bought it.
Read more:
Is there anything my mobile phone insurance won't cover?
Many insurers only offer cover within six months of purchase, so bear that in mind. And a good few don't cover a replacement phone, so if you want that option be sure to check it's added to your policy.
Some policies don't cover unauthorised calls made from your account, meaning you could end up with a painful bill if your phone is stolen.
Also be sure you're covered for loss as well as theft, as not all policies will help out if you simply lose your phone.
How much should I expect to pay for mobile phone insurance?
Generally a simple direct debit that takes out a monthly payment is how to pay up but some options will also allow you to make a single upfront payment to save money. The amount you pay varies depending on the phone. While most phones are covered, the super high-end like an iPhone XR or Samsung Galaxy Note 9, will cost you more. Typically you're looking at between £70 and £180 per year.
Which mobile phone insurance providers should I compare?
If you go with your network provider as insurer this is the easiest and quickest way to get your new phone replacement. So Three, EE, Vodafone and O2 all offer good policies ranging in price and excess payment amounts.
Many bank accounts also offer insurance which can get your a favourable rate, so this is worth looking into with your bank. Just bear in mind that payouts might take longer.
Third party insurers worth looking at include Insure2go, Protect Your Bubble and Gadget Cover with the latter offering affordable options as well as older phone policies. You can also go for manufacturer cover, but expect to pay more. That said, AppleCare+ will offer things like a fixed screen for £25 excess up to twice or £79 excess on any other damage. This won't cover you for loss or theft, mind.
Doesn't my home insurance cover smartphones?
If you're currently using your home insurance hoping that will cover your phone, think again. Home insurance only covers the device when in the house and even then it's in the event of a burglary or a home fire only.
Check out our dedicated advice on this point - aptly entitled 'Does my home and contents insurance include gadgets?' - by clicking the link.
Sign up to receive daily breaking news, reviews, opinion, analysis, deals and more from the world of tech.
Luke is a freelance writer and editor with over two decades of experience covering tech, science and health. Among many others he writes across Future titles covering health tech, software and apps, VPNs, TV, audio, smart home, antivirus, broadband, smartphones, cars and plenty more. He also likes to climb mountains, swim outside and contort his body into silly positions while breathing as calmly as possible.