iPhone insurance: compare cover for your Apple smartphone
Everything you need to know about iPhone insurance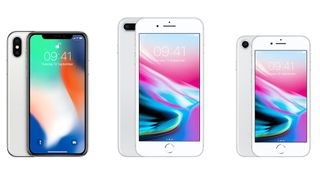 If you don't have iPhone insurance and you've found your way here, congratulations. Getting cover is a good idea when it comes to any phone but for premium iPhones it's a must.
Apple is more pricey than ever when it comes to mobile gadgets as the iPhone XS and iPhone XS Max both cost a grand plus – something you don't want to lose out on if it's lost or stolen - and the likes of the XR, iPhone 8 and iPhone 7 still aren't exactly what you'd call cheap. For these reasons, and for breakages, mobile phone insurance can help.
Why do I need iPhone insurance?
There are plenty of reasons to get iPhone insurance, the primary one being it'll cost you less in the long run if you have an accident with your mobile. It can be more cost effective to get this rather than general gadget insurance, too.
Primarily insurance can cover breakages. Let's be honest, you're going to drop your iPhone at least once and chances are, even with a case, you may end up with a cracked screen. That will result in a video or photo viewing being less than perfect - something which makes that fancy giant iPhone screen a bit of a waste of money.
If your iPhone is stolen or lost you can actually relax and know a new one is coming, if you have insurance.
Water damage is another big issue, even on water resistant iPhone handsets there can still be accidents that are covered by insurance.
Is there anything my iPhone insurance won't cover?
Be sure that your policy covers you for loss as well as theft, as not all do.
One problem for older phones is that lots of insurers only offer cover within six months of purchase. So if this is for your shiny new iPhone XS that won't be an issue but anything older and you may need to seek a specialist cover plan. Also bear this in mind if you think you'll get this sorted at a later date when buying an iPhone XS.
If you need a replacement phone be sure to check your policy of choice offers that, as not all will.
Some policies don't cover calls made from your smartphone after it has been stolen. This could cost you on international charges so it's nice to have this for peace of mind.
Another point to look out for is that water damage and accidental carelessness damage are covered.
How much should I expect to pay for iPhone insurance?
While you can pay for your cover all at once, most insurers offer the option to split it by paying monthly. This can then be lumped in with your phone bill so it all feels like one amount, which results in a worry-free you. Prices vary and expect the iPhone to be at the top end, but typically you're looking at between £70 and £180 per year.
That said there are some insurers that will cover the iPhone XS 64GB model for less than £100 for the year, or £10 per month. Prices go up depending on storage capacity of the device as this adds value.
iPhone deals: compare prices on the XS, XS Max, iPhone SE and the rest
Which iPhone insurance providers should I compare?
One of the simplest ways to cover your iPhone is to use Apple itself. AppleCare+ offers features like a fixed screen for £25 excess up to twice or £79 excess on any other damage. This won't cover you for loss or theft, of course.
Some other easy ways to get insured, but fully, are to use your network provider or your bank. These can offer policy options varying in their cover and terms so do be sure to read into each, even if you are picking them as the easy option.
Third party insurers that can offer some great deals worth checking out, too. Companies to consider include Insure2go, Protect Your Bubble and Gadget Cover with the latter offering affordable options as well as older phone policies.
Doesn't my home insurance cover smartphones?
Most home insurance policies will only cover the phone while it's at home and even then it'll only cover you in the event of a burglary or possibly a fire. So when you step out the door you're once again at risk.
Take a look at our Q&A on covering gadgets with home insurance to find out more.
Sign up to receive daily breaking news, reviews, opinion, analysis, deals and more from the world of tech.
Luke is a freelance writer and editor with over two decades of experience covering tech, science and health. Among many others he writes across Future titles covering health tech, software and apps, VPNs, TV, audio, smart home, antivirus, broadband, smartphones, cars and plenty more. He also likes to climb mountains, swim outside and contort his body into silly positions while breathing as calmly as possible.