Gadget insurance: compare cover for your laptop, smartphone, smartwatch and more
Navigate the options when it comes to gadget insurance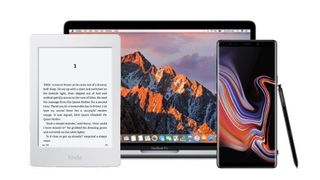 If you've never lost your smartphone, cracked the screen of your tablet, or chipped, scraped, smashed or drowned another high-value electronic item, then quite frankly, we salute you. We can see why you'd laugh in the face of gadget insurance.
But the fact is the vast majority of us fall have at one time or another fallen foul of our own clumsiness. And with our devices becoming increasingly expensive – not to mention important to our everyday lives – it's no wonder specialist gadget insurance is an ever-growing industry.
Traditional home and travel insurance policies are becoming outdated and sometimes fail to cover our mobile devices; the very items that are most likely to get lost, stolen or damaged.
That's why it's only natural to want to protect our gadgets with an additional insurance package, and you're in the right place to find out what your gadget policy will cover, what it won't cover, and who the best insurers are.
What does gadget insurance cover?
Gadget insurance policies can cover a whole array of items – perhaps more than you'd think – encompassing emerging tech as well as old school essentials. The products covered can include smartphones, tablets (including iPads), laptops (including MacBooks), iMacs, smartwatches, sat navs, e-readers (including Kindles), digital cameras, MP3 players, portable games consoles, VR headsets, drones and more.
Why do I need gadget insurance?
If you're prone to losing and damaging your devices, a good gadget insurance policy could save you a lot of time, money and hassle in getting a replacement.
What your insurance covers depends on the insurer and the policy plan. Always take a careful note of exactly what your gadget insurance policy stipulates so you don't get surprised on a technicality and prevented from redeeming your insurance when you need it.
A typical gadget insurance policy will cover you for accidental damage to your devices, theft, loss and breakdown. Other circumstances you may be covered for (but not always) include liquid damage, the cost of unauthorised calls, texts and data when your phone has been stolen, and malicious damage if someone has taken their anger out on your poor device.
Is there anything my gadget insurance won't cover?
As above, this will depend on your products, the insurer and the specific policy you sign up for, so make sure you read the wording carefully. Water damage and breakage through carelessness, for example, may be covered by some policies but not by others.
Additional factors that could prevent you from being covered are the age of the product (a device you've had for two or three years may not fall into the policy), a cap on the pay-out for a single incident, and a limit on the number of incidents the insurer will pay out for each year.
Can I get gadget insurance for travelling?
Yes, you can. Aimed at backpackers and holidaymakers alike, there are insurance policies specifically made to cover gadgets while you travel.
If you already have a travel insurance policy, don't assume this will cover your gadgets on your trip as many don't. What may be available, however, is an add-on which extends the travel policy to cover your electronic devices.
You may find that these add-ons aren't as extensive as a specialist travel insurance policy for gadgets, so if you carry a lot of devices while you travel or they're of particularly high value, it may be worth shopping around for a separate policy.
For those looking for gadget insurance while travelling, World Nomads are perhaps the major player in the market, but you may also want to get a quote from True Traveller who can offer you a policy even if you've already begun travelling.
Doesn't my home insurance cover gadgets like these?
If you're currently using your home insurance hoping that will cover your phone, think again. Home insurance only covers the device when in the house and even then it's usually in the event of a burglary or a home fire only.
We have more information on this question in our dedicated Q&A: does my home insurance cover gadgets?
Which gadget insurance providers should I compare?
Among the most popular and well-reviewed gadget insurance policies are Protect Your Bubble, Row.co.uk (covering liquid damage and unauthorised calls as well as the more typical issues) and Loveit Coverit Premium (including unlimited worldwide cover).
If you're pretty locked in to Apple's ecosystem in terms of the devices you own, AppleCare+ may be the insurance policy for you, as this can provides specialist technical support and hardware coverage for iPhones, iPads, Macs, Apple Watches, Apple TV, HomePods and iPods.
Of course, the major mobile networks also offer their own insurance products (you've almost certainly had the sales pitch if you've bought a device in-store!). For smartphones, the annual cost of these range from £100 to £180, with Three, EE and Vodafone able to replace your phone the very next day. O2 takes 5-7 days with its policy.
Sign up to receive daily breaking news, reviews, opinion, analysis, deals and more from the world of tech.