iPad Pro will be the newest teammate in every MLB dugout
Brings scouting reports and analytics to every MLB dugout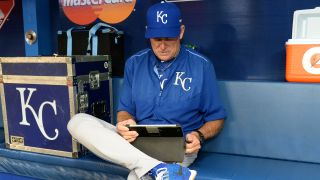 Thanks to a new deal inked with Apple, every Major League Baseball (MLB) team will be receiving an iPad Pro for use in the dugout.
The deal is similar to the one made between the NFL and Microsoft, however, this will be the first "on-field integration of next-generation technology" for the MLB, which has previously banned laptops, smartphones and tablets from dugouts.
"We are pleased that Apple's groundbreaking products, which have already improved the access that fans have to our sport, will now inform the decisions that make our games interesting and exciting throughout the year," said MLB commissioner Rob Manfred.
Each iPad Pro will include a custom app called MLB Dugout that'll allow each team view their own strategic and statistical reports, data visualizations, analytics and advance-scouting videos.
Teams will be able to preload the information they'll want to use during each game, but as per the rules of MLB, they will not have access to an internet connection while on-field.
However, the MLB is keen to get technology into the game, with Manfred explaining, "We're making very extensive efforts to use technology."
Still, introducing the iPad Pro to the MLB will be a learning process for the league and sport as a whole, at least for this season.
"We'll have them there and if they provide value, we'll use them," said Cardinals manager Mike Matheny. "I think that's a nice luxury that we'll have to figure out how it plays and how we actually put that into play."
Sign up to receive daily breaking news, reviews, opinion, analysis, deals and more from the world of tech.