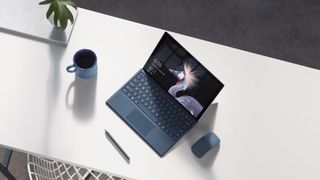 Microsoft's new Surface Pro has gone on sale this month, so you may be pondering one simple question: is it worth buying? And there are a good number of strong arguments for an equally simple answer in the affirmative, whether you're buying a Surface Pro for the first time, or upgrading from one of its predecessors.
The main thrust Microsoft has taken with the new Surface Pro is to attempt to make it the most versatile laptop ever built – no small task. Of course, the Surface range has always been about flexible hybrid devices which can be used as tablets or notebooks, but how has Microsoft pushed further in the versatility stakes with this latest model?
Let's take a look at the new features introduced with this year's Surface Pro, bearing flexibility foremost in mind.
For starters, Microsoft has introduced a plethora of slick new design elements, which include ensuring that the Pro is the lightest Surface device ever. It weighs in at only 768g (for the version with an Intel Core m3 processor) and is just 8.5mm thick. Of course, this lightweight nature means the device is that bit more portable than its predecessors, which never hurts in the quest to take a notebook anywhere.
Further flexibility comes courtesy of the redesigned hinge mechanism, which allows the integrated kickstand to go further back, meaning the screen can be taken to an almost flat position. This allows for a much more comfortable experience when using the stylus for writing or sketching on the Surface Pro's display.
Furthermore, it's now possible to use the Surface Dial – a clever peripheral designed for the likes of painting apps – with Microsoft's convertible notebook when it's in a near-flat position, opening up a whole new spectrum of possibilities for creative types.
Incidentally, speaking of the stylus, Microsoft also redesigned the Surface Pen which partners the laptop, giving the pen tilt sensitivity and many more levels of pressure sensitivity (4,096 levels in total), along with a much lower latency (21 milliseconds) for a more responsive writing experience all-round.
Given its lightweight, more portable nature, and the benefits of the new kickstand design bringing smart peripherals into the picture, it's clear that Microsoft's Surface Pro has never been more usable across a range of different situations.
Also on the design front, it doesn't hurt that Microsoft has paid extra attention to details when crafting this device, with fresh touches such as rounded edges on the chassis giving a more premium appearance.
Naturally, a boost in power is expected when a new model emerges. The Surface Pro doesn't disappoint on this score, coping better with more demanding tasks because Microsoft has upgraded to the latest Kaby Lake processors from Intel.
That means more overall grunt and the fastest Surface Pro ever, but beyond that, the CPUs are more power-efficient, causing less overall drain on the battery. Battery life is one of the biggest concerns for anyone using a portable device – when you're out of juice, you're out of luck – but fortunately, the Surface Pro offers 13.5 hours of battery longevity.
That's a massive 50% increase compared to the previous Surface Pro 4, and it means users can continue working on the go for far longer, adding to the take-it-anywhere aspect of this new hybrid.
Another benefit of the Kaby Lake processors is that they don't require a fan for cooling, meaning that the Surface Pro runs much more quietly than previous models. Also on the sound front, the speakers have been improved as well, so now if you're watching a movie in a bit of downtime, you'll get crisper audio – and it won't have to battle with the noise of a fan.
Further elements which add to the overall utility of this device include an option for a 4G LTE modem coming later this year, to allow for the use of mobile broadband when out and about, and a better selection of keyboard covers. These include the original Type Cover in black and the Signature Type Cover, which is decked out in Alcantara fabric for a more premium look.
By definition, a hybrid notebook is all about versatility – covering multiple bases – and all these features and twists which the new Surface Pro incorporates further hone the device, pushing it to higher levels of flexibility and making the laptop a more tempting purchase than it has ever been.
As a final note, it's also worth bearing in mind that the release of the new Surface Pro means that older models have been discounted. So if it's a bargain you're after, then the predecessor Surface Pro 4, for example, has been reduced from £749 down to £635 for the basic configuration with an Intel Core m3 processor, which represents a saving of 15%. That's tempting in its own right, too.
Sign up to receive daily breaking news, reviews, opinion, analysis, deals and more from the world of tech.