Launch, price details for streaming video service Redbox Instant leak
Because there aren't enough ways to stream video yet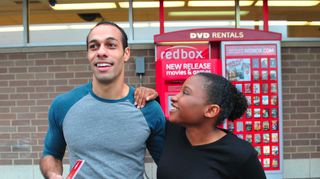 Verizon and Redbox's video streaming service may not arrive until later this year, but a number of details have already leaked online.
GigaOM discovered public help pages intended for users of the Redbox Instant's closed beta, which revealed subscription pricing and streaming options. The pages have since been altered to require a beta password.
Subscriptions start at $6 per month, which provides unlimited access to the Redbox Instant through Verizon's streaming library.
Upgrading to an $8 monthly subscription will add four Redbox DVD rental vouchers to redeem at Redbox kiosks. However, unused DVD vouchers will not carry over to the next month.
Sweet subs
The $8 subscription also provide the perk of letting users reserve movies at local kiosks through the Redbox Instant site or mobile app.
Redbox Instant will also offer downloadable movie rentals for offline viewing and new movies to purchase, which will start at $0.99.
It's assumed that the starting price is meant for downloadable rentals and that new movie purchases will cost considerably more. Movie downloads won't be included in either subscription plan.
Launching in 2012?
According to the leaked help pages, Redbox Instant is priced aggressively to compete with services like Netflix and Amazon Instant Video.
It will need to be, as the service's streaming library is expected to have a smaller selection than its competitors.
The help pages also laid out that Redbox Instant will use Silverlight and be available through any web browser. Apps for Android, iOS, Xbox 360, Samsung TVs and Blu-ray players will also be available, with users able to register up to five devices to their account.
Instant has been a long time coming as it was first announced by Verizon and Redbox's parent company Coinstar in February.
The service was said to launch before the end of 2012, and a hint in the leaked details sounds like that's still the plan. Users in the closed beta are reportedly being told that some DVD kiosks may not be compatible with DVD voucher rentals until Dec. 17.
That date could indicate when all Redbox kiosks are upgraded to work with the new subscriptions, at which point the runway is clear for Redbox Instant to launch.
Via GigOM
Sign up to receive daily breaking news, reviews, opinion, analysis, deals and more from the world of tech.