How to improve your Intel CPU when the heat is on
Serious overclocking can call for some extreme solutions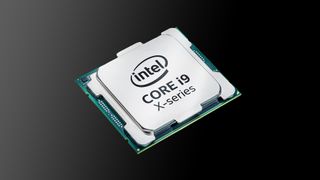 This article is brought to you by Maximum PC magazine. If you'd like to read more articles like this then subscribe to Maximum PC and save an extra 10% off a subscription – it's also the perfect Christmas gift for any PC fan. Simply use code MPC10.
Subscribe to Maximum PC magazine with an extra 10% off
We've spent a good while trying AMD's Ryzen architecture both at home and in the office, and although it's a fantastic little chip, the overclocking experience is incredibly limited, and it hasn't quite satisfied our progressive power itch.
Recently, we got our hands on a pair of Intel Core i9-7900Xs, and we've been tempted to take one of those to upgrade one of our office systems. The thing is, X299 has a couple of issues involving overclocking, too.
The first is to do with the VRMs (voltage regulation modules) throttling the processor once they hit 107C. That's a fairly easy fix – the answer is to invest in a liquid cooled monoblock that cools both the processor and the VRMs.
Far more tricky to solve is the fact that Intel still doesn't use solder between the IHS (integrated heat spreader) and the CPU die, instead using cheap thermal paste to transfer heat from the die to the IHS.
The solution here is to delid the CPU, a risky process that typically requires you to use a razor blade to separate the IHS from the CPU and PCB.
So, we got in touch with Der8auer, the world famous overclocker, to see whether he could loan us one of his Delid Die Mate Xs. It's a neat little device, that removes the IHS safely. It's then up to us to clean off the glue, apply liquid metal thermal paste between the CPU die and the IHS, then re-glue the IHS back down for far lower temperatures.
Still terrifying, but in the hunt for better thermals, overclocks, and more, we simply have to give it a try.
Sign up to receive daily breaking news, reviews, opinion, analysis, deals and more from the world of tech.