Nintendo TVii available on Wii U Dec. 20, but not all of it
Netflix and TiVo are no-shows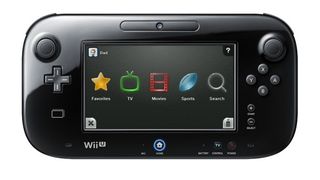 Nintendo TVii may have missed the Wii U launch last month, but Nintendo today confirmed that the feature will still arrive before Christmas with a Dec. 20 date set in North America.
The free service integrates live television and on demand content with the Wii U, letting users browse all available video content using the Wii U GamePad.
It will support most major cable and satellite providers in the U.S. and Canada while also pulling content from Amazon Instant Video and Hulu Plus for subscribers to either streaming service.
Users can also find new information on the shows and movies they watch through Nintendo TVii with access to things like cast details, Rotten Tomatoes movie reviews, or live player stats and scoreboards for sporting events.
TV goes social
Nintendo TVii also adds new social features to the on demand video, integrating with Facebook, Twitter and the Wii U Miiverse to allow users to comment on the shows and movies they watch.
It also supports multiple user profiles on each Wii U system, allowing every member of the family to set their own favorite shows and preferred content to a personal TVii profile.
Individual profiles also allow for parental controls to be set for some users, blocking objectionable content from appearing when those users search through Nintendo TVii.
Netflix and DVR not included
While Nintendo TVii will finally launch on Dec. 20, it will arrive missing some key features.
The service will launch with Amazon Instant Video and Hulu Plus integration, but Netflix content will not be integrated into Nintendo TVii until early 2013. A separate Netflix app is available on Wii U, but integration with Nintendo TVii will come later.
Likewise, Nintendo TVii was originally announced to integrate with TiVo DVRs to watch previously recorded shows, but that feature will not be available until early 2013 either.
Setting up Nintendo TVii should be a fairly simple process when it launches next week, requiring users to input their cable or satellite provider information and have a stable internet connection. The Wii U will not need to connect with a cable box for Nintendo TVii.
Even without Netflix and TiVo support at launch, Nintendo TVii is an interesting attempt at consolidating on demand video around a central box, with unique potential through its second screen and social applications that should make it worth checking out tomorrow.
Sign up to receive daily breaking news, reviews, opinion, analysis, deals and more from the world of tech.