Este nuevo televisor abre la puerta a los televisores OLED 8K asequibles
TCL presenta un TV 8K fabricada con inyección de tinta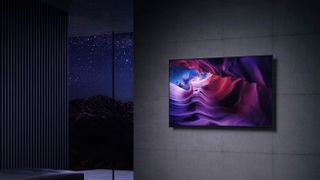 (Image credit: Sony)
El nuevo televisor TCL OLED 8K está fabricado mediante su proceso de impresión de paneles por "chorro de tinta". Es el futuro de las pantallas OLED: la compañía se está preparando ahora para la producción en masa de estas pantallas usando su tecnología de inyección.
Este prototipo de 65 pulgadas es el anticipo su próxima gama de OLED. El rumor de la prensa china es que la producción podría comenzar en 2022, un año antes de lo anunciado inicialmente por TCL.
Los televisores 8K con OLED son casi motivo de leyenda en el mercado televisivo: existen pero son tan raros y tan caros que casi nadie ha tenido aún el privilegio de tener uno. Este Black Friday tampoco habrá buenos descuentos en estas pantallas ultra-premium.
Sin embargo, todo eso podría estar a punto de cambiar gracias a la futura producción con inyección en la próxima fábrica de 8,5 generación de TCL.
Esta nueva fábrica se dedicará por completo a la impresión de OLED por inyección de tinta. Con este proceso los paneles OLED se imprimen entre paneles de vidrio en lugar de hacerlo sobre los tradicionales paneles "OLED blancos" (WOLED) que se encuentran en los televisores OLED actuales. Éste último es un proceso de producción más intensivo y caro.
En 2019, la empresa de análisis de mercado IHS Markit — ahora conocida como Omdia — predijo que el paso a la impresión por inyección supondrá una reducción de un 15 a un 25% en el precio de los televisores OLED TV: hasta unos 1.200 dólares de rebaja que supondrían una seria amenaza al actual líder del mercado OLED, LG Display.
Pero podría haber ahorros mayores en la gama alta que llevarían a que los televisores OLED 8K alcanzaran precios por lo menos semiasequibles para los consumidores.
Precios que bajan de cinco a cuatro cifras
Un televisor OLED 8K de LG puede costar 12.999 dólares en un tamaño de 77 pulgadas. El modelo de 88 pulgadas sube a 19.999 dólares. Con el descuento que traería la tecnología de fabricación por inyección, las pantallas OLED 8K podrían bajar a cifras de cuatro dígitos en 2024. Cifras que continuaría siendo altas pero que serían una clara señal de los cambios positivos que se avecinan para el consumidor.
La entrada de TCL en el mercado OLED también podría tener un efecto dominó en los paneles LG, que ahora disfruta de un monopolio de facto y se vería obligada a bajar los precios para seguir compitiendo. En cualquier caso, los precios están bajando y seguirán bajando. Para 2030, el OLED 8K podría estar en un lugar similar al que ocupa ahora el OLED 4K.
Según el director de desarrollo de productos de TCL en Europa, Marek Maciejewski, esta nueva fábrica es capaz de producir pantallas para televisores de 55 a 110 pulgadas. Esto último es interesante también para los consumidores con dinero para quemar: aunque tengas tarjeta de crédito los suficientemente grande para comprar un LG Z1 OLED, TCL podrá venderte algo a un precio similar pero con tamaño mucho mayor.
Get daily insight, inspiration and deals in your inbox
Get the hottest deals available in your inbox plus news, reviews, opinion, analysis and more from the TechRadar team.
Henry is a freelance technology journalist, and former News & Features Editor for TechRadar, where he specialized in home entertainment gadgets such as TVs, projectors, soundbars, and smart speakers. Other bylines include Edge, T3, iMore, GamesRadar, NBC News, Healthline, and The Times.