El celular más pequeño del mundo sólo cuesta $130
El Zanco Tiny T2 es perfecto para emergencias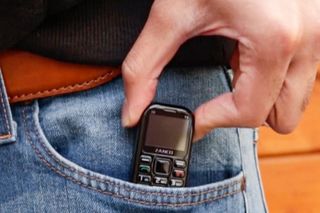 (Image credit: Zanco)
Esto es el Zanco Tiny T2, un celular un poco más grande que una llave de memoria USB. El fabricante dice que es el celular más pequeño de la historia. Lo parece.
Para empezar, la compañía dice que el Zanco Tiny T2 sólo pesa 31 gramos (1,09 onzas) y mide sólo 2.4 x 1.18 x 0.65 pulgadas. Un tamaño que casi da risa.
Financiado en su totalidad en Kickstarter en un día, el Zanco Tiny 2 tiene un montón de funcionalidad para su minúsculo volumen: batería que dura siete días en reposo, cámara (que en este tamaño casi podría ser calificada como cámara espía), grabador de vídeo, Bluetooth 3.0, reproducción de MP3 y MP4, radio FM, calendario, mensajería de texto SMS y hasta 32GB de almacenamiento si utilizas una tarjeta MicroSD adicional. Y hace llamadas, claro.
Obviamente, todas estas funciones están bastante limitadas por las dimensiones del celular. La pantalla tiene una resolución de sólo 120 x 96 pixels. Suficiente para jugar al Tetria o a la Serpiente — ambos incluidos — si tienes una vista aguda y uñas como alfileres.
La cámara también es de gama baja: sólo 0.3 megapixels. Pero obviamente, el público de este teléfono no quiere ni publicar fotos en Instagram ni en Facebook.
El Zanco Tiny T2 no soporta conectividad LTE or Wi-Fi ni falta que le hace. Sólo tiene 2G y 3G, lo que es suficiente para que funcione correctamente en cualquier parte del mundo. Es funcional en lo que tiene que ser: un celular para hacer llamadas y mandar algún mensaje de texto de vez en cuando.
¿El precio? Sólo $130. Si tuvieran un modelo llavero, sería perfecto para tener un teléfono de emergencia disponible a todas horas. Zanco dice que empezará a distribuir el Tiny T2 en abril. Si desconfías (naturalmente) de los proyectos de Kickstarter, no te preocupes: Zanco ya tiene otro teléfono diminuto en el mercado, lanzado en el 2017 y disponible por $50 en Amazon.
Por otra parte, quizás puedas encontrar un Apple Watch Series 3 con LTE de segunda mano por un precio parecido. Más pequeño y elegante que esta máquina y disponible en todo momento — si lo cargas todas las noches.
Mi predicción: será el teléfono más popular en prisiones de todo el mundo.
Sign up for Black Friday email alerts!
Get the hottest deals available in your inbox plus news, reviews, opinion, analysis and more from the TechRadar team.