Did the CCI go overboard in striking down Amazon-Future deal?
Antitrust watchdog looks to be on firm ground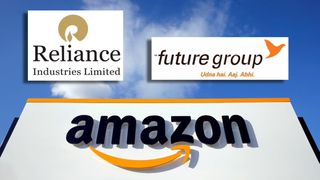 (Image credit: Internet)
The Future Retail and Amazon India imbroglio took an bizarre turn a month ago with the independent directors of the Indian retail giant asking India's anti-trust watchdog to revoke an approval given to a deal between the two entities in November 2019.
The Competition Commission of India (CCI) has now struck down the deal saying that Amazon had obtained the approval by concealing certain relevant information. It has also imposed a Rs 202 crore penalty on the e-commerce major for not furnishing true and complete details of the deal.
The 57-page order wherein the CCI says it is necessary to re-examine the deal afresh is indeed a big setback for Amazon, which had invoked this very agreement with the Future Group to scupper Reliance's takeover over of Future's retail ventures.
Strong words from CCI
On the face of it, Amazon may feel aggrieved that India's antitrust watchdog had scuttled its gambit to make inroads in the Indian market. It may well play the victim card. But the CCI order goes in depth and has come up with clear reasons. It also pulls no punches in terming Amazon's bid to be a 'fraud'.
It referred to internal emails from Amazon that had said that the American company intended to acquire Future Retail once foreign investment laws are made easy. "When foreign investment laws are relaxed and higher stake or acquisition of multi-brand retail assets is permitted beyond today's possibilities, we would have a foot-in-the-door to acquire more in this strategic asset, should we so desire at the time," the CCI cited an internal email from Amazon as saying.
Securing approvals by suppressing the scope and purpose amount to having obtained it by way of fraud, the CCI pointed out.
What is future of the Future deal?
Now, the road seems clear for Reliance Retail that had sought to acquire Future Group's retail, wholesale and the logistics and warehousing business for Rs 24,713 crore. Amazon took objection to the deal on the basis of its stake in Future Coupons.
The case had gotten complex and convoluted as it is being fought on multiple fronts.
The three parties --- Amazon, Reliance and Future --- are putting a spirited fight with reason. For, at stake is several thousands of crores of rupees and the bragging rights in the highly lucrative in Indian retail and e-retail market.
Amazon has 60 days to file its counter, and the CCI would look into the deal 'afresh'.
But after such a clear-cut order, Amazon may not feel sanguine about its chances in the CCI. But, for sure, it will challenge the matter in the courts and other arbitration panels.
"We are reviewing the order passed by the Competition Commission of India, and will decide on next steps in due course," an Amazon spokesperson was quoted as saying.
The last word on the issue has not been heard yet.
More so, since the anti-trust body could question the Reliance-Future deal as anti-competition, given its considerably enhanced market power post the merger. Of course, that would be a different story were the CCI to take it up.
Want to know about the latest happenings in tech? Follow TechRadar India on Twitter, Facebook and Instagram!
Sign up to receive daily breaking news, reviews, opinion, analysis, deals and more from the world of tech.

Over three decades as a journalist covering current affairs, politics, sports and now technology. Former Editor of News Today, writer of humour columns across publications and a hardcore cricket and cinema enthusiast. He writes about technology trends and suggest movies and shows to watch on OTT platforms.