11 technologies small businesses should adopt in 2016
Be your own IT department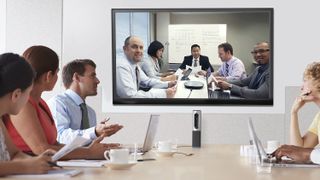 (Image credit: Future)
Introduction
Purchasing new technology or overhauling your investment in technology infrastructure can be daunting for small business owners. Unlike larger organizations, many of these small business purchasing decisions are made without a large budget or the assistance of IT staff. So if you're starting a new business, what equipment should you acquire?
We'll help you decide which smartphone and laptop to buy, choose the right desktop and printer, select the best cloud provider and NAS solutions, pick out a monitor and wearables and more.
In total, we've identified 11 categories of devices, services and gadgets that small businesses should begin with, and we'll help you choose the right ones to fit your needs.
1. Smartphone
When it comes to choosing a phone, you'll want to look at how you use your phone as the technology around it evolves.
In the past, choosing a smartphone means choosing the ecosystem of apps and the user interface that you prefer, whether that's iOS or Android. Today, however, if you plan on retrofitting your home or office with connected gadgets, or have a smart car, you'll want to choose a phone that's compatible with your smart home, Internet of Things (IoT) devices and your car of the future.
Best options today include the iPhone 6S and Google's new Nexus 6P, but don't dismiss Windows 10 Mobile. Microsoft's new Lumia 950 promises to be a phone that can convert to a PC when attached to a monitor, keyboard and mouse thanks to an innovative feature called Continuum. For note-takers, Samsung's Android-powered Galaxy Note 5 can replace your Moleskine with its integrated S Pen digitizer.
My pick: Apple iPhone 6S Plus. Here's why: A robust catalog of third-party apps, plenty of specialty accessories including battery and waterproof cases and Apple's Genius Bar service should something go wrong make the iPhone a great choice.
2. Laptop
A laptop is a balance between performance and portability. If your business relies on heavy graphics and video work, you may want to choose a mobile workstation, which delivers plenty of power and comes with discrete graphics. However, systems like the HP ZBook 14 G2 and the Lenovo ThinkPad P70 are clunkier than Ultrabooks, and when you tax the graphics and processing chips, these machines won't last as long on battery power.
For most small business users, a thin and light Ultrabook will do the trick. Notebooks equipped with Intel's or AMD's sixth generation CPUs, like the Dell XPS 13 and HP EliteBook 705 are incredibly slim and pack in plenty of power and battery life for everyday computing needs, like checking email, accessing the internet, viewing photos and videos and working in Microsoft Office 2016.
If you live in the cloud and work out of a browser, you may want to consider a Chromebook as an option. If you prefer Macs, Apple's MacBook Air and MacBook Pro are excellent choices.
However, for versatility, a 2-in-1 system can easily convert between laptop and tablet form factors. Examples include the Dell XPS 12, Microsoft Surface Pro 4, Microsoft Surface Book and Lenovo ideapad Miix 700. For road warriors, when choosing an enterprise-class system, be sure to also compare business warranty options.
My pick: Apple 13-inch MacBook Pro. Here's why: Apple's laptop delivers long battery life, a gorgeous screen and plenty of performance. If you're an iPhone owner, the integration with iOS is seamless.
3. Tablet
A Windows-powered tablet may give you more flexibility in performance and price. High-end slates like the Surface Pro 4 and Dell Venue 11 Pro deliver laptop-like performance so you can get work done, while inexpensive tablets with Intel Atom processors start at a lower price point but aren't great if you're working with graphics-intensive tasks.
If you're looking at ease of use, Apple's iPad is a nice solution, and the slates will be available in the Mini (small), Air (traditional) and Pro (large form factor) sizes. Many businesses are also using iPads as a point-of-sale system, replacing the traditional cash register. If you're an iPhone and Mac user, an iPad may be a natural choice. If you're an Android user, you may want to consider an Android slate, like Samsung's latest Galaxy Tab or Galaxy Note models.
Pens are now gaining popularity in the tablet market, and a digitizer can be a great tool for business users, allowing them to take notes, draw and jot ideas when on the go. The leading pen or stylus solutions on the market today are from Wacom and N-Trig, the latter is a company that Microsoft acquired and its technology is used on the new Surface tablets.
My pick: Microsoft Surface Pro 4. Here's why: The Surface Pro 4 is extremely portable and solidly constructed. Coupled with the optional Type Cover, it can replace your laptop when you want to travel light, and the Surface Pen delivers robust capabilities for taking notes.
4. Desktop
For small businesses, there may be several uses for desktops, and your use case will dictate the model or form factor of the desktop you choose. Dell claims that 40% of PC buyers still choose a desktop, so the market for a desktop PC is still vibrant.
If you're looking at using a desktop in the front office, or if you need a high resolution display, Apple's all-in-one iMac with Retina display is an excellent choice with its metal construction, clean design and crisp screen.
If you're a power user, you may want to consider a workstation, which delivers even more performance with high-end processors, multi-GPU configurations and plenty of memory and storage. These include the Dell Precision T7610 and the Mac Pro with its futuristic design.
And there are other form factors in between an AIO and powerful workstation, including towers, mini PCs, micro PCs and thin clients. Thin clients rely on servers for performance, whereas the other PC form factors come with powerful Intel or AMD processors in more compact designs that take up less space on your desk. Towers, mini PCs and micro PCs are great for word processing, web browsing and general computing tasks.
My pick: Lenovo Yoga Home 900. Here's why: Don't let the Home name fool you. The Yoga Home serves double duty as an all-in-one when you're at your desk and as a tablet. It's great for moving around the office, and you can move it from room to room for presentations.
5. Monitor
Depending on your work style, there are several different types of monitor to choose from.
Consumer-centric monitors, like the Acer S277HK and Apple Thunderbolt Display, offer elegant designs, slim profiles and high resolution screens. These types of displays may be great for use on a reception desk, in a front office environment or as an alternative for digital signage.
Office displays sometimes are less elegant, but offer more ergonomics, like the ViewSonic VP2780. The boring black design of this display hides elegant cable management, an ergonomic stand that can swivel and tilt and accurate factory color calibration.
Your choices in display essentially boils down to resolution. 4K, or UHD, is becoming popular in the display market, although you can find some excellent 1080p full HD displays for a more affordable price. There is also size. If you're doing a lot of multitasking, consider a display upwards of 27 inches, but for a front office, you may want to consider something smaller and less obtrusive.
Design is a matter of personal preference, but curved monitors may offer flexibility with multitasking without requiring a bulky multi-display setup. Some of these displays are wider than traditional displays, like the LG UltraWide 34UC97. This form factor is similar to placing two monitors side-by-side on a desk, and the curve adds a bit of ergonomics. You can also find traditional 4K curved displays from Samsung.
And finally, there is the screen panel itself. You'll want to look for something that has even brightness, accurate color covering close to 100% of the sRGB gamut as possible when measured with a colorimeter and flicker-free screen technology to reduce eye strain and fatigue. If your office is graphics and video dependent, you may want to invest in a colorimeter, like the Spyder5 Elite to calibrate your monitor.
My pick: ViewSonic VP2780. Here's why: Unless you're looking to place this display in your front office, ergonomics trumps beauty. With different screen adjustments to help reduce eye fatigue, a color calibrated display and the ability to tilt and swivel, you'll be very comfortable in front of this monitor.
6. Printer
In addition to deciding whether you want a laser printer or an inkjet for your office, there are a few considerations to make when choosing a business printer. Both inkjets and lasers deliver excellent text print jobs,
First, you'll want to figure out the cost per page for color and black-and-white print jobs. Even though lasers have led the charge with lower print costs, new inkjets, like the HP OfficeJet Pro X series, promise up to 50% cheaper print costs than comparable laser printers. Additionally, newer inkjets from HP using the PageWide print technology can match laser's print speeds.
If you're looking at inkjets, you'll want to choose a workgroup printer with larger tank capacities. Even though you'll be paying more up-front with each ink tank refill, the per-page cost is reduced, and you'll end up saving more money in the long run. This also saves you time, as you won't have to change cartridges as often. Examples include Brother's MFC-J6925DW and Epson's WorkForce ET-4550, which promises two years of ink,
You should also consider features like auto-duplex scanning and copying, paper tray capacity, two-sided printing, faxing, cloud integration, print security and network connectivity. A connected printer, like Dell's recent crop of SMB printers, allows users to print documents from a cloud drive without a laptop or automatically scan to the cloud. Many modern printers also offer apps for mobile printing from a smartphone or tablet, and a few even come with NFC for easy tap-to-print from a connected device.
My pick: HP OfficeJet Pro X476dw MFP. Here's why: The OfficeJet Pro delivers fast printing speeds and affordable per-page print costs in an attractively designed body. It also comes
7. Wi-Fi router
The Wi-Fi router's purpose is to connect your devices wirelessly to the internet and your devices to each other. It's a hub that enables you to browse the web, wirelessly print and share files over a network. For fast speeds, you'll want to look for a router that supports the Wi-Fi 802.11ac protocol, which delivers up to three times the speed of the older 802.11n standard.
A good Wi-Fi router will be zippy, and if you're looking at connecting IoT devices to your router, you'll want one that supports one or more of the many IoT protocols on the market today, like Google's OnHub family of routers.
A router that comes with integrated USB ports, like Apple's Airport Extreme, allows you to connect printers and hard drives to enable wireless file sharing and printing. By connecting older external drives and printers to your router, you may not even need to invest in a wireless drive, network attached storage or wireless printer.
If you're a T-Mobile customer in the US, the Wi-Fi CellSpot router is an excellent option that's available for just a $25 (£16, AU$35) deposit. The router is a rebrand of Asus' highly rated RT-AC68U router, which normally retails for $200 (£130, AU$282). The Asus RT-AC87U is a slightly upgraded model with impressive performance.
VSBs, or very small businesses, working in remote environments can also consider small mobile broadband modems, which can deliver an internet connection from a wireless carrier to up to ten devices. Sierra Wireless and Novatel Wireless make a few models for AT&T, Sprint, T-Mobile and Verizon networks in the US, including a home-based router that relies on a cell signal, rather than a fiber, cable or DSL line.
My pick: T-Mobile Wi-Fi CellSpot or Asus RT-AC68U. Here's why: With a growing LTE coverage map and the company's disruptive un-carrier initiatives, it's never been a better time to be a T-Mobile customer. If you're a customer, the Wi-Fi CellSpot is extremely affordable.
8. NAS
If you rather not rely on the cloud and prefer to host your files yourself, you can rely on NAS, or network attached storage, devices. These devices are akin to on-premise file servers, and all you need to do is connect hard drives (HDD) or solid state drives (SSD), and the NAS can backup your files or give you access to your drive's contents when you need them.
The QNAP TS-563 is a great solution with speedy performance thanks to the integrated quad-core AMD processor on-board. It can backup files from your desktop and laptop when connected to the same network. And when you're remote, you can even access these files from your smartphone with QNAP's mobile apps. The Synology DiskStation DS414j is another offering, but one with a dual-core processor.
VSBs that may appreciate the file sharing and backup capabilities of a NAS can also choose a connected hard drive, like the Western Digital MyCloud or Seagate Personal Cloud Home Media Storage. These are smaller systems, often coming with a single drive of varying capacities.
These connected hard drives may not offer the same redundant backup protection of a NAS, but it's a quick way to host, store, share and backup files without relying on the cloud. Like NAS, these solutions also come with apps for smartphones and tablets.
My pick: Seagate Personal Cloud. Here's Why: For small business owners, the Personal Cloud is far simpler to setup and use than a dedicated NAS, but offers similar file sharing and backup capabilities. If you need more capacity, you can just add more units to your setup.
9. Cloud storage
If you rely on the cloud for some of your work apps, including email, a certain amount of storage may be included in your plan for free.
If you have a Google Apps or Google for Work account, which comes with access to Google Docs, Sheets, Slides and Hangouts, you'll get a minimum of 1TB of cloud storage per user for $10 per month. If you have more than five users on the account, Google will give you unlimited storage capacity on its Drive cloud.
Similarly, if your organization adopts Microsoft's cloud services, you'll get 1TB per user of OneDrive for Business storage with your Office 365 subscription for as little as $5 per month. Both Microsoft and Google offer word processing and collaboration tools with their respective services.
Additionally, for document storage and sharing, you can also look into services from Dropbox and Box. VSBs operating their businesses with Macs can probably rely on iCloud Drive, which integrates with Apple's Pages, Numbers and Keynote productivity suite. iCloud Drive doesn't have the robust security or collaboration features of rival services.
My pick: Office 365. Here's why: If you live within Office, there's no better solution than Office 365, which gives you access to Office 2016. In addition to OneDrive access, Microsoft has also been hard at work to make collaboration better with Office so multiple users can view and edit the same document simultaneously.
10. Wearables
Wearables can help you stay with fitness tracking and be productive with notifications. They come in various form factors and wearables can perform different functions.
A smartwatch is one wearable form factor that can display notifications to your wrist. For iPhone owners, the Apple Watch is a great option. Android users will have more flexibility with Android Wear-powered watches, like the Moto 360 and LG Watch Urbane. Some watches even connect to a mobile 3G or 4G network, so you can leave behind your smartphone if you prefer, and options here include LG's Watch Urbane Second Edition and Samsung's Gear S2 3G. If you switch between different phone platforms, Pebble is a nice cross-platform solution.
For fitness junkies, a fitness band like the Garmin Vivofit 2, Fitbit Charge or Nike Fuelband will help you stay focused on working out or staying active. These devices can track steps, calories and some will go as far as monitoring your heart rate. Windows 10 Mobile owners should consider the Microsoft Band 2 as a fitness-oriented smartwatch.
If you're worried about posture, the Lumo Lift is an excellent wearable to help you stand up straight and tall.
The good news is that even though the jury is still out on the efficacy of wearables on productivity, science shows that fit employees are more alert and productive. Even if the notifications on a smartwatch doesn't help you get more done during the day, you could still rely on these devices as a pedometer and heart rate monitor to get you fit and into better shape.
My pick: Apple Watch. Here's why: The Apple Watch delivers the best integration with iPhone. Android users should also check out the Samsung's Gear S2 as the rotating bezel makes the watch easier to navigate.
11. Videoconferencing
Setting up a teleconferencing system in an small office is less expensive now than ever before.
You can go several routes with teleconferencing solutions for small conference rooms. Devices like Chromebox for Meetings and micro PC form factors with Intel Unite can provide the backbone infrastructure. These boxes are made by various OEMs, not Google or Intel, and you can connect video cameras and microphones to connect a complete system. The Dell OptiPlex 7040 Micro with Intel Unite also allows conference participants to share screens.
If you have a system and want to upgrade your camera hardware, you should take a look at the Logitech ConferenceCam Connect, which will work with software solutions like Skype for Business, Google Hangouts, Adobe Connect, Cisco WebEx and Citrix GoToMeeting to connect you with clients, partners and remote staff.
For larger conference rooms and businesses that have the budget, Microsoft's Surface Hub is an integrated solution powered by Windows 10.
My pick: HP Collaboration PC. Here's why: HP's micro PC comes with Intel Unite software to help free your conference room from cable clutter. Plus, meeting participants can wirelessly share their screens.
Are you a pro? Subscribe to our newsletter
Sign up to the TechRadar Pro newsletter to get all the top news, opinion, features and guidance your business needs to succeed!