5 reasons business users should consider Microsoft's Lumia 950
Microsoft makes a play for the enterprise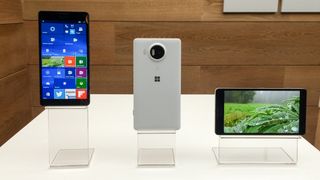 (Image credit: Future)
Introduction
After having attracted a niche and devoted audience of mobile photographers with the Lumia line of smartphones, Microsoft is hoping to grow its 3% mobile operating system (OS) market share in the US by changing its focus.
Boasting features that allows business users to do more, the new Lumia 950 and Lumia 950XL come with flagship specs that allow the devices to compete with popular Android and iPhone models. However, the star of the show will be the Windows 10 software that powers these devices.
Windows 10 Mobile will allow these phones to run the same apps that you can run on your PC and Xbox. The OS will also bring desktop-class multitasking and productivity features from Windows 10 to the phone when you connect these devices to Microsoft's new Display Dock.
1. Continuum
When you connect a monitor to your Lumia, you'll gain desktop-like productivity. Instead of seeing a blown up mobile interface on your phone's small display, a monitor, when connected to the Lumia dock, will allow you to have a Windows 10 view that's similar to what you see when you're on a laptop or desktop.
The result is that mobile business owners will be able to essentially carry a PC in their pocket. They can connect to their keyboard, mouse and display at home or at work to do more, giving them a full Windows desktop, multitasking and a view of Office Mobile that's similar to what you'd get if you were working on a full PC.
Combined with documents stored on Microsoft's OneDrive cloud, you won't have to worry about copying files or managing file versions and revisions. But if you need to, you should be able to also connect a USB flash drive to the dock.
Continuum brings the experience of the PC to your pocket and expands the power of Windows 10 Mobile to Windows 10 when you have the right peripherals connected to your phone.
2. USB-C
Even though adoption of USB-C hasn't quite taken off yet, the arrival of the port on the Lumia 950 brings added features not found on prior smartphones. In addition to charging the phone and connecting the Lumia to a PC to transfer data, you can also use the reversible port to connect peripherals to your phone.
USB-C will allow the new Lumia flagships to connect accessories, like a keyboard and mouse, and peripherals, like USB flash drives. It essentially replicates the USB on-the-go functionality found on Android handsets.
Another peripheral you can connect to your phone is a monitor, or larger external display. USB-C is the feature that enables Continuum on the new Lumias.
3. Finding universal appeal
Despite praise for a fresh UI when Live Tiles debuted on Windows Phone 7 in 2010, the platform never really took off, and the biggest complaint against Microsoft's mobile operating strategy has been the lack of apps. To entice developers and grow its user base, Microsoft is standardizing on the Windows 10 brand.
This means that if developers create universal apps, they'll be able to target users on desktops, tablets, laptops, phones and even Xbox. With Microsoft's ambitious goal to bring Windows 10 to a billion devices within the next few years, developers could see the monetization potential for Windows 10 Mobile, and hopefully this means that more developers will create more apps for these devices.
Additionally, Microsoft is making it easy for developers to port existing iOS and Android apps to Windows 10 with accessible tools.
At launch, we'll likely continue to see a small app library for Windows 10 Mobile at the end of the year, but things could improve as Windows 10's market share continues to climb. Microsoft counts 110 million PCs and tablets running its OS so far, and that number is still growing.
4. Fast charging
Fast charging has been an undervalued feature on Android smartphones. But as we continue to push our phones harder to stay productive, it's a nice feature to have to quickly top off battery levels.
With fast charging on the Lumia 950 and 950XL, Microsoft claims that you can recharge 50% of your battery in as little as 30 minutes. Samsung's Android-powered Galaxy S6 gives you four hours of usage in as little as 10 minutes of charge time.
Even though Windows Phone has historically been power conservative, newer phones are coming with battery-hungry features, like larger displays with more pixels, iris scanning technology, 4K video capture support and functionality like Continuum.
These new capabilities will not only tax the processor from a power perspective, but will also generate heat. To keep things cool, these phones come with a liquid cooling system!
5. Security
Protecting data on a mobile device may be just as important, if not more, as on a desktop. After all, mobile devices are more susceptible to loss and theft, and hackers are increasingly targeting users of mobile platforms as smartphone adoption continues to rise.
On Windows 10 Mobile, Microsoft is entering the biometric security race, competing with fingerprint adoption on Apple's iPhone and on Google's Android 6.0 Marshmallow.
Instead of using the finger, Microsoft is instead turning to the eye. Turn on your phone, and the iris scanner will recognize the user and log you into your device. It's similar to how face recognition works with Intel's RealSense camera on Windows desktops and laptops, and it presents a quick, convenient way to secure your phone.
We'll have to see if Microsoft will make Microsoft Passport available on the phone in addition to Windows Hello. This would bring single-sign on convenience to the mobile platform.
The goal of mobile device security is to protect your device and data but minimize friction in logging in. Iris scanning is promising, and we'll have to see how the tech fares against Touch ID on the iPhone, which is still one of the best biometric security implementations on a mobile device to date.
6. Other features to consider
In addition to these five business-friendly features, the Lumia 950 and Lumia 950XL also feature wireless charging for added convenience when you're at your desk, support for a removable memory card so you can increase your device storage and an outstanding camera.
The 20-megapixel camera with optical image stabilization is not only useful for photographers, but can be used to scan documents using apps like Office Lens, and for documentation in select vertical industries.
The Lumia 950 is competitively priced with other flagship smartphones, starting at $550 (£358, AU$759), and the larger XL model will retail for $650 (£423, AU$897).
If you're looking for a smartphone with a robust catalog of apps and a large number of third-party hardware accessories and cases, there are better options on the market. However, none of these phones can match the productivity-driven features delivered by Continuum supported by Windows 10 Mobile.
Are you a pro? Subscribe to our newsletter
Sign up to the TechRadar Pro newsletter to get all the top news, opinion, features and guidance your business needs to succeed!