10 companies Microsoft should buy to stay relevant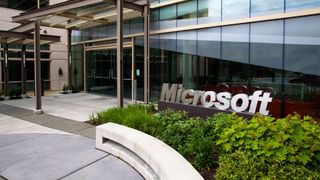 (Image credit: Future)
Introduction
Generally speaking, tech behemoths are always busy splashing cash and buying up new companies. And Microsoft, with its huge coffers, is obviously no exception…
Microsoft has missed out on mobile – though it is still hoping to turn things around with Windows 10's cross-platform nature – and is now having to play catch-up in other areas, which makes it a prime candidate for acquiring hot startups and expanding into new product categories.
Having splashed out $7.2 billion (around £4.7 billion, or AU$9.4 billion) on Nokia and more recently $2.5 billion (around £1.6 billion, or AU$3.2 billion) on Mojang (the firm responsible for Minecraft), it is clear Microsoft is not afraid of spending money, so we thought we'd make a list of the top 10 companies that Microsoft should be looking to pick up.
Square
The technology press was buzzing with rumours that Square (the payments company started by Jack Dorsey, the ex-CEO of Twitter) would file for an IPO last year, but weak financials and the possibility of a bubble in the stock market have prevented it so far. While Microsoft currently has no interest in the buying or selling of goods, Square's technology could be integrated into future devices.
Square is currently valued at around $5 billion (around £3.2 billion, or AU$6.4 billion) on private markets and could give Microsoft an entrance into new markets that go beyond computer and enterprise software. Jack Dorsey would also be a key asset for Microsoft to have with his vision and ideas having already propelled two companies (Square and Twitter) to billion dollar valuations.
Dropbox
As a consumer-focused second cousin to Box, Microsoft could make good use of Dropbox in getting back leverage in the consumer market – something the company sorely needs. While there are rumours that Dropbox is going to IPO before too long, the company is valued at over $10 billion (around £6.5 billion, or AU$13 billion), a drop in the ocean compared to Microsoft's war chest of $80 billion (around £52 billion, or AU$104 billion).
While Microsoft already has a cloud storage service in the form of OneDrive, much could be learnt from Dropbox, and the combination of Dropbox and OneDrive could result in some exciting technologies for storing data in the cloud.
Jawbone
After the $7.2 billion (around £4.7 billion, or AU$9.4 billion) acquisition of Nokia and potential growth in the wearables market, Microsoft should be looking to invest heavily in this opportunity. Having missed the boat on smartphones and then tablets, Microsoft should be eager to catch up. The purchase of Jawbone, already a reputable wearables company, could help this.
Jawbone is privately valued at over $3.3 billion (around £2.1 billion, or AU$4.2 billion) and has design pedigree in wearables after years of making Bluetooth headsets. Jawbone's design language is functional and clean which fits with the 'Modern UI' aesthetic of Windows 8 and Windows Phone.
Adobe
Already an established company and brand, Adobe has a long history of making high-end creative software used by photographers, video editors, web designers and more. Microsoft's software prowess is in enterprise and office applications, the antithesis of what Adobe produces.
Adobe is already a publicly traded company and would be a moon-shot purchase for Microsoft, costing in excess of $40 billion (around £26 billion, or AU$52 billion) – half of Redmond's total cash on hand and 18 months worth of profits. While Adobe's income is modest, and the company is certainly no monetary giant, the software it creates is renowned throughout the world and would open up new industries to Microsoft.
Valve Corporation
Microsoft has a big foot in the door when it comes to hardware sales related to gaming with its Xbox console – however, Microsoft doesn't have a big presence in the PC gaming arena. The majority of PC gamers use Windows as their operating system but Microsoft has no way to leverage that.
Valve, the company behind Half-Life and Steam, does have a major presence in the PC world, however, and Microsoft should acquire the company for that reason.
As a private company, Valve is not at liberty to disclose its financial situation but estimates by Forbes in 2012 pinned the company's worth at around $4 billion (around £2.6 billion, or AU$5.2 billion). This year Steam announced that a whopping 125 million people use its service making it a relative bargain for such a small valuation.
Box
Satya Nadella has described Microsoft as a "cloud-first" company and there is nothing that screams "cloud" more than Box. Founded in 2005 by Aaron Levie (now CEO, pictured above) and Dylan Smith (now CFO) out of their university dorm, Box has grown into a company that went public in January 2015 and now has a market cap of a little over $2 billion (around £1.3 billion, or AU$2.6 billion).
The appeal of Box comes from its mixture of core enterprise technology with a very consumer friendly interface. Despite being entirely focused on enterprise, Box still has a large consumer following which says a lot concerning its user experience, and is something Microsoft could definitely implement across the board.
While buying both Dropbox and Box may seem excessive, the two companies are aimed at different markets and so would provide both a different customer base and area of expertise. Box has also built a way of viewing and editing documents right from the interface, something Microsoft would surely be interested in as the company looks to expand its online offerings.
As a public company, a takeover of Box would be harder but the $2 billion market cap (roughly $17 a share) would place the price tag somewhere in the region of $4 billion (around £2.6 billion, or AU$5.2 billion), a lot less than the acquisition of Nokia for $7.2 billion (around £4.7 billion, or AU$9.4 billion).
Evernote
Note-taking is a primary focus for Microsoft and an acquisition of Evernote would further those aims even more. OneNote, the company's note-taking app, has seen massive improvements over the past few years with a new design and increased functionality, predominantly from the Microsoft Surface's pen.
As Microsoft is now a data-driven company – one that sees what users want and implements it – people are evidently writing notes on Windows devices and so this should be an area of even more intense focus.
Evernote is valued at over $1 billion (around £650 million, or AU$1.3 billion) having received a little over $300 million (around £195 million, or AU$390 million) in funding. The revenue model is a subscription-based one but Microsoft would likely be far more interested in the underlying technology rather than any additional money the service would bring in.
Evernote already has a $10 per user, per month (around £6.50, or AU$13) enterprise model and this could work well alongside the free OneNote: a consumer and a professional set of applications.
Whether Evernote would sell to Microsoft is a different matter – the price would likely be far higher than its $1 billion valuation – but the loyal following that Evernote has amassed across a variety of devices, as well as the underlying technology, would definitely justify the price.
Magic Leap
Earlier on this year Microsoft unveiled HoloLens and the Windows Holographic Platform surprising the technology world. The two work together to create virtual environments that have the ability to become 'live' to a user who can 'pin' applications and see environments in real-time.
While there are concerns about whether HoloLens will be a success, the very fact Microsoft is looking this far into the future and attempting to shape it is a positive sign and one that should be applauded. Another company that is doing this is Magic Leap and its version of the future could complement Microsoft's, thus making the outfit an ideal acquisition target for Redmond.
Having received a little over $590 million (around £380 million, or AU$760 million) in funding, Magic Leap is valued at $2 billion (around £1.3 billion, or AU$2.6 billion).
While there have been very few formal announcements from the company, its goal is to "project highly detailed light sculptures onto the eye, mimicking the way eyes typically perceive real-world objects," according to the WSJ. This will eventually lead to a new type of display technology, one that could work very well alongside HoloLens and Windows 10.
One of the main challenges Magic Leap faces is motivating developers to work with its technology, especially on a large scale. Microsoft is in the ideal position to help with this, mainly because the company controls the most used operating system on Earth: Windows. If Redmond got behind Magic Leap, the sky would be the limit.
Activision Blizzard
Microsoft loves gaming, so much so that the company bought Mojang and has expressly said that HoloLens will have a major focus on games. Despite repeated calls from shareholders and pundits alike, Microsoft has retained its Xbox division as a key part of the company and is looking to expand it. The war between Xbox and PlayStation is far from over and Microsoft under Satya Nadella seems more than willing to continue the good fight.
Activision Blizzard is the game publisher behind hits such as Call Of Duty and the Warcraft series of games. After the split from Bungie, Microsoft may be looking for the Next Big Thing in video games that can follow up from the Halo series (of which Redmond has retained the IP). Activision recently signed a 10 year partnership agreement with Bungie and so acquiring the game studio would stand Microsoft in good stead to work with partners new and old.
In 2014, Activision Blizzard became an independent company after buying back 430 million shares from its owner, Vivendi, valuing the company at $2.34 billion (around £1.5 billion, or AU$3 billion). This is a tad less than Microsoft paid for Mojang (that deal was valued at $2.5 billion) which has one hit game.
Activision has many hit games and so paying anywhere upwards of $3.5 billion (around £2.3 billion, or AU$4.5 billion) would be a bargain and would stand Xbox in good stead going forward.
Salesforce
Earlier on this year, Bloomberg reported that Salesforce was working with financial institutions to consider a "serious" offer of acquisition. This sent the rumour mill spinning because, as a publicly traded company, Salesforce is worth in the region of $50 billion (around £33 billion, or AU$65 billion). There are very few companies that can afford a $50 billion acquisition and Microsoft is one of them.
The unification of Microsoft and Salesforce, arguably the most powerful CRM tool available today, would enable both companies to thrive and expand, with services from each firm being integrated into the other.
As a "cloud-first, mobile-first" company, the acquisition of Salesforce would help plug various holes in Microsoft's arsenal. As Microsoft's competitors, such as Google, engage in a 'race to the bottom,' Salesforce would help Microsoft create quality tools that many enterprises would pay for, effectively winning the fight against rivals.
Jessica Naziri summed up what the potential deal would mean nicely for TechRadar: "Take Microsoft's core strategy, Office 365 and Windows, and think about integrating it with Salesforce's core strategy, CRM apps, and making a combined offering that offers more value to all users.
"Outlook is already an amazing platform for email and correspondence, plus the power of Salesforce integration will mean keeping track of your tasks seamlessly. Imagine getting custom data, graphs, pivots, etc in Excel sheets and then having that data funnelling automatically back and forth between your CRM system."
While the acquisition would sit at somewhere in the region of $55 to $60 billion (around £35 to £40 billion, or AU$70 to AU$80 billion), Microsoft has deep enough pockets to afford it and the benefits of the deal far outweigh the risks and costs.
Sign up to receive daily breaking news, reviews, opinion, analysis, deals and more from the world of tech.
Max Slater-Robins has been writing about technology for nearly a decade at various outlets, covering the rise of the technology giants, trends in enterprise and SaaS companies, and much more besides. Originally from Suffolk, he currently lives in London and likes a good night out and walks in the countryside.