The Wiz Smart Button is a nicely designed wireless switch that is easy to use, and will suit the decor of almost any room. However, there is no way to enable a lighting preset, or even return the lights to a default state, there are some software glitches, and it's pretty pricey.
Pros
+

Minimalist design

+

Easy to setup and use

+

Magnetic mount
Cons
-

Limited functionality

-

Strange app behavior

-

Expensive
Why you can trust TechRadar We spend hours testing every product or service we review, so you can be sure you're buying the best. Find out more about how we test.
One-minute review
The Wiz Smart Button is a simple wireless switch for controlling Wiz smart light bulbs. It has two buttons for turning a set of lights on and off, and can also be used to raise or lower their brightness.
The button itself is magnetic, so can be attached to mental surfaces around the home or to the included wall plate, which has an adhesive strip for wall mounting. Powered by a pair of included AAA batteries, the button pairs quickly and easily to the Wiz Connected app, and is simple to set up.
It can be configured to control a single light, a whole room, or your entire Wiz lighting system, making it a handy way to switch off the whole home when you head out. However, it cannot be used to turn lights to a specific setting. Instead, the button only turns the light on to its last state. Unlike other such switches, it cannot be programmed to cycle through different lighting presets with repeated presses of the on button. Although not particularly smart, this switch is a good option for those whose traditional wall switches are inconveniently located.

Wiz Smart Button smart switch: specs
Swipe to scroll horizontally
| | |
| --- | --- |
| Price | $29.98 / £27.99 / approx AU$46 |
| Color options | White body, gray buttons |
| Dimensions | 1.85 x 6.4 x 6.4cm |
| Battery | 2xAAA (included) |
| Hub required | No |
| Works with | Wiz lights only |
Wiz Smart Button smart switch: performance
Wireless, powered by two AAA batteries
Attaches magnetically to wall plate
Buttons for on/off and brightness control
The Wiz Smart Button is about as simple as smart light switches get. It has just two buttons that turn your lights on and off with a press or raise and lower the brightness when pressed and held. The button is powered by a pair of included AAA batteries and connects magnetically to the wall plate, which can then be attached to any flat surface with an included adhesive strip. This is a handy way to mount the button next to your existing light switches but be warned that the adhesive strip is likely to pull your wallpaper off if you ever remove it.
The button itself is a nice size, with rounded corners and a weight that makes it feel like a premium product. The two buttons have a fairly satisfying click but don't respond if you press them too quickly; sometimes a slower and firmer press is required. Both buttons are large and have 'I' and 'O' markings that can be clearly seen and felt – the latter being helpful for users with visual impairments.
Accessories like this Smart Button are a nice way to add portable tactility to your Wiz smart lighting setup. Sometimes it's more convenient to press a button than open up a smartphone app or issue a command to a voice assistant, especially when all you want to do is turn the lights on or lower the brightness. I also like how the button snaps onto its mounting plate, giving it a home and preventing it from being misplaced too often.
Wiz Smart Button smart switch: app
Can be set up with or without the Wiz app
Some identification issues
No features beyond on/off and brightness control
The previous section might sound like I'm extracting every possible detail from the Wiz Smart Button because, well…there's really nothing more to say. Sadly, the button cannot be configured to change the color of your lights, or even flick between a handful of presets. This is especially strange given Wiz is owned by Signify, which also oversees the Philips Hue brand, whose own wireless dimmer switch can be configured to do much more.
Why the Wiz Smart Button can't be programmed to cycle through lighting presets with repeated presses of the on button (as the Hue dimmer switch can) is beyond me. This really limits the accessory's usefulness and makes it feel rather expensive, especially when the Hue equivalent is around 25 percent cheaper.
A neat feature of Wiz light bulbs is how you can assign two lighting presets to them, then pick between them with a regular, non-smart light switch. Turn the switch on for preset one, or quickly turn it on-off-on for the second preset. Disappointingly, this so-called smart switch can't even do that, and instead can only turn the lights on to their previous state.
Say you have set the lounge lights via the Wiz app to a nice soft, warm glow in the evening, then use the Smart Button to turn them off. Come back into the lounge the next day, press the on button and you'll be taken back to the previous setup, with no way to turn the lights to a more suitable daytime setting. Being able to assign a preset to a quick double-press of the on button would be really useful.
All that said, the Wiz app works well. This is the second generation of the Wiz smart lighting app and it is nicely designed, responsive, and easy to use. It might take a bit of getting used to if you're more familiar with other smart lighting apps, but switching from one system to another isn't something consumers are likely to do all that often; especially if you're using one of the best smart speakers. And in any case, it didn't take long for me, a Hue user for several years, to find my way around the Wiz system.
Bizarrely, the Wiz Smart Button appears in the app as the Wizmote, which is an entirely different product. I have both here and accidentally deleted the Smart Button from my system because the app had called it Wizmote and even assigned it an icon resembling the multi-buttoned controller. After adding the Smart Button back to my system, it once again appeared as the Wizmote, complete with an image explaining how four buttons can be used to pick from different lighting presets. These are buttons the Smart Button doesn't have.
That issue aside, it's easy to set 'targets' for the button, which are the lights or rooms it controls. This is how you configure the button to control a single light, a room, or your entire Wiz system. There's a limited amount of configuration here though, as while you can pick which lights it turns on or off, you can't pre-set the brightness, temperature, or color.
Wiz Smart Button smart switch review: Should I buy?
Buy it if...
You only want a very simple smart light system
If all you need from a button is to turn a set of lights on and off and adjust their brightness, the Wiz Smart Button is what you're looking for. It is simple and very easy to use, with no extra features.
You already have a Wiz lighting system
This button only works with Wiz lighting, so you'll need to already have some Wiz light bulbs for it to control. Wiz offers a decent range of smart light bulbs at competitive prices with both screw- and bayonet-type fixings.
You want a minimalist design
The Wiz Smart Button is fairly stylish, as far as light switches go. Smaller than a traditional wall switch, its rounded corners and soft gray color should suit the aesthetics of most homes, and it looks good sitting on a coffee table or nightstand too.
Don't buy it if...
You want more than the very basics
Despite its name, this isn't a particularly smart light switch. It cannot control color or temperature, nor can it switch between presets or even switch your lights back to a default setting.
You want great value for money
This switch costs a fair bit more than the better-equipped Hue equivalent, and it is twice the price of Wiz's own Wizmote, which isn't wall-mountable or as attractive but has more useful features, like buttons for lighting presets.
You're building a complex smart light system
This isn't a switch suited to more complex systems, since it can only turn a set bunch of lights on or off, and adjust their brightness. The Wizmote offers more functionality, while true power users will likely use the Wiz app or voice controls via Alexa, Google Assistant, and Siri instead.
Wiz Smart Button smart switch review: also consider
Swipe to scroll horizontally
| | | |
| --- | --- | --- |
| Row 0 - Cell 0 | Wiz Wizmote | Hue Dimmer Switch |
| Price: | $14.97 / £16.22 / approx AU$23 | $29.99 / £17.99 / AU$49.99 |
| Color options | Black | White |
| Dimensions | 14.9 x 7.6 x 3.4cm | 7.6 x 7.6 x 0.6 cm |
| Battery | 2xAAA (not included) | CR2032 |
| Hub required | No | Yes, Hue Bridge |
| Works with | Wiz lighting | Alexa, Google Assistant, Apple HomeKit, IFTTT, SmartThings |
If you want to add more smart lighting to your home, here are a couple of options to consider...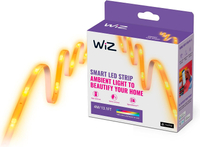 Wiz LED strip smart light
The WiZ LED strip smart light is a wonderful way to add some color and ambiance to your home, and can be easily stuck to most surfaces. It works with Alexa, Google Assistant, Siri Shortcuts and Apple HomeKit.
Read our full Wiz LED strip smart light review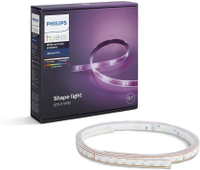 Philips Hue Lightstrip Plus
The Lightstrip Plus is a great way to add accent lighting to any surface, and offers a fantastic range of brightness and colors to choose from. Pairing with a Hue Bridge unlocks even more value.
Read our full Philips Hue Lightstrip Plus review
Wiz Smart Button smart switch review: How I tested
I added the switch to my Wiz lighting system
I set up and used the switch as part of my daily routine
I installed a couple of Wiz smart bulbs in the ceiling sockets of my home, then added the Smart Button to the system. It was then simply a case of setting up the button and getting used to what it can and cannot do.
I chose to mount the switch's back plate next to a conventional wall switch, which acted as a convenient place to store it when not in use. The switch was tested on my bedroom lights for a few days before writing this review.
Read more about how we test
First reviewed August 2023
Alistair Charlton is a freelance technology and automotive journalist based in London. His career began with a stint of work experience at TechRadar back in 2010, before gaining a journalism degree and working in the industry ever since. A lifelong car and tech enthusiast, Alistair writes for a wide range of publications across the consumer technology and automotive sectors. As well as reviewing dash cams for TechRadar, he also has bylines at Wired, T3, Forbes, Stuff, The Independent, SlashGear and Grand Designs Magazine, among others.