It may not win many beauty awards, and setting it up can require a degree of trial-and-error, but the Bot by SwitchBot is a practical, reliable and versatile way to add smartphone and voice assistant control to conventional light switches and many other "dumb" devices. The SwitchBot app lets you configure a schedule for each Bot, while voice control with Alexa and Google Assistant is possible if you also install the SwitchBot Hub, sold separately.
Pros
+

Versatile

+

Easy scheduling

+

Turns dumb devices smart
Cons
-

Hub required for voice control

-

Unattractive

-

Setup can be fiddly
Why you can trust TechRadar We spend hours testing every product or service we review, so you can be sure you're buying the best. Find out more about how we test.
One-minute review
The Bot by SwitchBot is a matchbox-sized device with a robotic arm that moves up and down when triggered by a smartphone app or voice assistant. This means the little robot can press the buttons of devices and household appliances that wouldn't usually be "smart" or remotely controlled – including light switches.
Stick the Bot to the switch and, with a fair bit of trial-and-error, the motorized arm will push down the switch and pull it back up again. It does this using an attachment that sticks to the switch and hooks around the arm, making this an effective retrofit alternative to the best smart switches. The SwitchBot app can then be used to control the Bot and set schedules for when it activates.
It also works with Alexa Google Assistant, Apple HomeKit, and IFTTT for further smart home integration and automation (when connected to the SwitchBot Hub, sold separately), and has a claimed battery life of 600 days.
Working out exactly how to use the SwitchBot Bot can take some time, and it isn't immediately obvious how it operates standard UK light switches in both directions. But with a bit of experimentation, the Bot works exactly as intended. As well as light switches, it can be attached to heaters, fans and air-conditioning units, coffee machines, and anything else that's operated with a simple, physical switch.
The Bot certainly won't be the most attractive device in your smart home system, and it stands out considerably when stuck to a light switch. However, if you value functionality over aesthetics, it's a reliable, versatile and relatively affordable way to make dumb devices smart.
SwitchBot Bot smart light switch: Specifications
Swipe to scroll horizontally
The specification of our SwitchBot Bot smart light switch review unit

| | |
| --- | --- |
| Price | $29.99 / £29.99 / roughly AU$44.40 |
| Color options | White and black |
| Size | 1.69 x 1.46 x 0.94 inches / 43 x 37 x 24mm |
| Battery | 2 x AA included |
| Hub required | No, but adds further functionality |
| Works with | Alexa, Google Assistant, Siri Shortcuts, IFTTT, SmartThings (all require SwitchBot Hub 2) |
SwitchBot Bot smart light switch review: Price and availability
The SwitchBot Bot is available directly from SwitchBot or at Amazon in the UK and US for $29.99 / £29.99, as well as from some third-party retailers in Australia for roughly AU$44.40.
IN the box you'll find two adhesive pads and plastic hooks for operating light switches, as well as the switch itself.
SwitchBot Bot smart light switch review: Design
Matchbox-sized
Small robotic arm requires careful positioning
Spare plastic hoops and adhesive pads included
Around the size of a small matchbox, the Bot by SwitchBot is a gadget with a moving robotic arm. Protruding only slightly from the box itself, this arm is used to press the button of a light switch, air conditioning unit, heater, kettle, or just about anything to which the Bot can be attached.
As well as pushing buttons, the robotic arm can pull as well. This isn't necessary in all cases, but for rocker-style light switches it means the Bot can push and pull the switch, turning it on and off. The Bot comes with a couple of strong but thin, plastic wire hooks, which loop around the arm and stick with an integrated adhesive pad to the light switch you want to control. The arm can then turn the light on with a push and switch it off with a pull.
The Bot measures 43 x 37 x 24mm, making it fairly small, However, it still stands out quite significantly when fitted to a conventional light switch. A such, it might not be suitable for smart home builders who really value the aesthetics of their interior. The design also means it can't operate dimmer switches or toggle-style light switches. The Bot is powered by a replaceable CR2 battery.
SwitchBot Bot smart light switch review: performance
Fiddly setup process
Responds quickly to commands
Lots of versatility (if you put in the effort)
The SwitchBot Bot isn't the simplest smart home product to set up, owing to a smartphone app that isn't quite as slick as those of more mature rivals. That said, the SwitchBot encourages buyers to think outside the box. Instead of simply working as a smart light switch, the SwitchBot brings smartphone control to almost anything, so long as the robot's little arm can press the button or switch you want to operate.
I used the SwitchBot on a conventional light switch, but it could also be used to press the power button on the back of an iMac, for example, or to fire up a kettle. The main unit attaches to any flat surface with an adhesive strip on its back, and the robotic arm then moves to press any button or switch within reach.
If you want the arm to pull when moving in the opposite direction – to operate a rocker switch in reverse, for example – then you'll need to also attach the included secondary panel, which hooks onto the arm with a short loop of strong plastic wire.
The result is a robotic arm that can push with one motion, then pull when returning to its starting point.
As mentioned, it isn't a particularly attractive little gadget; but a bland and bulky aesthetic is the price you pay for the huge versatility on offer here.
It also takes a little while to understand the limitations of the SwitchBot. Initially, I thought it was incompatible with my conventional, UK rocker-style light switches, but soon realized it's designed to push the switch on, in the normal way, then pull it to turn it off, instead of pressing the other half of the rocker.
The SwitchBot Bot is controlled via a Bluetooth connection to the SwitchBot smartphone app. The Bot can also be controlled over Wi–Fi, and therefore from outside of Bluetooth range. However, that requires the SwitchBot Hub Mini, which costs $39 / £35. Adding a hub also enables support for Alexa, Google Assistant, Siri Shortcuts, IFTTT, and SmartThings.
The setup process takes time – and often a bit of creativity, too – but once everything is as you want it, the little robot can flick a switch or press a button with a tap of your phone, or with a user-defined schedule. The motor seems strong enough, but I wonder if the included adhesive pads might eventually lose their stick, especially on a Bot operated several times every day. Thankfully, a spare pad and plastic hook are included in the box.
SwitchBot Bot smart switch review: Should I buy?
Swipe to scroll horizontally
SwitchBot Bot smart switch score card

| Attributes | Notes | Rating |
| --- | --- | --- |
| Price | Not much more expensive than a regular light switch, yet introduces a good amount of intelligence and customisation to almost any switch or button in your home. | 4/5 |
| Design | It's a practical and versatile device, but not an attractive one. The SwitchBot sticks out like a sore thumb when attached to a conventional wall switch, and the installation process can be fiddly. | 3/5 |
| Performance | Once you've discovered a good use for the SwitchBot and endured the installation process, it works well, with voice commands acted upon quickly. | 4/5 |
Buy it if...
You want to add smart control to a conventional light switch
Instead of replacing your existing switches and bulbs, simply attach the SwitchBot Bot for smartphone control over your existing lighting. Add a hub and you can turn lights on and off using a voice assistant, and the system can be automated based on the location of your smartphone, too, for lights that turn on when you arrive home.
You have physically compatible light switches
Most switches should work, but rotating dimmer knobs will not. The robotic arm might be able to turn the light on, but there's no way to adjust the rotary brightness controller. Similarly, elongated toggle-style light switches also aren't compatible.
You enjoy a smart home project
There's a lot of room for creativity here – and with IFTTT integration, plenty to configure to your exact needs. SwitchBot also sells retrofit devices for opening and closing curtains, plus security cameras, thermometers, and light bulbs to help build a complete smart home system.
Don't buy it if...
You want to control dimmer switches
The Bot's little arm can only push and pull conventional light switches. It can't rotate the knob of a dimmer light, so for adjusting brightness you'll have to look elsewhere. It also doesn't work with toggle-style light switches.
You already own some smart lighting
If you're already invested in another system, you are best sticking with it, as it'll have its own switch options. The Bot is instead best suited to those who are yet to start their smart home build, or who have a very specific use case in mind.
Aesthetics matter above all else
If interior design is a priority, the Bot is probably worth avoiding. It's highly versatile but it isn't attractive, tending to stick out like a sore thumb when stuck to a wall switch.
SwitchBot Bot smart switch review: Also consider
Swipe to scroll horizontally
| | Tapo Smart Light Switch | Philips Hue Smart Wireless Dimmer Switch | Candeo Smart Dimmer Switch |
| --- | --- | --- | --- |
| Price: | $19.99 / £19.99 | $35.98 / £19.99 | £44.99 |
| Color: | White | White | White |
| Dimensions: | 87 x 86 x 41mm | 80 x 15 x 125mm | 86 x 86 x 42mm |
| Voice control | Alexa, Google (hub required) | Alexa, Google, Siri (Bridge hub required) | Alexa, Google Assistant (with compatible Zigbee hub) |
| Battery: | Powered by existing light switch wiring | CR2032 coin cell | Powered by existing light switch wiring |
If you want to add more smart lighting to your home, here are a couple of options to consider...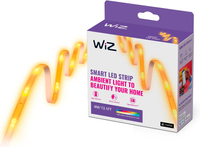 Wiz LED strip smart light
The WiZ LED strip smart light is a wonderful way to add some color and ambiance to your home, and can be easily stuck to most surfaces. It works with Alexa, Google Assistant, Siri Shortcuts and Apple HomeKit.
Read our full Wiz LED strip smart light review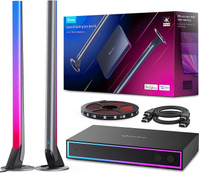 Govee AI Gaming Sync Box Kit
The Govee AI Gaming Sync Box Kit is an amazing immersion kit that elevates your gaming experience by utilizing AI. It's accurate, responsive, easy to set up – and worth investing in, if you're willing to pay the steep price.
Read our full Gove AI Gaming Sync Box Kit review
SwitchBot Bot smart switch review: How I tested
I set up the bot and optional hub
It was used on a bedroom light switch
I used the SwitchBot Bot with a conventional light switch on my bedroom wall. I attached the Bot so that it could control the switch in both directions (on and off), and also set up the optional SwitchBot Hub. Although not included in this review, the hub is required for voice control and to operate the Bot when away from home.
First reviewed August 2023
Read more about how we test
Alistair Charlton is a freelance technology and automotive journalist based in London. His career began with a stint of work experience at TechRadar back in 2010, before gaining a journalism degree and working in the industry ever since. A lifelong car and tech enthusiast, Alistair writes for a wide range of publications across the consumer technology and automotive sectors. As well as reviewing dash cams for TechRadar, he also has bylines at Wired, T3, Forbes, Stuff, The Independent, SlashGear and Grand Designs Magazine, among others.