5 air fryer sides to elevate any meal
Your air fryer doesn't just need to be for cooking main meals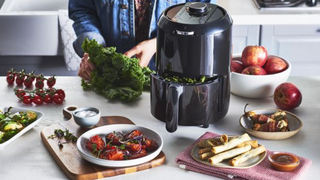 (Image credit: TEFAL)
Whether you're looking to put your air fryer to better use or you're bored of cooking the same meals all the time, these air fryer sides will elevate your dishes with relatively little effort.
They're a great way to be more adventurous with vegetables or introduce new ways of cooking potatoes to your repertoire. They can also double up as snacks, or even be adapted into dinner party canapés.
We've discovered each of these recipes during our various tests of the best air fryers and can vouch for their simplicity, as well as their deliciousness. Many of these sides have even become staples in our house, and are huge hits with our kids along with those on our surprising foods to cook in an air fryer list.
As we discover and test more recipes, we'll be sure to add them to this list but for now, here are the best air fryer sides to get started with.
Try these air fryer sides with your next meal
1. Air fryer tacos
If you haven't heard of The Cubicle Cookers on TikTok, they're a hilarious pair of colleagues who cook air fryer meals at their desks, using an air fryer. One of their biggest viral recipes – and one we've made multiple times now – is their "walking" air fryer tacos.
The "walking" reference refers to the fact these tacos are made using a bag of tortilla chips in place of the taco shell. Meaning they're easy to eat on the go. The chips also double up as makeshift spoons to scoop out the taco filling. You can also make them in a more traditional way, with shells or taco pockets.
The ground beef tastes amazing when cooked in the air fryer with cheese and seasoning, and then all you need to do is layer up your taco with lettuce, salsa, and sour cream in the taco container of your choice.
2. Air fryer fritters
Although the word "fritter" is said to come from the word "fry", don't be fooled into thinking you can only make them in a pan. Air fryer fritters taste just as good as those fried in oil, without any of the grease.
Any vegetable or savory fruit works well as the base for fritters but our favorite is zucchini (courgette in the UK.) We've tried a number of different versions but this ricotta and zucchini air fryer fritter recipe perfectly combines a soft center and crispy coating and it makes a great accompaniment to any meal.
3. Air fryer croquettes
These air fryer croquettes require more preparation than we usually like when making meals, let alone sides, but it's more than worth it for just how much they melt in the mouth.
Each ball of mashed potato contains a small strip of mozzarella. As they cook in the air fryer, the coating becomes crispy while the cheese inside melts and oozes out when you take a bite.
It's an Italian spin on the standard croquette recipe known as Panzerotti Napoletana and we – as well as our kids – can't get enough of them.
4. Air fryer stuffed mushrooms
Stuffed mushrooms are great as sides or snacks and their beauty comes from the fact that you can stuff with them just about anything.
Our favorite air fryer stuffed mushrooms recipe uses a creamy filling of garlic, spinach, and cream cheese, all topped with grated mozzarella. We like to use the large portobello mushrooms to maximize the filling but you can use whichever mushrooms you can get your hands on. Even the tiny button mushrooms if you're looking for bite-sized canapés.
5. Air fryer spring rolls
You can either buy spring rolls and cook them in the air fryer to get them nice and crispy, or you can make your own like these chicken and pepper-filled air fryer spring rolls from TikTok user @munchin_mash.
The majority of the cooking, including the frying of the chicken and the softening of the peppers, is done in a frying pan but it can also be done in an air fryer if you wish. Once the filling is almost cooked, wrap it in rice paper and air fry for 10 minutes.
They're much easier to make than they look, but they taste amazing and will impress your guests.
Sign up for Black Friday email alerts!
Get the hottest deals available in your inbox plus news, reviews, opinion, analysis and more from the TechRadar team.
Victoria Woollaston is a freelance science and technology journalist with more than a decade's experience writing for Wired UK, Alphr, Expert Reviews, TechRadar, Shortlist and the Sunday Times. She has a keen interest in next-generation technology and its potential to revolutionise how we live and work.