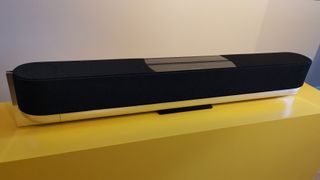 (Image credit: Future/TechRadar)
With the Beosound Theatre, Bang & Olufsen has positioned the (once) humble soundbar alongside audiophile-grade home cinema components. But if you're going to spend more than $6,000 / £6,000 plus on a fancy all-in-one, should you expect performance comparable to high-end separates that cost that kind of money?
The Beosound Theatre offers most of the trappings you expect from a well-heeled AV receiver. It has generous HDMI connectivity, high-quality amplification, and ships with a quality calibration microphone. It's not unusual to get a separate mic, plus cardboard legs, with one of the best AV receivers, but this is a step up with its premium tripod stand. It's a shame you'll probably only use it once…
There's a mic input on the front fascia of the Beosound Theatre. You can measure a single sweet spot or several, and the bar will adjust its EQ accordingly. The process doesn't take more than a few minutes and brings obvious rewards.
This compares well to Audyssey MultEQ XT32, with Dynamic Volume and LFC calibration, as found on higher-end Denon and Marantz receivers. This MultEQ XT32 iteration of Audyssey allows users to measure up to eight positions in a listening room. In reality, most of us will only want to cover the main seating area, which equates to around three measurement spots.
Many of the best soundbars these days include some kind of calibration feature (there's TruePlay on the Sonos Arc, or the auto-self-measuring mics of the Samsung HW-Q990B) – but this most pro-style system we've seen so far.
The Beosound Theatre falls behind when it comes to sheer power. B&O classifies the bar as 7.1.4 channels, with a total power output of 800W – 100 watts going to the bass cones, with 60W to each of the remaining drivers.
By comparison, the Denon AVR-X4500H, a £1,499 AV receiver (now replaced by the $1,999 / £1,799 Denon AVR-X4700H), has a rated power output of 9 x 200W. These measurements are not directly comparable, but the gulf between the two isn't as big as you might expect. In my real-world media room, they both rock impressively hard.
But there's a clear winner when it comes to immersive home theater. The Beosound Theatre doesn't match the Denon AVR mentioned above paired with a suite of physical speakers. Both are exciting to listen to, but the wraparound audio experience offered by a separates system is undeniably more cinematic.
To get close, you need to invest in additional Bang & Olufsen speakers to cover the rear. It's doable, but even more expensive. Although they will look nicer than most separates systems…
Although that's not the whole story, there were times when I preferred the Beosound Theatre when listening to music. The quality of its drivers and the sheer musicality of the soundbar's tuning are challenging to match on a home theater system optimized for movie playback.
And then there's the design. The Bang & Olufsen is a clear winner in the beauty stakes. It looks superb. It has a sense of style that a hulking AVR, with multiple speakers including a boxy subwoofer, can't even begin to approach.
So what's the bottom line? Out of the box, the Beosound Theatre doesn't match the performance of a conventional home theater system of comparable price. But as a musical performer, it's sublime and a joy to live with – and, of course, a lot more compact.
Ultimately, I suspect most B&O buyers wouldn't even consider traditional AV separates. For them, this Bang & Olufsen sounds as gloriously cinematic as they'll ever need. There's a lot to be said for apples and oranges.
Get daily insight, inspiration and deals in your inbox
Get the hottest deals available in your inbox plus news, reviews, opinion, analysis and more from the TechRadar team.
Home entertainment AV specialist
Steve has been writing about AV and home cinema since the dawn of time, or more accurately, since the glory days of VHS and Betamax. He has strong opinions on the latest TV technology, Hi-Fi and Blu-ray/media players, and likes nothing better than to crank up his ludicrously powerful home theatre system to binge-watch TV shows.