Business password manager vs Enterprise password manager vs Corporate password manager: What's the difference
There is a difference between these types of password managers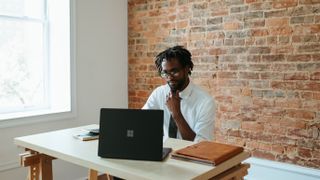 (Image credit: Microsoft 365 on Unsplash)
In today's digital age, it's more important than ever for folks to keep their online accounts safe and secure. A password manager is one of the best ways to do this. When searching for a password manager, one may come across options for both personal and business use. Solutions for individuals or families don't vary too much between vendors. The same can't be said for business password managers.
The differences within business password managers can be more intricate than expected. Various vendors provide a range of features, and the variances between business, enterprise, and corporate password managers can be substantial. For those looking for a password manager for a company, it's essential to understand these distinctions so one can choose the right one for the organization's needs.
You may enjoy these two articles:
Business password managers
Why you can trust TechRadar We spend hours testing every product or service we review, so you can be sure you're buying the best. Find out more about how we test.
For small businesses and organizations with up to 100 employees, a traditional business password manager can be an invaluable tool for maintaining the security of sensitive information. These password managers provide a range of features beyond basic password generation and auto-fill, such as secure sharing and the ability to set access permissions for different users.
With a business password manager, passwords are encrypted and stored securely, and only authorized personnel can access a company's most sensitive data. Whether someone wants to streamline their password management processes or ensure that their data is protected from cyber threats, a business password manager is essential for any small organization or business.
Enterprise password manager
Enterprise password managers are a powerful tool for large organizations with many employees. They offer a range of features, including single sign-on (SSO), role-based access control (RBAC), and audit logging. With an enterprise password manager, companies can ensure their employees have secure and reliable access to all the necessary resources. This can help to increase productivity, reduce the risk of security breaches, and ensure compliance with industry regulations.
Additionally, enterprise password managers often have advanced reporting features that can help organizations identify potential security risks and take action to mitigate them. Overall, an enterprise password manager is essential for any company looking to secure their digital assets and protect their employees' sensitive information.
Corporate password manager
Corporate password managers are becoming increasingly popular as they provide industry-specific features that are tailored to meet the unique needs of different sectors, such as healthcare, financial services, or government. These password managers offer a range of benefits, including compliance with industry regulations, improved security, and increased productivity.
In addition to standard password management features, corporate password managers may include features such as user access controls, audit logs, and reporting functionality. By using a corporate password manager, businesses can ensure that their sensitive information is protected, while also streamlining their operations and reducing the risk of a data breach.
What to look for in a business password manager
Before purchasing a password manager for a business of any size or industry, it's important to consider various factors, including:
Security is the top priority: The most reliable password managers store user data in an encrypted format and require two-factor authentication (2FA), or other multi-factor authentication (MFA) forms to ensure maximum protection.
Know the audience: It's essential to think about the different tech skills of team members when choosing a password manager, from newbies to pros. That's why it's crucial to select a solution with a straightforward and user-friendly interface that everyone can easily use. Plus, it should work on various devices and platforms.
The right features: A competent password manager should provide a range of features that can enhance the security of someone's passwords and the efficiency of the stakeholders. These features may include password generation, auto-fill, safe sharing, audit logging, and more.
Pricing: It's common for vendors to charge for their password management tools based on the number of users. Discounts are often available for larger numbers of users. It's important to compare different vendors' prices as they vary considerably.
Decision time
Look at the best corporate passwords is a great starting point when looking for a new software package. The products TechRadar recommends are often spread across business, enterprise, and corporation solutions.
Also recommended: the best password managers and the best free password managers.
Get daily insight, inspiration and deals in your inbox
Get the hottest deals available in your inbox plus news, reviews, opinion, analysis and more from the TechRadar team.
Bryan M. Wolfe is a staff writer at TechRadar, iMore, and wherever Future can use him. Though his passion is Apple-based products, he doesn't have a problem using Windows and Android. Bryan's a single father of a 15-year-old daughter and a puppy, Isabelle. Thanks for reading!