Apple One: what is the subscription bundle and is it still worth it?
Does Apple One still offer good value?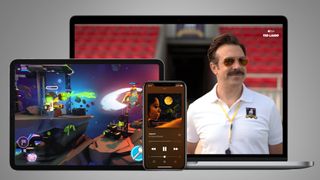 (Image credit: Apple)
Apple One is the tech giant's answer to Amazon Prime and Google One – it's an all-in-one subscription that ties together many of its biggest software offerings into one monthly plan, which can be cheaper than subscribing to them all individually.
These apps include big ones like Apple Music and Apple TV Plus, alongside lesser-known ones including Apple Arcade and Apple News Plus. If you go for the most expensive 'Premier' Apple One plan, you also get the growing Apple Fitness Plus service (alongside a nagging feeling that you should be using it more).
With our increasing number of subscriptions proving both expensive and difficult to keep track of, Apple One is certainly appealing – particularly for families, who should definitely look into it. But should you sign up for it and what exactly are the monthly savings compared to subscribing to all of the apps separately?
We're going to dig into all of that in this article. Read on to learn everything you need to know about Apple One.
Apple One Subscription: what does it include and how much does it cost?
There are three tiers of Apple One subscription – these are Individual, Family and Premier.
Individual is the cheapest, at $16.95/£16.96 a month. Family is slightly pricier at $22.95/£22.95 a month, while Premier comes in at a whopping $32.95/£32.95 a month.
But what's the difference between each tier? As you can see below, the main ones are varying amounts of iCloud storage – and the fact that only the Premier option includes Fitness Plus and News Plus.
Sign up for Apple One's Individual plan and you get TV Plus, Music, Arcade and 50GB of iCloud Plus storage. iCloud Plus is simply the paid tier of iCloud, which only gives you 5GB of storage for free.
The Family tier is similar, but bumps up the iCloud Plus storage allowance to 200GB, and lets up to five people use all those services. That's why it's called Family. The people included need to be part of an Apple 'Family group', which people can only switch between twice a year.
The Apple One Premier tier, meanwhile, is the maxed-out Apple option. Five people still get access to the constituent services, but the Cloud Plus allowance jumps up to 2TB, and a couple of extra services are added. These are Fitness Plus and News Plus.
Apple One subscription: what services are included?
Let's take a closer look at each of the parts of Apple One, to see what might appeal for your needs – and which tier offers the best value.
Apple TV Plus
Apple TV Plus may be the service you're most familiar with – this is Apple's equivalent of Netflix. It lets you stream movies and TV shows as much as you like.
Our favorite show from the service is probably Ted Lasso, the football show that has captured the hearts of millions of folks who don't care at all about the game itself. It just finished, but there's plenty to chow down on for newcomers.
TV Plus usually costs $6.99/£6.99 a month, and that includes the best quality 4K streams. No extra charges here. Apple TV Plus can be accessed through an Apple TV box, through phones, game consoles and some smart TVs.
Apple Music
Apple Music is the other biggie that almost everyone will appreciate. This is Apple's music streaming service and Spotify rival.
It's a lot like Spotify – arguably even better, since Spotify's redesign – and reportedly has even more songs. Apple announced it had 100 million tracks in October 2022, so presumably it has even more of them now. You also now get Apple Music Classical and, once again, there are no extra fees to pay for Apple's top-quality streams, which we love.
Apple Music uses AAC for its standard streams and ALAC, Apple's lossless format, in the top-quality setting. Apple Music is an audiophile-friendly streaming service just like TIDAL. It even includes some tracks with Spatial Audio provided by Dolby Atmos.
And, yes, you can use Apple Music with an Android phone if you like. The app is available direct from Google Play – no workarounds required. Sonos's system supports Apple Music, too.
Apple Arcade
Next up is Apple Arcade, a service we feel often doesn't get enough love. It offers more than 200 games, playable on iPhones, iPads, Macs and Apple TV boxes.
You can connect a Bluetooth controller to play some of them too, making it an experience close to that of a game console when connected to a TV.
The games are typically the kind you might find on mobile phone app stores, but without any annoying ads or micro transactions that have become to define the mobile gaming experience. Some of our favorites include Cat Quest II, Alba: A Wildlife Adventure and Dead Cells.
Apple Arcade costs $4.99/£4.99 a month outside of the Apple One subscription.
Apple Fitness Plus and News Plus
Apple Fitness Plus is the service you only get with the top-end Premier One subscription. And for many families, it may well be worth the added cost.
Fitness Plus offers loads of video workouts hosted by professional-grade trainers. There are now over 3,000 of them, across disciplines like yoga, pilates, HIIT, rowing, strength, treadmill and mindfulness. New videos are added every week.
At launch, Fitness Plus required an Apple Watch, because the service is based around the watch sending your heart rate to the on-screen display. However, that requirement was removed in mid-2022. It now works on iPhone, iPad or Apple TV, without a watch. It's not available for Android. And to see it on your TV without using an Apple TV, you'll need to use AirPlay streaming.
In the Premier tier of Apple One, you also get Apple News Plus which isn't, as it may sound, all about news. It includes digital subscriptions to stacks upon stacks of both newspapers and top-quality magazines, on subjects from tech to health to women's lifestyle.
Apple iCloud Plus
Finally, what's Apple iCloud Plus all about? This is the online storage used to, for example, backup the photos from your iPhone's camera. By default, your Apple ID, your login, includes 5GB of cloud storage. That won't go very far when uploading lots of photos.
Cloud Plus can also be used to store files, videos or whatever you like. The 50GB storage included with Apple One Individual would usually cost you 99c / 99p a month, the 200GB plan costs $2.99 / £2.99 a month, and the 2TB one is $9.99 / £9.99 a month.
Apple One subscription: how much do you save?
Given there are no exclusive features offered in Apple One, the appeal is all about convenience, simplicity and money-saving. And, you guessed it, the further you go up the tiers, the more money you save.
Let's do the math. The Individual membership is made up of the $6.99 / £6.99 Apple TV, the $9.99 / £9.99 a month Apple Music, the $4.99 / £4.99 a month Arcade and 99c / 99p 50GB Cloud Plus plan. That adds up to $22.96 / £22.96, meaning you save $6.01 / £6.01 a month.
Of course, the use of these services is limited to the one person in Apple One Individual.
Swipe to scroll horizontally
Apple One savings

| | | | |
| --- | --- | --- | --- |
| Apple One plan | Monthly cost (Apple One) | Monthly cost (services bought separately) | Total monthly savings |
| Individual | $16.95 / £16.96 | $22.96 / £22.96 | $6.01 / £6.01 |
| Family | $22.95 / £22.95 | $31.96 / £31.96 | $9.01 / £9.01 |
| Premier | $32.95 / £32.95 | $58.94 / £58.94 | $26 / £26 |
The Family Membership is similar, but the cost of Apple Cloud Plus is upped to $2.99/£2.99 a month and the Apple Music multi-account plan to $16.99 / £16.99 a month. This means you save $9.01/£9.01 each month,.
Right up at the top with Premier we add the Fitness Plus subscription worth $9.99 / £9.99 a month, the $9.99 / £9.99 iCloud sub, and the $9.99 / £9.99 News+. All three are big hitters, bringing your savings all the way up to $26 / £26.
Of course, these three are also perhaps the more niche services Apple offers. Sure, guided workouts are great but the appeal of music and movie streaming is that bit more wide-reaching.
Apple One subscription: verdict
The Apple One subscriptions are a no-brainer if you typically use, or see yourself using, most of the services included in each plan.
In the Individual and Family tiers, you might want to think of it as getting Apple Arcade for free. It's a service worth checking out, particularly if you have kids and don't want to have to worry if they are going to somehow end up spending money on your card.
If you're thinking about heading up into the top Premium tier, the Fitness Plus subscription alone makes it worth the price. But you do also really need to think about whether you are just persuading yourself that you'll actually use it on at least a weekly basis.
Fortunately, you're not tied into Apple One if you don't think it's right for you. You can cancel at any time by going to the Settings menu on your iPhone, tapping the Apple ID section, tapping Subscriptions then hitting the Apple One subscription. You'll have access to all of the services until the end of the month you've paid for.
Get daily insight, inspiration and deals in your inbox
Get the hottest deals available in your inbox plus news, reviews, opinion, analysis and more from the TechRadar team.
Andrew is a freelance journalist and has been writing and editing for some of the UK's top tech and lifestyle publications including TrustedReviews, Stuff, T3, TechRadar, Lifehacker and others.