Regardless of what items you have on your shopping list, you're bound to find great prices at Walmart. The store always has some of the best deals around in just about every category you can think of: phones, video games and consoles, televisions, laptops - you name it. And even better, you can find the best of those deals online right here.
Below you'll find a selection of Walmart deals for some of our favorite consumer tech categories. So whether you're shopping for a new 4K TV or to upgrade your laptop, you're sure to find what you want at a great price.
And be sure to check out these other Walmart deals:
The best Walmart laptop deals:
Whether you're shopping for our favorite laptop of 2018, the Dell XPS 13, or an economical Chromebook, Walmart has a laptop deal for you. Check out the store's wide selection below.
The best Walmart TV deals:
Regardless of whether you're in the market for an inexpensive set for your bedroom or a large, feature-loaded 4K TV to serve as the centerpiece for your home entertainment system, you can find a great deal at Walmart. Click through below to find the perfect TV with the perfect price!
The best Walmart PS4 deals:
Walmart is a great place to shop for PlayStation 4 deals. You'll find low prices on a selection of PS4 consoles, games, and accessories. We've pulled out some highlights below, but click through for even more deals.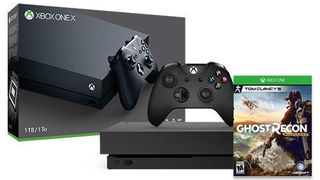 The best Walmart Xbox One deals:
You can also find a bevy of Xbox One deals at Walmart as well. The store has low prices on everything from Xbox consoles to games to accessories. Be sure to check out all the deals below!
The best Walmart iPad deals:
Whether you're looking to purchase Apple's state-of-the-art iPad Pro or its more affordable, just-released cousin, you can find a good deal at Walmart. We've pulled a selection of iPad deals below to help you save.