The Creative Katana SE makes for a solid mid-range gaming audio solution thanks to its powerful audio including a bass response that might make you look for an invisible subwoofer, connectivity variety, and loads of available customizations available through the app (and some on-unit). However, it's still a soundbar, so the soundstage is not anything special, not to mention some other limitations such as a lack of codec support outside of SBC or sub out.
Pros
+

Impressive bass response

+

Powerful audio

+

Lots of on-unit and app features

+

Good connectivity
Cons
-

No sub out or ability to do HDMI passthrough

-

Soundstage is limited by form factor
Why you can trust TechRadar We spend hours testing every product or service we review, so you can be sure you're buying the best. Find out more about how we test.
Creative Katana SE: Two-minute review
The Creative Katana SE is a very good, almost great all-in-one audio solution for PC gamers. It has a host of features that set it apart from a lot of the best computer speakers. And, even though the Creative Katana SE is the only model among the company's Katana soundbar offerings to not feature a subwoofer, it still provides a surprising amount of rumble that you're not likely to find in sub-less alternatives, whether you're considering speakers, a soundbar, or even the best gaming headsets.
If you're looking for one of the best soundbars, it's important to remember that the Creative Katana SE is specifically geared towards gamers. Though it has functionality beyond that, a lot of the fine-tuning is only available through the app so you'll be somewhat limited using it with a TV.
The Creative Katana SE is not a radical departure from the soundbar design. At first glance, it just appears to be a slightly more ergonomic take with its slanted sides and slightly upward-angled front grill, which I can only guess is because Creative assumes that it's more likely to be used with a computer setup where your ears are situated above the soundbar.
However, there are quite a few touches here that not only set this soundbar apart from a lot of other options but also justify its slightly higher price tag.
Instead of just two forward-facing drivers, there are also two large tweeters facing upward from the top of the unit, giving the Creative Katana SE some physical spatial audio capabilities. There are also two passive radiators on the back that give this soundbar its outsized bass response.
And, lastly RGB lighting lines the bottom of the grill for a bit of color. My favorite part of the RGB lighting is its ability to adjust brightness according to the actual volume of whatever media is currently playing. Of course, you have to set that up through the app.
As far as the port selection goes, it's decent with an optical, Aux, and USB port going into the unit. It also has a headphone jack on the front and an SXFI and ARC-capable HDMI out in the back with the other ports.
I do wish there was an HDMI in as well to allow for a single passthrough connection from the computer to a monitor or TV. There's also no subwoofer out, so you're limited to the admittedly ample bass response that the unit provides.
When it comes to actually using the Creative Katana SE, setup and use is very easy. It comes with a USB and optical cable and is basically plug-and-play with a number of buttons on the top of the unit to go through sources, modes, and adjust the volume. There's a remote that does that as well. Downloading the Creative app offers even more control (more on that later).
Once in use, the Creative Katana SE provides a ton of volume, enough to use for a small home theater setup. The sound quality, while not audiophile quality, is quite good.
The most impressive part is the bass response. Thanks to those two passive radiators on the back, the rumble is there. While not on par with an actual subwoofer, the low-end is quite substantial. Whether it was the oomph from explosions in games or the bass in music or movies, I was initially shocked by how good the low-end is.
The mids are full and rich, maybe even a little too much, while the high-end has enough detail to hear everything clearly but without the crispness that more Hi-Fi pieces of equipment would provide. In essence, the sound quality is good for the price but it's not a game changing soundbar.
The soundstage is decently wide for a soundbar and the sound imaging is fairly precise. But, you're still experiencing a stereo image at the end of the day. And, since you can't adjust speaker placement the way you would with actual computer speakers, it's not going to match the soundstage of properly placed computer speakers.
What does add to the sound, however, are those upward-firing tweeters. While not actually providing surround sound, they function the same way that Dolby Atmos does by sending the audio up, giving a vague dimensionality that makes everything sound better. The best way to describe the experience is that the audio sounds taller. However, you're still getting a stereo image. That said, I prefer this over virtual surround sound as that usually just sounds like there's some reverb on the audio signal.
Interestingly enough, the soundbar has a built-in mic that, while convenient, sounds a bit thin and nasally. While there are some notable and useful in-app adjustments like background noise reduction, I would suggest investing in one of the best USB mics instead. That is, unless you want your voice to sound like it's coming through a rotary phone circa 1998.
Regarding the Creative app, it's fairly intuitive to navigate though there is a little bit of menu diving. When first opened, you're presented with mostly a bunch of boxes and clicking on any of those will open a specific set of options. Once I got the hang of it, I found that there's a lot of fine-tuning available from a ten-band EQ to a number of presets including ones for specific games – I was able to try the ones for Cyberpunk 2077 and Rocket League.
There's also a scout mode that makes sound elements like footsteps pop out as well as the ability to use the SXFI feature, which personalizes the audio to you by using head tracking. This does mean you also have to download an app for your phone to set it up. And, that's just the tip of the iceberg of what's available via the Creative app.
Creative Katana SE: Price & availability
How much does it cost? $299.99 / £299.99 / AU$509.95
When is it available? Available now
Where can you get it? Available in the US, UK, and Australia
Calling a soundbar like the Creative Katana SE, which retails for $299.99 / £299.99 / AU$509.95, mid-range might seem a bit odd since something like the Creative Stage Air V2 costs $49.99. But, that 20 watt soundbar has just a couple types of connectivity and doesn't compare in a lot of ways. After all, the Creative Katana SE offers 180 watts peak power as well as a lot more bass thanks to the passive radiators as well as more immersive sound thanks to the upward-firing speakers that provide some spatial audio.
Instead, a better comparison is a soundbar like the Razer Leviathan V2 Pro, which goes for a bit more at $399.99 / £399.99 (about AU$600). As impressive as that soundbar is, it costs more and doesn't include a physical spatial audio component like the Creative Katana SE.
That said, if you don't care about all the extras, you can spend much less on an audio solution that will provide plenty of volume and bass such as the Drop BMR1 computer speakers. While they're obviously not a soundbar, they're petite enough for most gaming setups with plenty of volume and low-end, though you are skipping out on all the spatial audio and app-related features among other things.
Creative Katana SE: Specs
Swipe to scroll horizontally
| | |
| --- | --- |
| Frequency range: | 55–20,000 Hz |
| Drivers: | 2 x 4.3-inch mid-range drivers, 2 x 2.1-inch tweeters |
| Supported Connectivity: | USB, Optical, HDMI Analog, Bluetooth |
| Audio Inputs: | Bluetooth 5.0, Optical-in, AUX-in, USB-C |
| Outputs: | HDMI ARC, SXFI-Out |
Should you buy the Creative Katana SE?
Swipe to scroll horizontally
| | | |
| --- | --- | --- |
| Value | Though it's not cheap, its price is pretty reasonable considering all that is on offer. | 4 / 5 |
| Design | Upward firing speakers, passive radiators, and RGB lighting are all welcome additions. | 4.5 / 5 |
| Performance | Big bass and spatial audio elevate the audio on this soundbar, though the final result is not quite HiFi level. | 4.5 / 5 |
| Avarage rating | A good amount of features along with solid audio at a reasonable price make this a good option for anyone looking for an all-in-one gaming audio solution. | 4 / 5 |
Buy it if...
You want a fully featured gaming audio solution
If you're limited on space, you don't have to sacrifice audio quality or features with the Creative Katana SE as it comes with a number of features along with some surprisingly big low-end.
You're looking for physical spatial audio
While it's not a 5.1 or 7.1 system, the upward-firing speakers make any audio feel just a little more dimensional in a way that can't be replicated with an algorithm.
Don't buy it if...
You have a limited budget
While its price tag is reasonable for what you get, $300 is still a big chunk of change, especially when many decent computer speakers and soundbars can be had for much less.
You care about a wide soundstage
While the soundstage is good for a soundbar, you're still limited by that form factor, which will never compare to a gaming headset or properly placed computer speakers.
Creative Katana SE: Also consider
Swipe to scroll horizontally
| | | | |
| --- | --- | --- | --- |
| Row 0 - Cell 0 | Creative Katana SE | Razer Leviathan V2 Pro | Beyerdynamic Tygr 300 R |
| Price: | $299.99 / £299.99 / AU$509.95 | $399.99 / £399.99 (about AU$600) | $129 / about £98.54 / about AU$188.62 |
| Frequency range: | 55–20,000 Hz | 40Hz - 20kHz | 80Hz-24,000Hz |
| Drivers: | 2 x 4.3-inch mid-range drivers, 2 x 2.1-inch tweeters | 5x 2-inch full-range drives, 1x 5.25-inch downward firing sub | 2x 2-inch balanced mode radiators |
| Supported Connectivity: | USB, Optical, HDMI Analog, Bluetooth | Digital, Analog, Bluetooth | Analog, Bluetooth |
| Audio Inputs: | Bluetooth 5.0, Optical-in, AUX-in, USB-C | USB | 3.5mm stereo jack, Bluetooth 5.0 |
| Outputs: | HDMI ARC, SXFI-Out | 3.5mm | 3.5mm headphone jack with passthrough, Aux out / Sub out |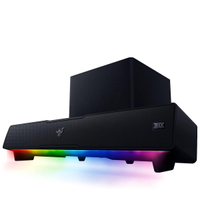 Razer Leviathan V2 Pro
Surprisingly wide soundstage, big bass thanks to a downward-firing sub, and head-tracking AI make up for a slightly muddy sounding soundbar system that has twice as many pros as it does cons.
Read our full Razer Leviathan V2 review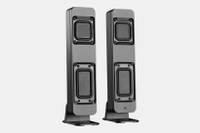 Drop BMR1 computer speakers
Though the Drop BMR1 has some design flaws, it provides a surprising amount of good sounding audio with a decent bass response in a very petite package. And, it has a very attractive price tag.
Read our full Drop BMR1 computer speakers review
How I tested the Creative Katana SE
Used regularly for a week
Tested with all sorts of games
Tested all included features
I used the Creative Katana SE regularly for a week. I used it with a number of games including Cyberpunk 2077, Control, Far Cry 6, and Rocket League. I also used it to watch some streaming video and listen to music.
I looked at other aspects beyond performance, of course. I played with its customizable features including the different modes, spatial audio, and RGB lighting.
I've tested a lot of tech gear over the years from laptops to keyboards and speakers, and so have been able to use my expertise towards giving an honest and fair opinion, not to mention a critical eye, to any product I test.
First reviewed November 2023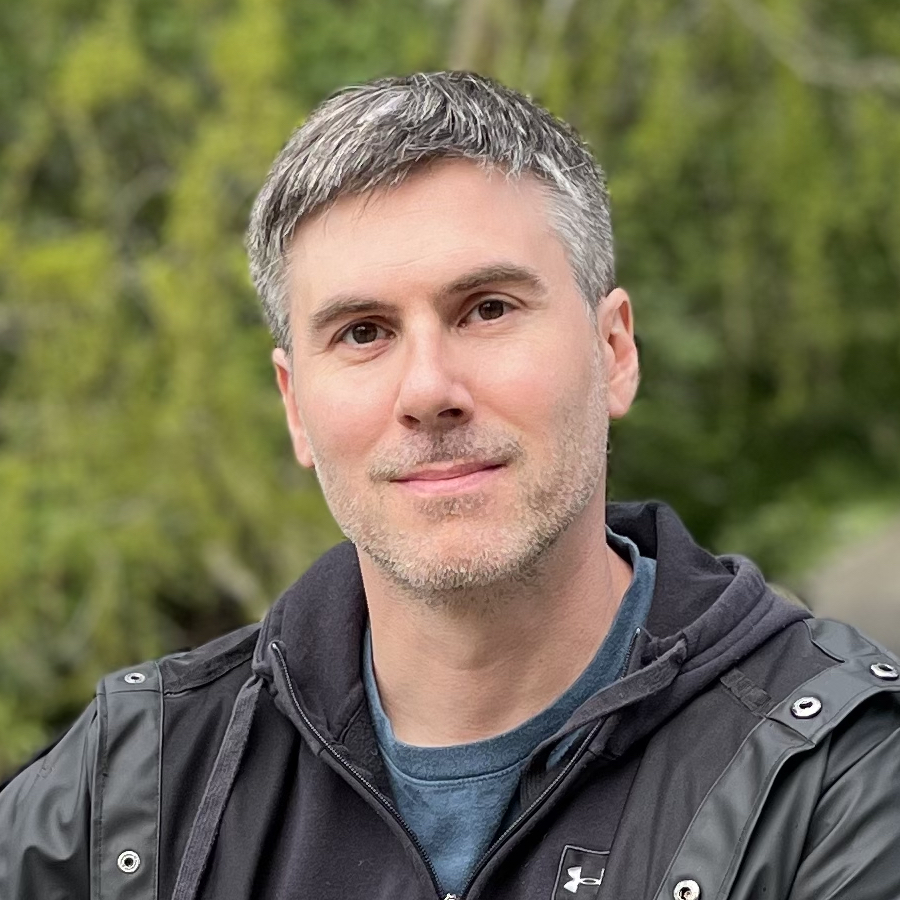 James Holland loves audio gear! So much so that he covers all the ins and outs, good and bad for Tech Radar and T3. Where does that so-called expertise come from? Not only is he a lifelong music-lover but he also works in the music industry and is a musician. When not testing headphones or listening to music, he loves to travel, rage at the latest PC games, and eat off-the-beaten-path but not too off-the-beaten-path food.