The AMD Ryzen 9 7900X3D is an excellent CPU for gaming which holds up when compared to the two flagship options from Team Red and Blue respectively, however, its price point isn't aggressive enough to wholesale recommend over the 7950X given the price-to-performance difference.
Pros
+

Stellar gaming performance

+

Tons of overclocking potential

+

Power efficient
Cons
-

Expensive

-

Just OK creative and productivity performance
Why you can trust TechRadar We spend hours testing every product or service we review, so you can be sure you're buying the best. Find out more about how we test.
AMD Ryzen 9 7900X3D: One-minute review
The AMD Ryzen 9 7900X3D is the middle child of the current 3D V-Cache processors from Team Red alongside the 7800X3D and the 7950X3D. It launched alongside the rest of the line back in February of this year and offers heightened gaming performance, but comes at a price.
Without a doubt, it is one of the best processors for gaming on the market. But even as gamers are going to be able to get the most out of this chip, it's productivity performance isn't too bad either.
Armed with a significantly lower TDP than the rest of the current AMD Zen 4 lineup, the AMD Ryzen 9 7900X3D packs in 12 cores and 24 threads on a 120W TDP with a base clock speed of 4.4 GHz out of the box, and that's honestly the core appeal of this chip.
It's more power efficient and offers better raw gaming performance than its non-3D counterpart, but the addition of AMD's 3D V-cache means it can hold up with far pricier processors as well.
It should be stated that overall, you're falling into one of two camps with the AMD Ryzen 9 7900X3D, as it is impressive for gaming, but won't necessarily set the world on fire with the creativity or productivity side of things at the higher end of the spectrum.
The raw gaming performance at its $599 / £479.99 / AU$859.99 price point is decent, but chances are if you're spending this much on a CPU purely for gaming, you could argue that an extra $100 / £130 / AU$279 for the top-end 7950X3D could be a better bet instead.
AMD Ryzen 9 7900X3D: Price and availability
Comparable price to the Intel Core i9-13900K
$50 / £50 / AU$64 more than base 7900X
The AMD Ryzen 9 7900X3D was released on February 28, 2023, and currently retails for $599 / £479.99 / AU$859.99.
That's around $100 / £130 / AU$279 less than the flagship AMD Ryzen 9 7950X3D which features 16 cores and 32 threads. As a point of comparison, this AMD processor comes in a little cheaper than the Intel Core i9-13900K in the UK and Australia, where it currently sells at £699 / AU$929, and is just $10 more expensive in the US.
That is only one side of the story, though. That's because the AMD Ryzen 9 7900X3D requires an upgrade to the latest AM5 socket, which means an entirely new motherboard as well as the exclusive use of DDR5 RAM, and the best DDR5 RAM isn't cheap (even if it has come down in price).
Essentially, you'll be building an entirely new system around the chip as there's no more backward compatibility with AM4 as we saw with the two previous Ryzen processor generations (though the best CPU coolers for AM4 processors will still work with the new AMD chips).
This is owing to AMD's transition from a PGA to LGA socket, which just means that the processor no longer has pins the way previous generations did, much like with the best Intel processors.
AMD Ryzen 9 7900X3D: Chipset & features
Improved power efficiency
Zen 4 3D V-cache for under $600 / £500 / AU$900
The AMD Ryzen 9 7900X3D features a lot of the same broad strokes as its non-3D variant. You're getting the same 12 cores and 24 threads on the AM5 socket with a total boost clock of up to 5.6GHz. The core difference here, however, is the 3D V-Cache which doubles the stock version's 64MB L3 Cache for a total of 128MB.
The higher the L3 cache is, the better gaming or intensive processing workloads can perform, that's because it's the largest level of cache available on a processor.
Added cache aside, the AMD Ryzen 9 7900X3D is also significantly more power-efficient than any current non-3D Zen 4 processors available, as it clocks in with a Thermal Design Power (TDP) of 120W, which is much lower than the substantially higher 170W of its stock variant.
While a higher TDP usually relates to higher performance, the inclusion of the added 3D V-cache means that the processor can access a larger pool of superfast cache memory, which is even more useful when gaming than just throwing raw power at the problem. With its own dedicated extra cache, there are fewer fetch operations to the PC's main memory, so the chip runs more efficiently, and potentially cooler under load.
This is reflected when contrasted against the AMD Ryzen 9 7900X's core clock speed of 4.7 GHz to the 3D variant's 4.4 GHz. It's a little slower out of the box despite the overclocking potential being the same, however, the AMD Ryzen 9 7900X3D is still far faster than any of the current Alder Lake or Raptor Lake processors in terms of the raw speed.
Ultimately, the reduced memory latency means that you're getting a chip that runs cooler, draws less power, and performs better thanks to the addition of the second generation of AMD's V-cache.
Design & features score: 4 / 5
AMD Ryzen 9 7900X3D: Performance
You won't be shocked to hear that the AMD Ryzen 9 7900X3D is one of the most capable CPUs for gaming that I've ever used, holding its own against the flagship 7950X and the Intel Core i9-13900K.
This is evidenced by some of the most impressive synthetic scores to date in industry-standard programs such as GeekBench 6, PCMark10, and Cinebench R23, among others, and you can see how the Ryzen 9 7900X3D compares to competing high-end processors below.
Swipe to scroll horizontally
AMD Ryzen 9 7900X3D Synthetic benchmarks

| Test | Ryzen 9 7900X3D | Ryzen 9 7950X3D | Core i9-13900K |
| --- | --- | --- | --- |
| Geekbench 6 Single | 1,758 | 1,993 | 2,169 |
| Geekbench 6 Multi-core | 26,293 | 23,098 | 23,648 |
| Cinebench R23 Single | 2,626 | 1,882 | 2,252 |
| Cinebench R23 Multi-core | 16,474 | 37,549 | 40,432 |
| PCMark10 | 8,385 | 9,936 | 10,157 |
Where the AMD Ryzen 9 7900X3D falls behind the Intel Core i9-13900K and the 7950X3D in terms of the productivity benchmarks, the gap is greatly closed with the raw gaming performance. Turning to the gaming benchmarks, this chip's 3D V-cache makes all the difference in demanding titles such as F1 2022, Returnal, and Total War: Warhammer 3.
Swipe to scroll horizontally
AMD Ryzen 9 7900X3D gaming benchmarks (Average FPS)

| Game title | 7900X3D |
| --- | --- |
| Total War: Warhammer 3 | 417 |
| Returnal | 171 |
| F1 2022 | 415 |
As with our other CPU reviews, the games tested in the AMD Ryzen 9 7900X3D review are tested at 1080p at the lowest graphics settings in order to isolate the processor's contribution to gaming performance. Below, you can see how this chipset compares to the best AMD processor and best Intel processor respectively.
Swipe to scroll horizontally
AMD Ryzen 9 7900X3D Synthetic benchmarks

| Game name | Ryzen 9 7900X3D | Ryzen 9 7950X3D | Core i9-13900K |
| --- | --- | --- | --- |
| Total War: Warhammer 3 | 417 | 464 | 611 |
| Returnal | 171 | 274 | 169 |
| F1 2022 | 415 | 560 | 448 |
Compared to the more expensive chipsets, the AMD Ryzen 9 7900X3D absolutely holds its own with the 7950X3D and the 13900K, with the largest gap visible seen with how AMD's flagship handles Returnal. This is likely due to the fact that the 7950X3D utilizes an additional four cores and eight threads, and Total War series has always been Intel's strongest gaming benchmark, which remains the case here.
Still, with the Ryzen 9 7900X3D, we're still talking about an absolute powerhouse of a CPU, with framerates well above 100fps in demanding games, and upwards of 400fps in tamer titles. Realistically, you can expect this chip to be an absolute behemoth for 1080p, though you'll get diminishing returns at 1440p and 4K if you don't have the beefiest video card in your rig that can keep up with the processor.
Overall, the AMD Ryzen 9 7900X3D is an impressive processor for the money which is definitely geared more toward gaming than productivity or creativity tasks. If you're purely interested in playing games then this processor offers strong price-to-performance at the $600 / £480 / AU$860 mark, but with the Ryzen 9 7950X3D so close in price, a lot of buyers out there are likely to be torn.
Should you buy the AMD Ryzen 9 7900X3D?
Buy it if...
You want a great gaming processor at a more accessible price
The AMD Ryzen 9 7900X3D is an excellent compromise of performance and price with some premium chops.
You're mostly gaming at 1080p
If you're gaming mostly at 1080p, the benefits of 3D V-Cache are really going to shine, while 1440p gamers will still see improvements, though not as much.
You want better power efficiency
At just 120W TDP, this chip runs on much less power, and so stays cooler, than the non-3D Ryzen 9 7900X.
Don't buy it if...
You're on a budget
If money's tight, this is probably not the processor for you, though the you might want to check out the AMD Ryzen 5 5600X3D or Ryzen 7 5800X3D for more affordable options.
You want great productivity or creative performance
While this chip is more than enough for most people's productivity and creative needs, those who are serious about those workloads are better off with a non-3D AMDE or Intel chip.
You game at 4K exclusively
At 4K, the benefits of this chip are going to be pretty much overshadowed by the bottleneck from the GPU trying to render 4K textured scenes and you're not likely to see any difference over its non-3D counterpart.
Also Consider
If my AMD Ryzen 9 7900X3D review has you considering other options, here are two more processors to consider.
Swipe to scroll horizontally
AMD Ryzen 9 7900X3D specs vs its competitors

| Header Cell - Column 0 | AMD Ryzen 9 7900X3D | AMD Ryzen 9 7950X3D | Intel Core i9-13900K |
| --- | --- | --- | --- |
| Price | $599 / £479.99 / AU$859.99 | $699 / £649 / AU$1,139 | $589 / £699 / AU$929 |
| Performance Cores | 12 | 16 | 8 |
| Efficiency Cores | 0 | 0 | 16 |
| Threads | 24 | 32 | 32 |
| Base Clock (GHz) | 4.40 | 4.50 | 3.00 |
| Boost Clock (GHz) | 5.60 | 5.70 | 5.80 |
| Cache (MB) | 144 | 144 | 68 |
| TDP (W) | 120 | 120 | 125 |
| Motherboard Socket | AM5 | AM5 | LGA 1700 |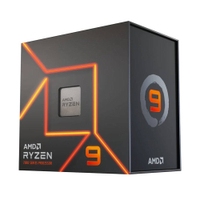 AMD Ryzen 9 7950X
Team Red's leading chipset is the best CPU for gaming that we've ever used and utilizes the same 120W TDP and 128MB V-Cache but with more cores and threads to work with for $100 / £130 / AU$279 more than the AMD Ryzen 9 7900X.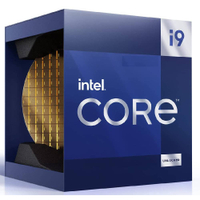 Intel Core i9-13900K
There's very little that we can fault the Raptor Lake flagship on with its performance. That's due to the excellent Raptor Cove and Gracemont cores with its hybrid architecture that makes it a processor that's difficult to beat outside of its expensive price point.
How I tested the AMD Ryzen 9 7900X3D
Used in main gaming PC rig for almost a month
Played a variety of titles including those benchmarked
Industry standard synthetic benchmark tests
Test system specs
CPU cooler: NZXT Kraken Elite 360
GPU: Nvidia RTX 4090
DDR5 RAM: 32GB (2 x 16GB) Kingston Fury Beast RGB @ 6,000 MHz
Motherboard: Gigabyte X670 Aorus Elite AX
SSD: Seagate FireCuda 530 2TB
PSU: Corsair RM1000x
Case: NZXT H9 Flow
I tested the AMD Ryzen 9 7900X3D inside of a newly built machine utilizing Kingston Fury Beast DDR5 RAM, an Nvidia RTX 4090, and a brand new RM1000X PSU. The chip was utilized heavily for gaming in the benchmarked titles as well as in games such as Mortal Kombat 11, Cyberpunk 2077, and Tekken 7.

I've also been using the machine as my main computer for both work and play and have racked up dozens of hours word processing as well as with media playback. Through the real-world testing, the benchmarking, and the stress testing, I came to my four-star conclusion on the AMD Ryzen 9 7900X3D as a recommended CPU for gaming.
We pride ourselves on our independence and our rigorous review-testing process, offering up long-term attention to the products we review and making sure our reviews are updated and maintained - regardless of when a device was released, if you can still buy it, it's on our radar.
First reviewed September 2023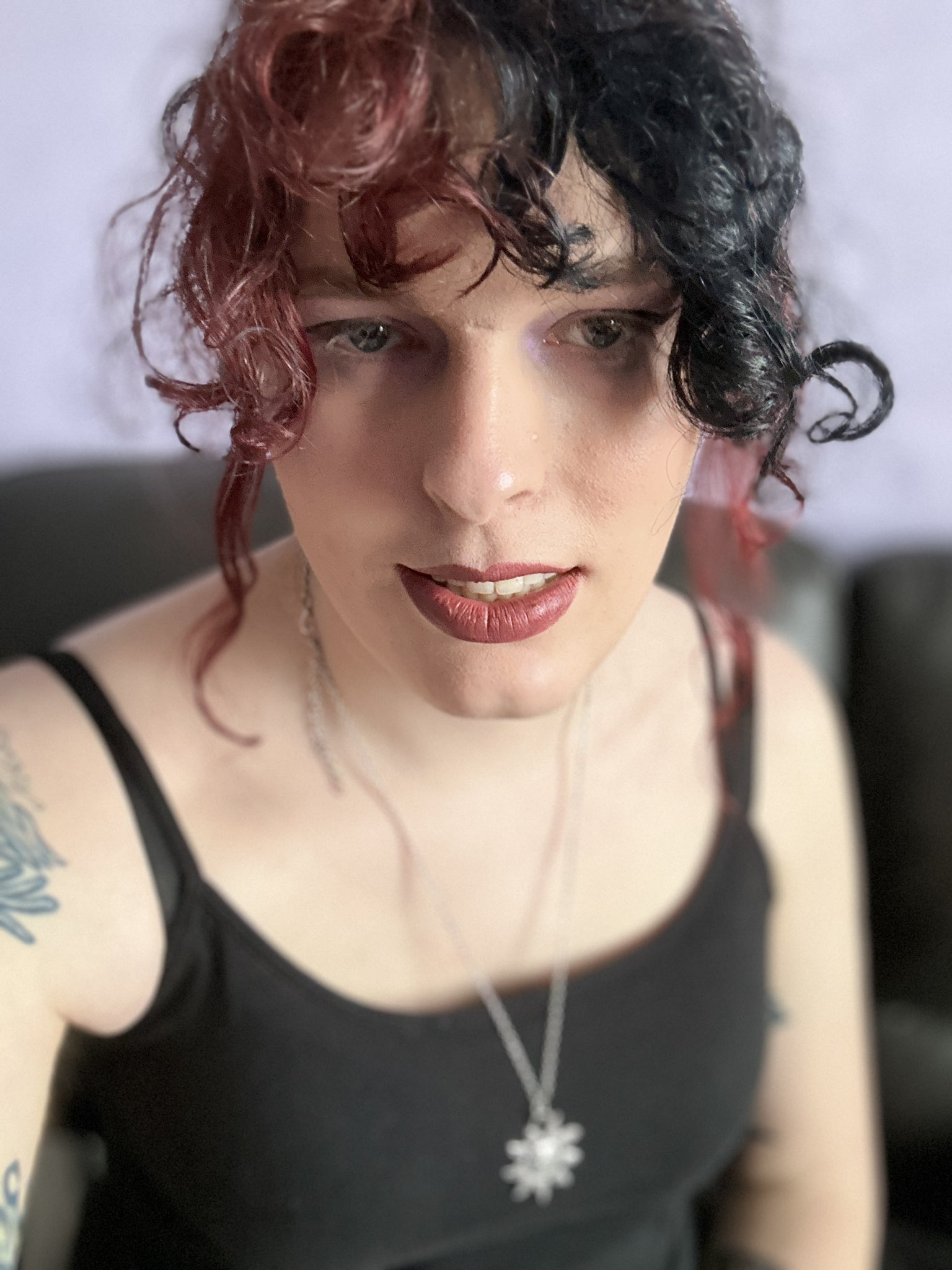 Aleksha McLoughlin is the Hardware Editor for TechRadar Gaming and oversees all hardware coverage for the site. She looks after buying guides, writes hardware reviews, news, and features as well as manages the hardware team. Before joining TRG she was the Hardware Editor for sister publication GamesRadar+ and she has also been PC Guide's Hardware Specialist. She has also contributed hardware content to the likes of Trusted Reviews, The Metro, Expert Reviews, and Android Central. When she isn't working, you'll often find her in mosh pits at metal gigs and festivals or listening to whatever new black and death metal has debuted that week.