10 reasons why the Insta360 Go 3 is the perfect camera for FPV drones
A compact and compelling camera for FPV pilots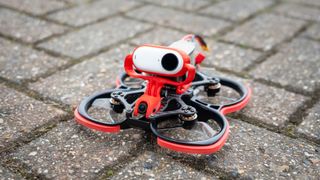 (Image credit: James Abbott)
Tiny, lightweight and ultra-convenient, the Insta360 Go 3 is a game-changing action camera for enthusiast FPV drone pilots.
It's the latest model in the Chinese company's popular series of lightweight thumb-sized action cams, and sports improved features, functionality, image quality and a new Action Pod with an articulating LCD screen alongside the ability to charge the camera unit.

It's easily the best Insta360 Go camera to date, and it's set to be one of the best action cameras. You can read our in-depth assessment of the camera in our Insta360 Go 3 review.
It's certainly not the most impressive performer, with up to only 2.7K 30 fps video capture available, but it's the Go 3's tiny size and low weight that make it a compelling option for enthusiast FPV drone pilots who fly small FPV drones and don't require 4K footage. That said, even professional FPV pilots could benefit from the camera when they need to use smaller cine whoop drones in confined spaces.
FPV drones vary wildly in size, with the most common options available being tiny and lightweight microwhoops, 2.5-inch cine whoops and 5-inch freestyle models. There are other sizes in between, and while larger propeller cinewhoop FPV drones, alongside 5-inch freestyle models, can carry full-size action cameras including the DJI Osmo Action 4, Insta360 One RS and GoPro Hero 11, smaller FPV drones are unable to carry these larger models.
So, although image quality and functionality aren't on par with these higher-end options, the Insta360 Go 3 remains a highly attractive option for enthusiasts flying smaller FPV drones.
1. It's Extremely small and lightweight
At roughly the size of an adult's thumb, and weighing just 1.2oz / 35g, the Go 3 camera is ideal for smaller FPV drones such as 2.5-inch cinewhoops that can typically only carry action cameras that weigh up to around 2.1oz / 60g, and also smaller microwhoop models. With the former, attaching the Go 3 to the drone is easy using a 3D printed mount, although for the latter you'd need to make some modifications to the drone and create a unique 3D printed mount – it's trickier, but it is possible.
2. It's Self-powered and convenient
Using self-powered action cameras with FPV drones not only saves power from your drone's LiPo batteries, but they're also much more convenient because they ultimately reduce set-up time. The Go 3 also provides a Quick Capture feature where you can begin capturing video simply by pressing the front of the camera when it's switched on. You just have to set the shooting mode and exposure settings using the Action Pod or the smartphone app first, and you can even switch on voice control to use voice commands to stop and start recording.
3. No jello with a 3D-printed FPV mount
'Jello' in FPV videos is camera vibration that's captured in the video and makes the image appear wobbly, just like jello, hence the name. Most action cameras, including the Go 3 with its six-axis gyro, offer image stabilization which is highly effective when it comes to smoothing drone movements in video footage, but image stabilization, unfortunately, can't counteract vibration.
For this, you have to use a 3D printed camera mount, typically made of TPU, which absorbs vibrations resulting in jello-free videos. Go 3 Camera mount STL files for 3D printing can be downloaded online for printing at home, and complete 3D-printed mounts can also be purchased from a variety of retailers.
4. Up to 2.7K 30fps stabilized footage
The Go 3 may not be an action camera for professional 4K video capture, but with the ability to capture video at up to 2.7K at 30 fps, it's still a great option for enthusiasts flying smaller FPV drones that are unable to carry full-size action cameras. You can shoot 1440p and 1080p video at up to 50fps, and you can also capture in Standard, Vivid and Flat color profiles, with the latter offering more scope for color grading, although not up to the level of Log and Cinelike profiles. Plus, there are three camera views to change the field of view and three stabilization modes for different intensities of movement, which can also be switched off.
5. Action Pod for setting exposure
The new Action Pod that's part of the Go 3 is a fantastic addition to this tiny camera because it allows you to adjust camera settings and view videos without having to connect the camera to a smartphone. For FPV pilots, the ability to adjust camera settings and set exposure with just the Action Pod is incredibly useful and can save a huge amount of time. What's more, the camera connects to the Action Pod wirelessly over short distances, so exposure can be checked while the drone is on the ground and the Go 3 is attached to it.
6. You can charge between flights using the Action Pod
Another great feature of the Action Pod is that it can be used to charge the camera unit between flights. The Go 3 camera battery is claimed to last up to 45 minutes, which was closer to 30 minutes during normal use. And when connected to the Action Pod, it's claimed that the combined running time is 170 minutes; this wasn't tested in an FPV context but the Action Pod did provide plenty of backup power when the Go 3 camera battery was low. Since FPV drone flights are often around three to six minutes per battery, the Go 3 is more than capable of capturing multiple flights over a day thanks to the Action Pod.
7. Secure screw-in ND filters
Many action cameras use push-on ND filters that rely on friction between the rubberized camera lens coating and the filter itself to remain attached. This system works well for the most part, but this type of ND filter sometimes becomes unattached in drone crashes and can be lost. The ND filters used by the Go 3 screw onto the lens once the lens protector has been unscrewed, so there's no way they're coming off in a crash which is great because ND filters are essential for maintaining the correct shutter speed for video. And as a bonus, the Go 3 uses the same filters as the Go 2 so you can use existing filters if you already own the older model.
8. You can get creative with Insta360 Studio
Even if you plan to edit your FPV videos in professional video editing software such as Adobe Premiere, Apple Final Cut Pro or Davinci Resolve, it's worth making adjustments to footage in Insta360 Studio before exporting for further editing. Insta360 Studio is available as a desktop app, and for smartphones the Insta360 app provides much of the same functionality if you'd prefer to get your videos online quickly from your phone. Both apps provide basic editing functionality, the ability to adjust colours and to speed up or slow down selected sections of footage before exporting in the desired resolution etc.
9. It's more robust than naked action cameras
Naked action cameras are basically standard full-size action cameras that are stripped down to the bare essentials – just the electronics, the sensor and the lens – which are then housed in a small and lightweight case. This is a great way to enjoy the best 4K video quality in a lightweight package, but these cameras are prone to serious damage in crashes.
So, while the Go 3 only shoots up to 2.7K at 30 fps, it's much more robust than the BetaFPV SMO 4K, which is a 'naked' Insta360 One R. The SMO 4K, like other naked action cameras, also needs to be powered externally, either from a cable soldered to the drone's flight controller or using adaptor cables attached to the drone's LiPo battery balance cable.
10. It can be used in other situations
Having an action camera that's only used for one purpose works for many people, but a camera that can be used in a variety of situations extends the practicality of the device alongside making it better value for money. The Go 3 comes with several mounts in the standard kit, so you immediately have multiple ways of attaching it to yourself, objects and supports such as tripods. What's more, the Go 3 can capture time-lapse videos like the one above, it can shoot photos, capture slow-motion videos and more. And that's all with a tiny thumb-size camera with a detachable Action Pod.
Sign up to receive daily breaking news, reviews, opinion, analysis, deals and more from the world of tech.
James Abbott is a professional photographer and freelance photography journalist. He contributes articles about photography, cameras and drones to a wide range of magazines and websites where he applies a wealth of experience to testing the latest photographic tech. James is also the author of 'The Digital Darkroom: The Definitive Guide to Photo Editing'.