Black Friday deals 2023: when is it and what to expect
Black Friday deals are coming your way...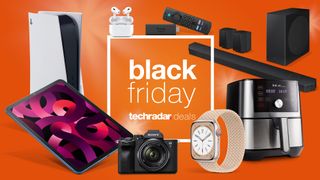 (Image credit: Future)
The 2023 Black Friday deals event is near, as Amazon's 2nd Prime Day sale is scheduled to go live next week, which means early Black Friday sales will launch from competing retailers like Walmart, Target, and Best Buy. To help you find all the best early Black Friday deals, I've created this guide to bring you all the top offers around the web as they become available.

As a deals editor for TechRadar, I've been covering Black Friday for half a decade, so it's my job to sort through all the offers to bring you the very best deals. Once early sales are live, I will hand-pick the top offers on products that the team at TechRadar has tested so you know you're getting a genuine bargain.

While the Black Friday date is slated for November 24 this year, retailers are launching early deals this month thanks to next week's Amazon Prime Day sale. Amazon's Prime Big Deals Day sale is taking place on October 10 and 11, and in response, Walmart has a Holiday Kickoff sale on October 9 through 12, and Best Buy will release new offers throughout the month at its Holiday Sneak Peek event.

I'll update this page with early Black Friday deals as soon as they drop, but in the meantime, I've listed today's best sales from all the top online retailers, followed by some fantastic deals that are happening right now, including record-low prices on Amazon's best-selling devices, huge savings on OLED TVs and deals on top-rated appliances.
Today's best sales
Today's best early deals
Black Friday 2023: key information
When is Black Friday 2023?
Black Friday 2023 falls on November 24. The actual date shifts, but the day of the week stays the same: it's always the Friday after Thanksgiving.

While Black Friday deals will officially kick off on November 24, based on years past, we can predict that retailers like Amazon, Best Buy, and Walmart will launch early sales. At last year's sale, we saw Black Friday deals popping up as early as October, thanks to Amazon's 2nd Prime Day sale.

We predict the same trend for this year's sale, as Amazon has announced the dates for its 2nd Prime Day sale, named "Big Deal Days," which will take place on October 10 and 11. In response to Amazon, retailers like Walmart, Best Buy, and Target will be launching competing sales in October. Best Buy will release new offers throughout October at its Holiday Sneak Peek event and a Walmart Deals - Holiday Kickoff sale will launch on October 9 and last through the 12 with discounts on best-selling gifts on tech, clothing, toys, and home items.
What Black Friday deals do we expect to see in 2023?
We can predict what Black Friday deals we'll see at the 2023 sale by looking back at last year's best-sellers and recent holiday sales. Last year's bestselling categories, according to Amazon, included Home, Fashion, Toys, Beauty, and Amazon's own devices. This matched up with Amazon's top-selling items, like the Echo Dot, Fire TV Stick, and Apple AirPods. Other popular offers were the Nintendo Switch, LG's C2 OLED TV, Fullstar's viral vegetable chopper, and the Revlon one-step volumizer hair dryer.

We expect to see the same mix of items on sale during the 2023 Black Friday deals event, such as Amazon devices, like the Echo Pop smart speaker, the 2023 LG C3 OLED TV, as well as Apple's latest devices, including the Apple Watch 9, the MacBook Air M2 and the iPhone 15.
Black Friday 2023: our buying advice
Where to find the best Black Friday deals?
Most online retailers offer Black Friday deals, but it's our job to sort through the thousands of offers to find the very best bargains from the bunch. You'll typically find the best Black Friday deals from big-name retailers like Walmart, Best Buy, and Target, with Amazon leading the pack.

Amazon is a Black Friday favorite, not only because they offer record-low prices but also because they offer discounts on a wide variety of categories. So whether you're looking for tech items like laptops, TVs, or AirPods or searching for discounts on clothing, kitchen appliances, or toys - Amazon is likely to offer Black Friday deals on the product you're after.

Walmart is another Black Friday favorite, thanks to a handful of early sales that the retailer typically launches in the run-up to Black Friday proper. The retailer also offers special prices and early access to its Black Friday sales for Walmart Plus members, which is something to consider if you're interested in the subscription.

Other retailers that offer impressive Black Friday deals include Best Buy, Target, Dell, Home Depot, Lowe's, and Overstock. It can be overwhelming with so many retailers and promotions, but that's where our deal expertise comes in. We go through every retailer to pick out the very best Black Friday deals so you can make sure you're getting the lowest price available.
How to get the best Black Friday deals in 2023?
Homework really helps. Some retailers up prices from August through to October so they can offer supposedly amazing discounts on Black Friday, so don't be fooled by such moves.
They're particularly prevalent in expensive consumer electronics such as TVs or laptops with product numbers rather than names, with products that were dropped down to a great bargain price suddenly being pushed back to their MSRP again.
It's also a very good idea to be flexible: for example, if you're interested in a Samsung 4K TV it's best to think about the features you want rather than a specific model number: the BRV553ABD34-82C-9218-X may not be discounted on Black Friday 2023, but an almost identical set with the specification you want probably will be.
So do your research on what matters, and we'll do our best to give you the right comparison needed.
However, don't be fooled into thinking that something that looks like a five-star set is the same but cheaper - certain elements (often with regards to screen quality or image processing) won't be as high quality to achieve that lower price point.
When to shop for the best Black Friday deals?
Early holiday shopping was a smart move at last year's Black Friday sale, as we saw the best deals launch in the weeks leading up to the day itself. Retailers like Amazon, Best Buy, and Walmart launched sales as early as October with impressive offers for best-selling tech, appliances, toys, and more.

We were extremely impressed with last year's early Black Friday deals, in fact, we were disappointed with offers on Black Friday proper. Most retailers offered their best deals in the weeks leading up to Black Friday, with record-low prices on AirPods, OLED TVs, air fryers, and laptops, to name a few. When Black Friday proper arrived, many of these items were either out of stock or, while still discounted, at a higher price.

Our advice? If you see an early Black Friday deal and it's down to record-low price, we recommend purchasing the item rather than waiting for Black Friday itself. In fact, retailers like Best Buy had a FAQs page that stated that its early Black Friday deals were available in limited quantities and you wouldn't find better prices during the Black Friday sales period. By taking advantage of early Black Friday deals, you're not only avoiding the madness of Black Friday, but you're securing an item that might sell out come November 24.
Black Friday vs. Amazon Prime Day
While this year's Amazon Prime Day sale wrapped up in July, the retailer just announced a second sale that will take place in October. The October Amazon Prime event will be a preview for the 2023 Black Friday deals event and will kick off the early holiday shopping season.

So what can we learn about Amazon's July Prime Day event, and how does it stack up to Black Friday? Amazon reports that the first day of Prime Day was the single largest sales day in the company's history, with over 375 million items purchased worldwide. The most popular categories were home, fashion, and beauty, and the top-selling deals included the Fire TV Stick, Apple AirPods, and the Bissell Little Green carpet cleaner.

We expect similar trends at this year's Black Friday sale, as consumers are hungry for deals. The most significant difference between Black Friday and Prime Day is the length of the sales and Amazon's dominance and membership requirements when it comes to Prime Day. Amazon's Prime Day sale is a 48-hour-only sale, with a Prime membership required to shop the sale. The two-day sale is also known for its deep discounts on Amazon's own devices, which is why it's no surprise that the Fire TV stick was a top-selling item.

While Black Friday is technically only one day, November 24, retailers launch Black Friday deals as early as October, which stretches the holiday sale into weeks of savings. Black Friday isn't exclusive to Amazon, and some of the best deals come from other retailers like Best Buy, Walmart.
Why is it called Black Friday?
Let's take a history lesson to find how why they call it Black Friday: the first known mention of Black Friday related to this shopping experience was in November 1951, when the journal Factory Management and Maintenance used it to describe people calling in sick the day after Thanksgiving so they could have an extra day off work.
At the same time, US police were using the phrases "Black Friday" and "Black Saturday" to describe the horrendous traffic that occurred at the beginning of the pre-Christmas shopping season.
In 1961, the local government moved to change the shopping season to "Big Friday" and "Big Saturday," but it never caught on. The notion that it was the time when retailers moved 'back into the black' was seen far later and clearly an attempt to bring positivity to the term.
Last year's best Black Friday deals
Taking a look back at last year's Black Friday deals can give us a good idea of what will be on sale at the 2023 event. You'll find the best Black Friday deals below, followed by the top offers in popular categories such as TVs, laptops, appliances, smart home devices and more.
The best Black Friday deals: TVs
The best Black Friday deals: Laptops and printers
The best Black Friday deals: home and kitchen
The best Black Friday deals: smart home
The best Black Friday deals: vacuums
The best Black Friday deals: mattresses