The Black Friday 2021 deals event will begin Friday, November 26, this time around, so there's plenty of time to prepare for the biggest discount season of the year. If you're looking to go big this Black Friday, we're helping you get started with everything you need to know about the 2021 sale and what you can expect to find the biggest discounts on.

What's on sale for Black Friday 2021? Based on last year, we expect to see deals on a range of items, which should include Apple's latest products, discounts on top brand 4K TVs, this year's hottest toys, and Amazon's own devices. Appliance deals are also always a popular Black Friday category, with brands like Roomba, Instant Pot, and Keurig offering significant discounts.

We expect the top Black Friday retailers to look very familiar in 2021, with Walmart, Amazon, Best Buy, Lowe's, and Home Depot contribute to the mix.

While we know the official date of Black Friday 2021, like years past, we expect to see sales start to pop up in late October. Last year, due to the Coronavirus pandemic, retailers pushed their sales earlier than ever to create a safer shopping experience and avoid shipping delays. Last year's delayed Amazon Prime Day sale was also moved up to October, which helped kick off the Black Friday shopping season. While we can't predict what 2021 has in store for us, we do expect the trend of earlier online sales to stay.

We'll be keeping this page constantly updated with the latest Black Friday 2021 news, so make sure to keep this page bookmarked. If you're looking to shop bargains right now, you can see our guide to the best back to school sales that are happening right now.
When is Black Friday 2021?
The official Black Friday date for this year is November 26, 2021. The actual date shifts every year, but the day of the week stays the same: it's always the Friday after Thanksgiving.

Last year, retailers kicked off the Black Friday sales earlier than ever to create a safer shopping experience and avoid shipping delays due to the Coronavirus pandemic. We can't predict the circumstances around next year's sale, but we should still see deals start to pop up at the end of October.
Black Friday deals 2021: what to expect
Black Friday 2021 should continue last year's trend of not just offering discounts but offering discounts on items you'll actually want to buy as retailers jockey for more limited wallets against fierce online competition.
According to Adobe Analytics, 2020 saw a 21% uplift in consumer online spending marking it the second-largest online spending day in U.S. history, coming in behind Cyber Monday 2019.
The biggest Black Friday 2020 money makers? According to Adobe, the most popular items included Hot Wheels, Lego sets, AirPods, Apple Watches, Amazon Echo devices, and Samsung TVs.
We expect the Black Friday 2021 sales event to also offer similar deals on Apple's latest devices such as Airpods, the Apple Watch, and iPads. We also expect to see significant discounts on Amazon's own devices as well as deals on the year's hottest toys and kitchen appliances.
When will we see the official Black Friday deals?
Good question. With a move to the competitive arena of online sales, we're going to be seeing more retailers on the web than ever, and with Amazon leading the charge, there's going to be some fierce price wars come November. That will likely work in your favor, with plenty of retailers vying for the lowest price on the latest gadgets.
That means we might see Black Friday deals happening far ahead of the scheduled November 26 start date. You'll want to get prepped early, then, and we can help by bringing you all the latest Black Friday 2021 information as it happens right here. We're showing you where to shop, what to shop for, and when to get that credit card ready to make sure you don't miss a single saving this year, so keep this page bookmarked throughout the next couple of months.
In 2020 we saw the best deals moving online, then, with these more traditional stores competing against the low prices and already well-developed infrastructures of the likes of Amazon and eBay. For example, Walmart Plus launched in September to drum up its online retail business ahead of Black Friday.
All of this is going to make Black Friday's online deals all the more important. You'll have a better chance of finding Black Friday AirPod deals at home more sitting in your PJs more than waiting in line outside of a physical store.

If you don't want to wait till November to shop for deals, we've included the current sales from the top online retailers just below.
The origin of Black Friday: a history lesson
Let's take a Black Friday history lesson: the first known mention of Black Friday related to this shopping experience was in November 1951, when the journal Factory Management and Maintenance used it to describe people calling in sick the day after Thanksgiving so they could have an extra day off work.
At the same time, US police were using the phrases "Black Friday" and "Black Saturday" to describe the horrendous traffic that occurred at the beginning of the pre-Christmas shopping season.
In 1961 there was a movement from the local government to change the shopping season to "Big Friday" and "Big Saturday," but it never caught on. The notion that it was the time when retailers moved 'back into the black' was seen far later and clearly an attempt to bring positivity to the term.
How do I get the best Black Friday deals in 2021?
Homework really helps. Some retailers up prices from August through to October to offer supposedly amazing discounts on Black Friday, so don't be fooled by such moves.
They're particularly prevalent in expensive consumer electronics such as TVs or laptops with product numbers rather than names, with products that were dropped down to a great bargain price suddenly being pushed back to their MSRP again.
It's also an excellent idea to be flexible: for example, if you fancy a Samsung UHD TV, it's best to think about the features you want rather than a specific model number: the BRV553ABD34-82C-9218-X may not be discounted on Black Friday 2020, but an almost identical set with the specification you want probably will be.
So do your research on what matters, and we'll do our best to give you the right comparison needed.
However, don't be fooled into thinking that something that looks like a five-star set is the same but cheaper - certain elements (often with regards to screen quality or image processing) won't be as high quality to achieve that lower price point.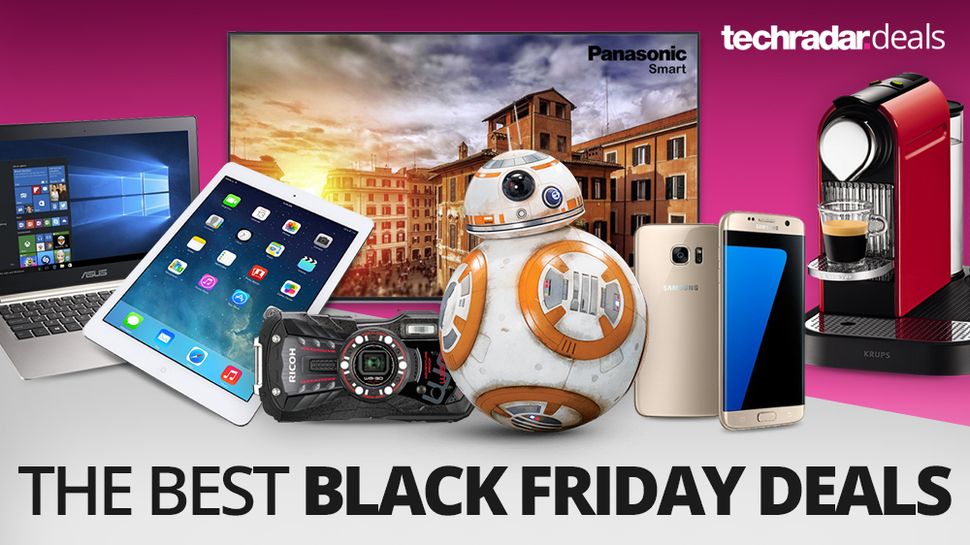 The best Black Friday deals from last year
If you'd like to see what was on sale during last year's deals event, we've included the top bargains below. Last year's Black Friday sale included huge discounts on everything from TVs, laptops, and headphones to kitchen appliances, vacuums, toys, and so much more. Looking back at last year's sale can help us predict what will be discounted at the Black Friday 2021 deals event.
The best Black Friday deals: TVs
The best Black Friday deals: laptops and computing
The best Black Friday deals: tablets
The best Black Friday deals: smartwatches and wearables
The best Black Friday deals: headphones and audio
The best Black Friday deals: gaming and consoles
The best Black Friday deals: smart home
The best Black Friday deals: camera and drones
The best Black Friday deals: mattresses
The best Black Friday deals: home and kitchen
The best Black Friday vacuum deals