This tiny, gorgeous music streaming box uses ChatGPT to find new music you'll like
The Volumio Integro has an amazing retro look, and an AI trick up its sleeve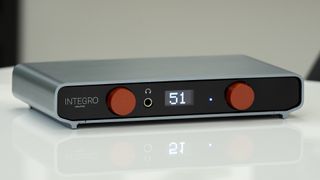 (Image credit: Volumio)
The latest job that AI is coming to replace is "That friend you know who's really into music and always has new recommendations for you". Italian hi-fi maker Volumio has just launched a new super-compact all-in-one hi-fi box that can work with the company's new ChatGPT-powered Supersearch tool to find new music recommendations for you from all your streaming services.
The Volumio Integro is an amp, DAC, headphones amp, and streaming box with hi-res support up to 192kHz 24-bit – all in a really small frame that has a retro-modern look that I think is absolutely beautiful. It's all aluminum around the outside, with burnt orange dials on the front, and a simple OLED screen in the center.
It features dual-mono class-D amplifiers, and you just need to hook up some speakers, or one of the best wired headphones over the 6.3mm jack, to get going. It can also, however, connect to a TV over an HDMI port, showing you a menu on the screen, and offering another sound output option.
It can stream music over Wi-Fi from major streaming services, though obviously something like Tidal or Qobuz really takes advantage of its capabilities – and there's Bluetooth support, as well as the ability to connect a turntable.
The streaming side is controlled through a web app that includes Volumio's AI Music Player, and that's where things get really interesting.
AI goes DJ
The AI Music Player includes a ChatGPT-powered tool called Supersearch that promises smarter recommendations than you normally get – since it's drawing on the larger knowledge of the latest AI platforms. Now, obviously, you can just get the ChatGPT app and ask it for music recommendations if you want, but Volumio's system looks sleeker because instead of just writing suggestions back like a loquacious texter, it will show you suggestions from whichever of the best music streaming services you have access to, or your own library of music, that you can immediately play.
There's also a new 'Infinity Playback' tool to go with Supersearch, which just keeps fetching related music when you reach the end of a playback tool. The idea doesn't exactly sound different from what you get from the likes of Apple Music or Spotify, but I like that it will just kick in when you would otherwise reach silence.
These new AI features don't come free, sadly – they're part of the Premium subscription Volumio offers for its players, which costs $69.99 / £51.99 annually, $7.49 / £5.99 per month.
The Volumio Integro costs around $1,400 / £1,025 / AU$2,499 – we're waiting on confirmation of when it'll be available in the UK, and whether it will get a US release at all, but hopefully your friendly hi-fi distributor will be on board because it sounds like a very cool package to bring every modern convenience to a classic hi-fi system.
Get daily insight, inspiration and deals in your inbox
Get the hottest deals available in your inbox plus news, reviews, opinion, analysis and more from the TechRadar team.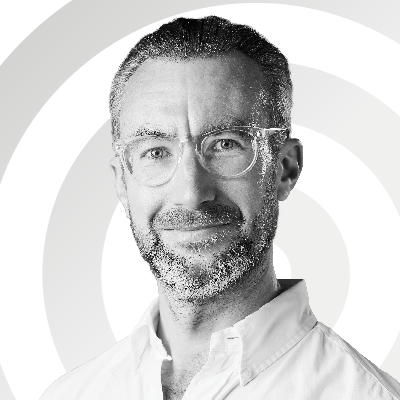 Managing Editor, Entertainment
Matt is TechRadar's Managing Editor for Entertainment, meaning he's in charge of persuading our team of writers and reviewers to watch the latest TV shows and movies on gorgeous TVs and listen to fantastic speakers and headphones. It's a tough task, as you can imagine. Matt has over a decade of experience in tech publishing, and previously ran the TV & audio coverage for our colleagues at T3.com, and before that he edited T3 magazine. During his career, he's also contributed to places as varied as Creative Bloq, PC Gamer, PetsRadar, MacLife, and Edge. TV and movie nerdism is his speciality, and he goes to the cinema three times a week. He's always happy to explain the virtues of Dolby Vision over a drink, but he might need to use props, like he's explaining the offside rule.